The online classifieds edge
player edgeio has released an update tonight, that
points to the future of Structured Blogging. Now edgeio users don't need to physically do
tagging on their blogs, or in fact even be a blogger, in order to post a classifieds
advert. How does that work, seeing as edgeio is positioning itself as the antithesis to
the centralized eBay? Well it's essentially a web input form for users to enter their
listings, just like eBay has. Only edgeio has gone a step further and developed a kind of
'instant blog', to enable non-blogging users to input their classifieds listing and at
the same time create a personal blog. This blog has an RSS feed and the user can continue
to input content to it, whether it be edgeio data or anything else, if they desire.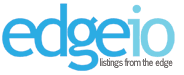 How it works: new users click the 'Create listing on edgeio' button and are first
invited to register for an account. After that the user is taken to a WYSIWYG editor to
enter their listing: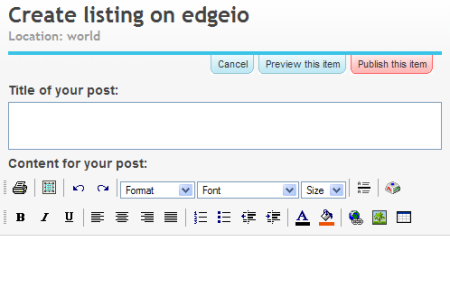 Once they've entered their details, a new blog is created. Coming soon is skinning and
personalized URLs. Essentially this is a blogging platform that non-technical people will
find easy to personalize. Even so, it'll be interesting to see how many people do
continue to use their personal edgeio blog. The jury is out on whether this will entice
more people to be bloggers.
Another new feature is that old-hand bloggers can now add their posts to Edgeio,
without needing to tag them in their own blog authoring tool. Users simply enter
their blog URL into edgeio's 'Get listings' textbox (on the homepage), click the button
and a list of their latest posts display. This is a useful feature for people like
me, who don't bother tagging their posts – even though we know we should.
I think we'll see similar tools being created for the Structured Blogging initiative in future
(nb: I'm currently re-designing the SB website). If you recall Structured Blogging
supplies tools for people to create posts that have extra metadata, so that niche
aggregators can automatically harvest them. For example, what if someone wanted to do a
movie review – but they don't have a blog? A Structured Blogging aggregator that
specializes in movie reviews could provide the same 'instant blogging' tool that edgeio
provides its users, enabling non-bloggers to quickly create a movie review on their
platform. Likewise the instant tagging feature that edgeio has can be applied to
Structured Blogging aggregators.
When you think about it, edgeio is one of the pioneering Structured Blogging
aggregators – even though they don't use SB tools or microformats such as hListings.