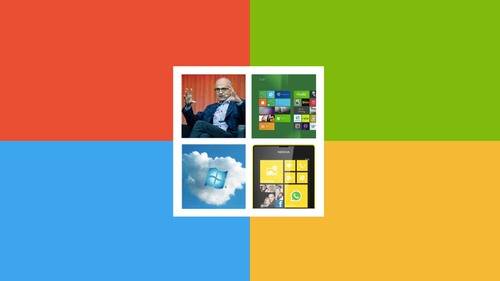 Microsoft used to be evil. Then it was irrelevant. Now it looks like a winner.
How did this happen?
I have competed against Microsoft for most of my career, battling Windows with Linux in the mobile, desktop and server markets, but also taking on SharePoint while at Alfresco and SQL Server in my work now for MongoDB. For much of that time I raged against the Redmond machine for its stranglehold on computing, only to discover in the past few years that its grip is gone; that enterprises aren't building the future on Microsoft.
See also: The New "One Microsoft" Is—Finally—Poised For The Future
They're building it with open source.
And yet. Over the past few years Microsoft has established itself as a real competitor again. Though much of Microsoft's playbook remains the same, it has made key changes that make it a much more formidable competitor, while being a more likable one, too.
The Ghosts Of Microsoft's Past
No one needs me to rehearse the "evil years" of Microsoft's dominance. Years of illegally wielding monopoly power made Microsoft the company everyone loved to hate. (That distinction now goes to Oracle.) Consumers and enterprises, however, kept buying into Microsoft's vision, in large part because Microsoft did more than any other company to lower the bar to productively using complex technology.
See also: News Flash: Oracle Still Hates Open-Source Software
Microsoft's evil years, however, gave way to a long period of senile, if profitable, dotage. The Redmond giant was dead but didn't realize it, so awash it was in profits from yesterday's businesses fueled by yesterday's business model.
Sure, the company dabbled in open source. It sprinkled cloud across its offerings, too. But the heart of the business was still fixated on old businesses done the old way.
In addition, the company neglected its core principles, the things that make Microsoft great. That is changing, as new Microsoft CEO Satya Nadella told Vanity Fair:
But the thing … what is scarce in all of this abundance is human attention. And whoever does the best job of building the right software experiences to give both organizations and individuals time back so that they can get more out of their time, that's the core of this company—that's the soul.
This, more than anything else, made Microsoft great. And it's the ingredient, more than any other, that Microsoft has been missing. Microsoft has been so fixated on its old way of doing business—so addicted to the crack of software licensing—that it couldn't grasp the future.
Under Nadella, that is changing.
Microsoft Rising
Take Azure, for example—Microsoft's "infrastructure as a service" cloud that stands a real chance of giving cloud leader Amazon Web Services a serious run for its money. There are many reasons for this, including Microsoft's ability to move data center workloads to the public cloud seamlessly and painlessly.
But there's something more profound happening, and Bill Bennett nails it:
Cloud computing is great. Yet anything beyond Dropbox, OneDrive or iCloud can be daunting for those of us who aren't IT professionals. While Amazon is the market leader at selling cloud services to business, you couldn't describe setting up a server or a website on Amazon's AWS EC2 as easy. On the other hand, there's nothing scary about getting started with Microsoft Azure. Microsoft has created a cloud computing service that makes creating a server as simple as setting up a Word document.
Importantly, Microsoft has managed to build this "cloud for the rest of us" without demanding that customers run Microsoft top to bottom. Instead, Microsoft makes open source a first-class citizen on Azure, which certainly wasn't the case in Microsoft's evil years—and not even in its irrelevant ones.
More of Azure itself, in fact, is going open source. Microsoft being Microsoft, it's also trying to make open source contributions easier—specifically, the process of making changes to an open-source code repository, a process known as a pull request. As Scott Hanselman describes:
[T]he Azure folks made an Azure Pull Request Bot. It will automatically look at a [pull request], figure out if a contributor needs a [contributor license agreement], setup the online form, even accept digital signatures and more! Even better, the way you start the bot's process is that you send a [pull request].
This is a very different Microsoft.
Microsoft makes obscure technologies simple, but it manages to do so without sacrificing things like security. In fact, as one IT executive humorously noted, "Microsoft [cloud] has better security than I can afford."
Finally, Microsoft is innovating again. Microsoft was first to market among its public cloud peers with a document "database as a service" offering. Amazon just got around to adding JSON support to its DynamoDB DBaaS, but there's a significant difference between JSON support and a full document database.
The addition of a document-oriented DBaaS is significant because it's potentially highly disruptive to Microsoft's SQL Server business. Document databases have taken a dominant lead in NoSQL, as 451 Research's analysis of LinkedIn profiles suggests: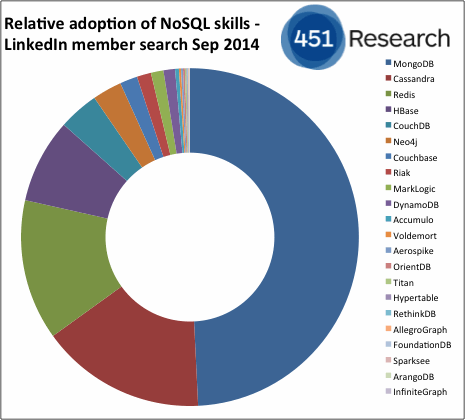 That lead is widening all the time, and threatens to displace relational databases in a range of new applications, as document databases are on par with relational databases in terms of breadth of functionality.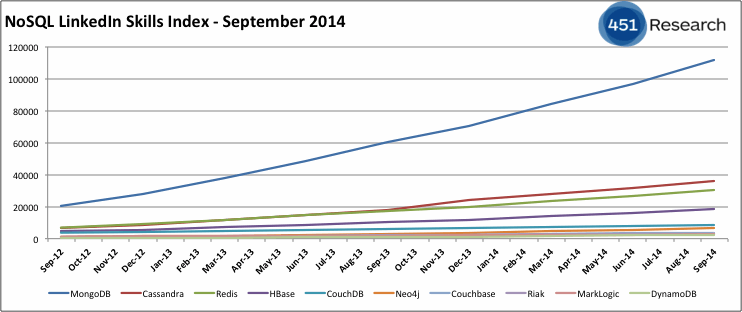 And yet Microsoft seems happy to build and deploy a significant addition to the army of NoSQL databases.
Taking Redmond Seriously
To be clear, Microsoft never lost its place as top vendor in CIO's hearts. But with developers making more enterprise technology decisions—Gartner estimates that 38% of technology spend is already outside IT's control, a number that will hit 50% by 2017—Microsoft has to appeal to developers, too.
And not merely its old guard developers to whom Steve Ballmer sang. Microsoft needs to win over a new breed of developer, one that is a cloud native and prefers open source.
The new Microsoft under Nadella seems like it understands this message, and is acting on it. But buried in all this newness is Microsoft's old commitment to make complex technology easy to use.
That's why Microsoft is no longer evil. Or irrelevant. It's a competitor again.