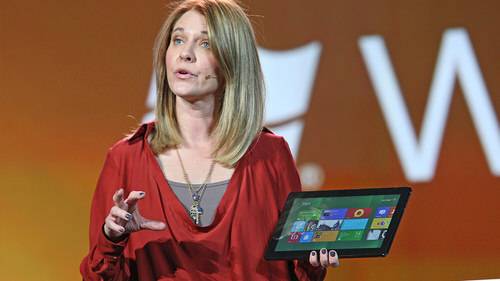 Last weekend, the busiest spot at Fry's Electronics in Concord, Calif., was the notebook PC aisle, where eager salespeople buzzed about from customer to customer, eager to show off Windows 8. It appears that this new, kinder, gentler approach to selling Windows 8 is part of a larger Microsoft strategy that involves both altering the software itself and improving the retail experience.
Changes Coming For Windows 8
In a Wall Street Journal blog post earlier this week, Windows marketing chief Tami Reller described how Microsoft is working to overcome the perception that Windows 8 is frustrating and difficult to use – and said the company is working to both make Windows 8 easier to use and to better explain to shoppers the new operating system's benefits and how to take advantage of them:
Without offering many details yet, Ms. Reller outlined how Microsoft is working on changing software features, helping people overcome obstacles to learning the revamped software, altering the shopping experience for consumers, getting more of people's favorite apps available for Windows 8 and making sure a wider array of Windows 8 computing devices will be on sale.
The Journal also said Reller confirmed that Windows Blue is "both the codename for a coming update to Windows 8 – with additional features and improved services – as well as a name for a broader strategy shift to provide faster changes to its key software." Significantly, Reller also promised a Windows Blue update "before late June" that would address user complaints about Windows 8.
How Is Windows 8 Selling?
Reller's six-month update also revealed that Microsoft claims to have sold 100 million Windows 8 licenses, and that 250 million apps have been downloaded from the Windows Store in the same period, surpassing what Apple's iOS store accomplished during the same period. The number of apps within the Store has grown six times since launch, Reller said, and almost 90% of the company's app catalog has been downloaded each month.
Bob O'Donnell, an IDC analyst whose firm has blamed Microsoft for holding the PC industry back, told Bloomberg that he didn't understand where Microsoft was getting its numbers, given that his sources at the PC were telling a different, less optimistic, story.
Changing Perceptions Of Windows 8?
Whatever the numbers, the first small signs of the push to change perceptions bout Windows 8 were visible at Fry's:
Placards that refer to the "familiar" Windows 8 desktop experience
Shifting the older, cheaper non-touch laptops away from the main floor
The constant attention from sales staff.
That last bit is a big deal: Fry's is known for its sprawling stores and massive selection, but customer service and friend salespeople traditionally haven't been its strengths.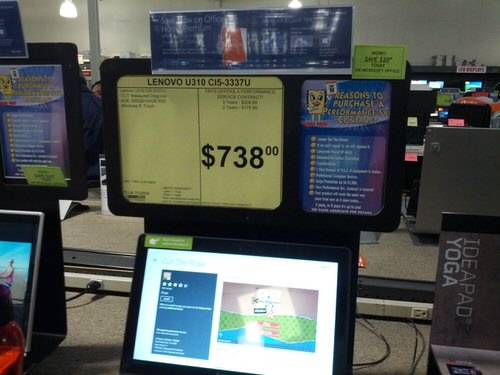 My wife and I were doing a bit of showrooming to find a touch-based Windows 8 notebook for the house. Fry's Concord location boasted five or six aisles of notebooks. Each PC boasted two placards: one touting the benefits of a Fry's card or financing, and one that promoted an Office discount. Microsoft's card also highlighted ow to learn more about the PC, how to get to the "familiar" desktop, and how to "go back to Start." Clearly, Microsoft does recognize that using Windows 8 isn't as natural as it originally claimed, and is trying to help.

Several times during our visit my wife and I were approached by a salesperson offering to answer any questions – and one specifically offered more information about Windows 8. When we wandered back into the rear aisles with the older, cheaper, non-touch Windows notebooks, however, no one followed. Unfortunately, there were about four or five rows of these older PCs versus just two specifically dedicated to Windows 8.
(For comparison, at Best Buy a week earlier, I found an aisle of rather lonely Windows 8 machines sitting by themselves, with Microsoft promotional materials but little sales support.)
Is This A Mea Culpa From Microsoft?
What matters here is that Microsoft finally seems willing to listen to its customers, to work with them to craft an experience that's both productive and entertaining. And yes, when the occasion calls for it, help them over the purchasing hump.
To be honest, though, after looking at them, my wife didn't really want a Windows 8 machine. She seemed to like the Start screen, and swiping back and forth, but she didn't really grasp how to launch a program within the Start screen by typing its name, nor how to how to enable the Charms by swiping in – or even what they were used for.
Microsoft and the PC industry now seem to feel that the solution to the Windows 8 problem is a little hand-holding, and making sure everyone feels comfortable. That's the right approach, let's hope the coming changes to Windows and renewed emphasis on helping customers upgrade hasn't arrived too late.