It's a common sight in companies and home offices to see tech set-ups with more than one peripheral. Some people have at least two, while others work with three screens. Connecting everything altogether can soon become a logistical challenge.
To respond to this need, many tech companies have developed docking stations that provide a way to connect multiple peripherals into a single port. One of these is
J5Create's USB Type-C triple display docking station
. I decided to get one for my home office set-up. Here's my review of this multiple docking station.
About the Company
Five founders launched J5Create in 2010. It has become one of the world's largest computer accessory brands with ongoing product introductions that offer advanced technology for businesses and consumers. The company primarily focuses on developing USB peripheral solutions that maximize a computer's capability. J5Create now has multiple offices around the world, partners with multiple retailers, and offers its products through many channels.
In 2012, the company developed a revolutionary cross-platform technology known as the Wormhole™ that removes the barrier between different devices and operating systems so they can work together. Their USB™ 3.0 Wormhole™ Docking Station won the 2012 CES Innovations Award and the 2012 Computex Best Choice Award.
How the Docking Station Works
This is a Gigabit Ethernet port that enables access to wired networks for fast communication. The J5Create USB Type-C triple display docking station shares your laptop screen on up to three 4K monitors, giving you as much as 100W of pass-through charging power.
As you may or may not know, USB-C is the new standard for connecting PCs and laptops. It is set to eventually replace all USB cables and connectors now in use. This new USB standard is already available on the latest laptops, smartphones, and mobile devices. The switch to USB-C is beneficial in anyways, including greater power delivery and faster data transfer rates that deliver up to 5 Gbps.
Working with PC and Mac, these docking stations are compatible with most laptops that have a USB Type-C port, giving you a full-size workstation.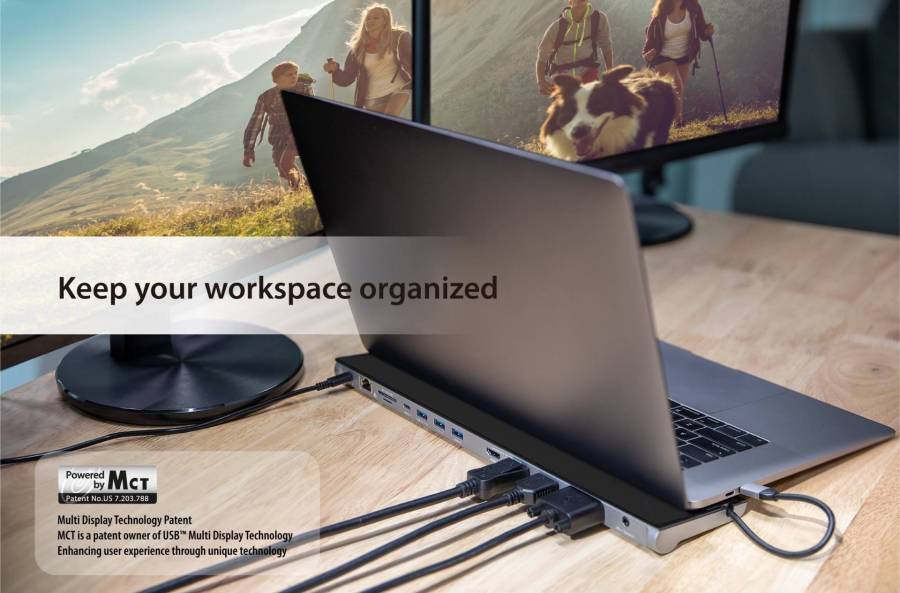 Docking Station Features
This is a features-rich docking station. It supports USB Type-C upstream charging so you can charge your notebook or smartphone while using the adapter. The docking station also has outputs for DisplayPort, VGA, and HDMI. This means you can connect to an HDTV or a high-definition monitor.
Other features include three USB 3.1 Gen-1 Type-A ports that give you transfer speeds of up to 5 Gbps and enable USB device charging. There is a combo audio jack so you can connect earphones, speakers, or microphones. The SD and micro SD card reader allow for external memory access.
One of the USB™ Type-A ports supports fast charging BC1.2, which is ideal for a smartphone, tablet, or iPad.
What Works and What Doesn't
Everything about this docking station works for me. It's the easiest way to connect a second and third display. The cable is easy to place anywhere. There is also a unique double-sided cable storage compartment. Although it's just an accessory, it's cool design makes it look futuristic.
Nothing overheats because the docking station uses an advanced heat-eliminating design. Plus, it offers universal compatibility. It's nicely sized for desks and doesn't take up much space, adding to its convenience.
Where to Buy
It's priced at $149.99 and offers good value for what it delivers. You can buy it online through many retailers as well as in stores like Best Buy, Walmart, Fry's Electronics, Staples, and Office Depot/OfficeMax.
In the Box
This is a plug-and-play type of device, so you get a J5Create USB Type-C Docking Station and an owner's manual.
Overall Thoughts
The J5Create USB-C™ Triple Display Docking Station with 90W PD Adapter is my hub of choice for easily connecting multiple peripherals. The docking station is fairly priced and delivers exceptional value and quality, easy installation and use, greater convenience, and reliability. I now can enjoy a complete workstation at home and at the office.
Editor In Chief at ReadWrite
Brad is the editor overseeing contributed content at ReadWrite.com. He previously worked as an editor at PayPal and Crunchbase. You can reach him at brad at readwrite.com.