It's increasingly a truism that the Internet of Things is going to be a big deal. The main question is when. While analysts are projecting the need for millions of developers by 2020 to tie together all our smart and not-yet-smart gadgets, there remain significant barriers to lift-off today, as detailed in a new report from IDTechEx.
See also: What's Holding Up The Internet Of Things
A Bright Future For Both Internet And Things
It's not surprising that our connect-all-devices future is getting so much attention. After all, it's expected to encompass some tens of billions of units set to hit the market, it opens up all sorts of revenue opportunities in hardware, software and, most importantly, services.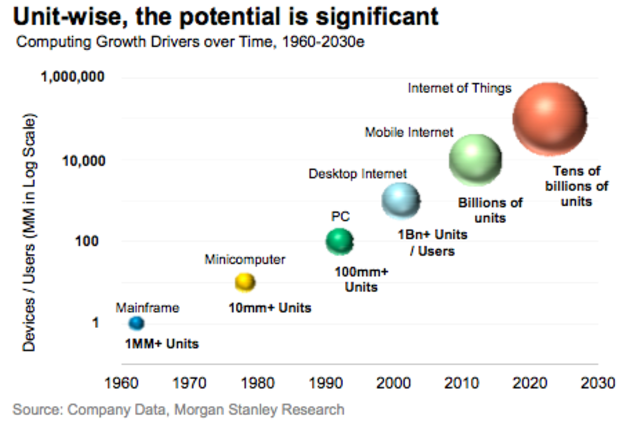 It's also fueling demand for lots (and lots) of developers.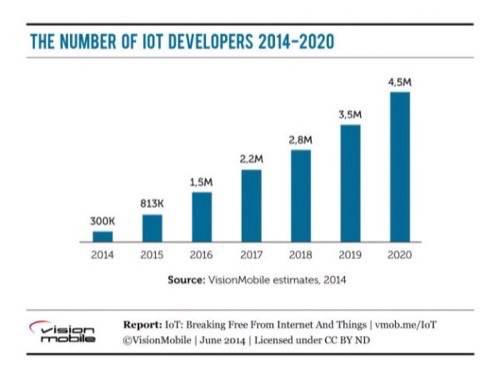 In other words, we have a perfect storm of market opportunities driving revenue and employment. And while IDTechEx notes that "Cynics conflate many … existing markets to give the illusion of something extremely big that is new when it is largely renamed and not new," even discounting IoT considerably still leaves us with a big opportunity.
What's Holding Back The Flood Of Things?
The problem, however, is that organizations are still stymied by technical hurdles. When asked which technologies are most important to enabling valuable Intenret-of-Things uses, practitioners honed in on Wi-Fi, real-time location tracking, bar codes, mobile and GPS, among other things: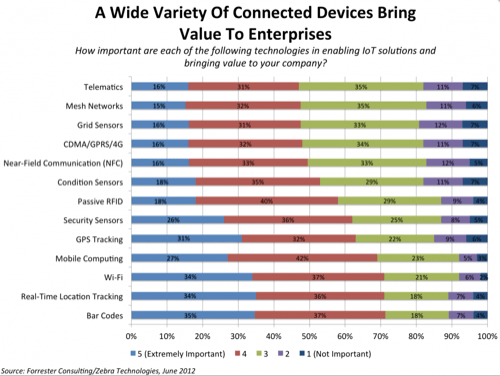 but there are some critical things impeding such vision, however, as IDTechEx outlines in its report. Among them, including some captured by CIO Insight:
1. The Internet is still not available in many areas of the world. While companies like Google are working hard to change this with its balloon-powered Internet and other low-power, low-cost ways to spread the Internet, success has been spotty to date.
2. There aren't many large potential customers. While there are roughly 10 billion sensors deployed today for natural resources, production lines, electricity grids, logistics networks, recycling, homes, offices, stores and vehicles, many are not connected to the Internet or even parts of a network. The investments needed to complete these connections won't materialize until the revenue potential is clear.
Some companies like Bosch understand this and are building services on top of networks of sensors, but most organizations have been slow to embrace the potential of connecting everything.
3. Lack of standards. More than 400 standards already exist, which is tantamount to there being no standards at all. Manufacturers need to be persuaded to build standard communication protocols for the sensors they embed into their products, rather than creating data silos with proprietary protocols.
Related to #2, businesses need to change in ways that make data sharing more appealing than data hoarding. So long as organizations think they need to exclusively build both the things and the services that connect them, the Internet of Things will remain stillborn.
4. Software to be defined. There are many software, system integration and processing issues, like determining what middleware should do and whether to perform analytics in the device or in the network. Related to #3, each sensor type collects and transmits data in a different format, and it's unlikely that any given API hub or integration site will accommodate all sensor data types. Little consensus exists, but we badly need standardized middleware anyway.
5. Security and safety issues. Smart and connected devices systems and other tools can be attacked or deployed to access highly sensitive data, as scholars and others have highlighted. Also, simply flooding the frequencies of wireless networks can paralyze them. An Internet of Things is no good if the things can't talk.
6. Power is a problem. Because large deployments mean the batteries in nodes may not be rechargeable or even replaceable, we'll probably need energy harvesting—in which systems capture and store power from ambient sources like solar or kinetic energy—to power a vast array of lower-power gadgets without batteries.
Developers Offer Hope
As big as these challenges are, there's one thing still working in favor of the Internet of Things: Developers.
While only 17% of developers surveyed by Evans Data are currently working on Internet-of-Things applications, that number is set to boom, particularly in the Asia-Pacific region. Over the past few years, developers have proven to be amazingly adept at working with small budgets and big dreams, giving us things like Linux, Hadoop, Raspberry Pi and more.
So while the obstacles to the Internet of Things are real, so is the potential for developers to overcome them.
Lead image courtesy of Shutterstock