Demand, meet supply. The world is in dire need of millions of Internet of Things developers within the next few years. The good news? According to a new Evans Data survey, 17% the world's software developers are already working on IoT applications; those in the Asia-Pacific region are particularly active.
See also: The Internet Of Things Will Need Millions Of Developers By 2020
The bad news? This developer population doesn't have a strong history of software and cloud services innovation.
Asia-Pacific: A Hotbed Of Activity
To reprise: Evans Data's recent global survey of over 1,400 software developers found that 17% are working on applications for connected devices for IoT, while an additional 23% expect to begin work on them in the next 6 months. Given that so much of the world's electronics are produced in Asia-Pacific, it's perhaps not surprising that it's the region with the most aggressive IoT developers.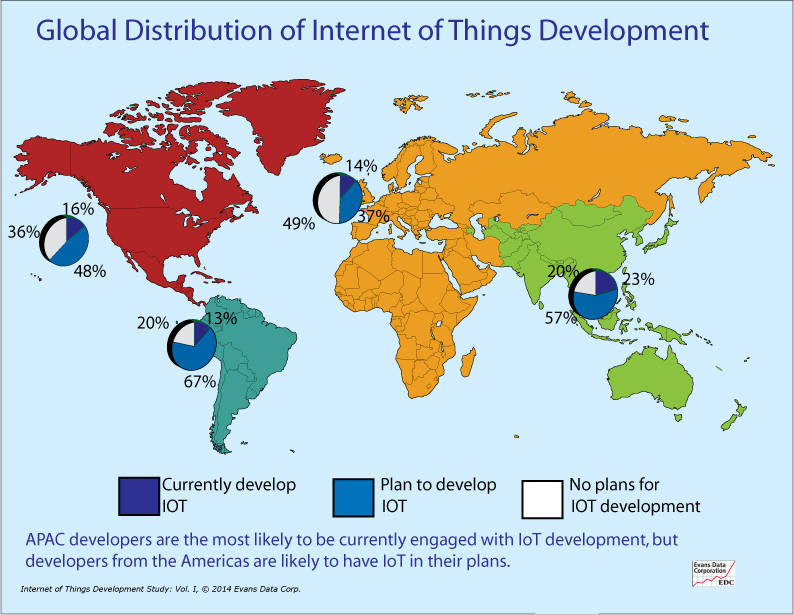 In fact, nearly 23% of APAC developers are currently developing software for Internet of Things. Only 20% of APAC developers say that they have no such plans, compared to 36% in North America and 49% in EMEA.
But the real question for APAC developers is whether they'll repeat their errors of the past few decades: building great hardware and neglecting to connect that hardware with software and services. Sensors, it turns out, are somewhat pointless.
More Devices, More Connected
The number of 'things'—30 billion devices connected to the Internet by 2020, according to Gartner, compared to 7.3 billion personal devices—is impressive but not the real story. Soon enough, as Gartner suggests, these devices "will … be able to procure services such as maintenance, cleaning, repair, and even replacement on their own." They will be able to interact without human intervention, creating all sorts of possibilities, not to mention security vulnerabilities.
Developers are making this happen, developers that believe in and are helping to shape a connected future:
Due to the convergence of cloud, embedded systems, real-time event processing and even cognitive computing, developers are blessed with a perfect storm of low-cost devices and the ability to intelligently connect them. That in turn will yield revenue-generating services, which is where the real IoT money is.
Opening Up The Internet Of Things In APAC
While 31% of developers associate the Internet of Things with cloud computing, according to the Evans Data survey, the connections that bring device data to the cloud are much more important. As Intel Internet of Things business leader Ton Steenman complains, companies currently spend 90% of their IoT budgets "stitching things together," when that number should be closer to 10%.
APAC hasn't traditionally been good at such "stitching."
That stitching is hard both because developers haven't trusted third-party networks to carry their device data, but also because connectivity hasn't been built into devices and sensors at the pace needed, as data from Berg Insight suggests:
• Wireless connectivity has been incorporated into just 1/3 of point-of-sales terminals sold in 2013
• 27% of ATMs in North America are connected to cellular networks while only 5% to 10% are connected in Europe
• The number of "oil and gas" devices with cellular connectivity hovered at 93,000 in 2013 but will jump to 263,000 new units by 2018
There are signs that this is changing, particularly in APAC, which was an early pioneer in mobile communications. Just looking at the prevalence of connected smart electricity meters, APAC has the lead, despite lagging considerably in 2011.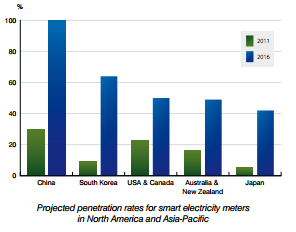 Companies in APAC have struggled to build compelling software (e.g., Sony smartphone interfaces) or cloud services (e.g., Samsung cloud sync and back-up services). While this is changing, it's an open question whether APAC will be able to take the lead in developing connected experiences across devices.
One place to start is by opening up APIs.
As Rob Wyatt argues, "It is the open, local API that is missing from the Internet of Things." To make the it work anywhere, and particularly in Asia-Pacific, it's not enough for "vendors … to provide dumb 'smart' devices with a select handful of 'strategic' integrations within their pay-walled garden."
For Internet of Things applications to work, device vendors need to provide open APIs so that other developers can hack services around and into them.
If APAC developers do this, they'll win the war. Again, the battle won't be won by building nice devices. It will be won by creating compelling developer cloud-services experiences that span a wide array of devices—all of which can start with open APIs on those devices so that developers, both within APAC and outside it, can hack the future.
Lead image by Flickr user Ed Coyle, CC 2.0