At long last, Intel has shipped its tiny Edison computer. Announced in January, this $50 module—which Intel insists on calling a "development platform"—is ready for your latest maker projects.
See also: Meet Edison, Intel's Tiny Plan To Power The Next Generation Of Wearables
Intel has hinted at big plans for Edison; it clearly hopes to seed the device, or something like it, so widely that it might end up a standard for the still-emerging Internet of Things. For now, however, Intel is positioning Edison as a DIY device for makers and hobbyists, promising to "lower the barriers to entry for entrepreneurs of all sizes" by including specs for makers and a forum for showing off Edison-based projects. Indeed, the only places Edison is available for sale so far are hobby sites.
Ready for both Wi-Fi connections and hardware peripherals, Edison should adapt easily to projects great and small around the connected home. About the size of an SD card, the Edison might also find itself powering new kinds of wearables.
I lined up Edison's specs with those of the Arduino Uno and the Raspberry Pi Model B+, two of the most popular hackable devices on the market: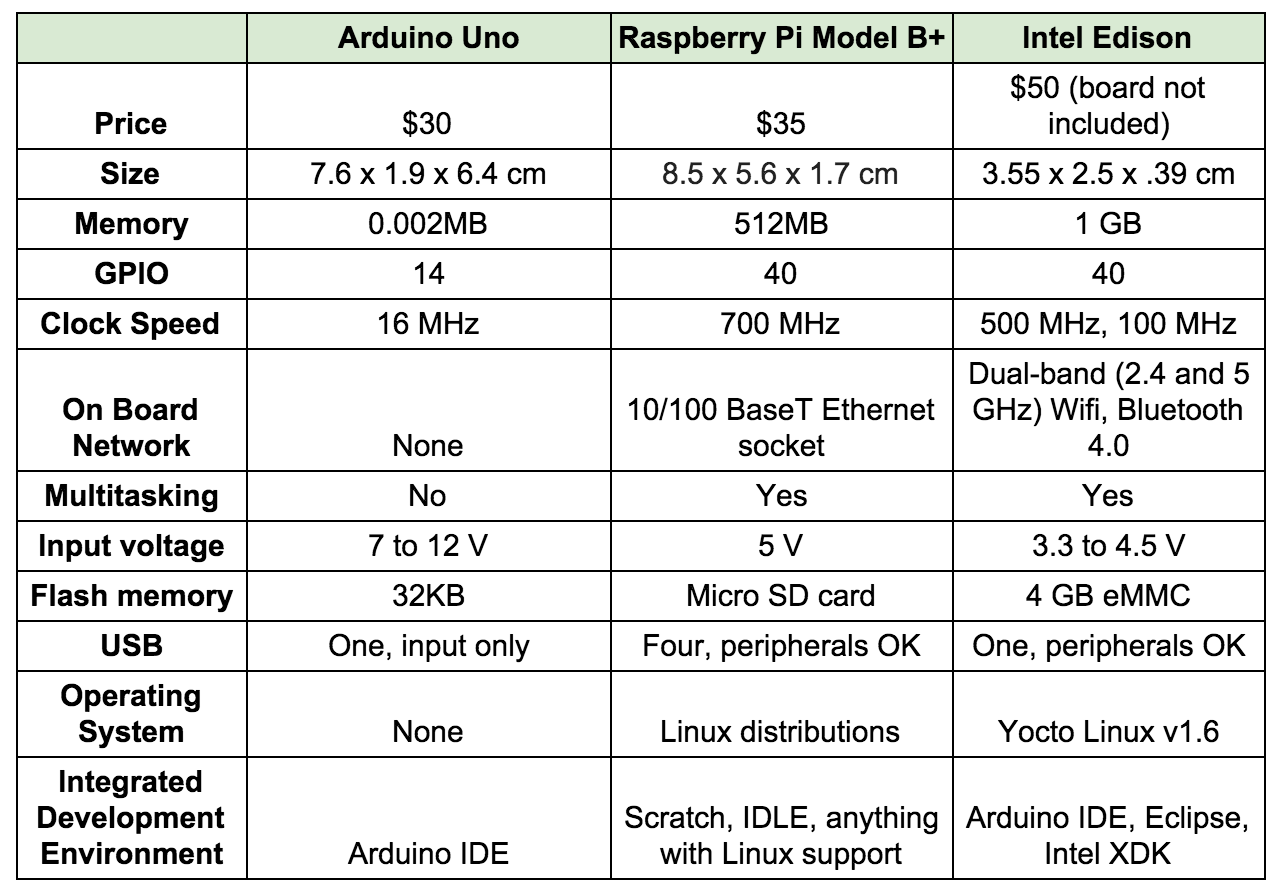 Edison is at the high end of the bunch, but still affordable for hobbyists. Perhaps the most surprising thing about Edison is just how much smaller it is than its contemporaries.
It's not surprising that the older Arduino Uno is both relatively large and underpowered compared to its rivals; the Uno as we know it began shipping in 2011. But the Raspberry Pi Model B+ launched just a few months ago, in June, and by comparison the Edison's capabilities are downright impressive.
See also: Arduino Vs. Raspberry Pi: Which Is The Right DIY Platform For You?
In all likelihood though, the Edison isn't going to compete head-to-head with either device, the same way the Pi and Arduino complement one another more than they compete. In fact, Intel has already released an Arduino expansion. And since Edison runs Linux, we'll also probably see projects that use both the Edison and the Pi.
In any case, Edison's size is what is going to help it find its niche in the DIY world. Something that tiny can find its way into even less intrusive connected home and wearable devices. According to Intel's maker forum, this is exactly the direction Intel is hoping for. The next step is up to makers.
Edit: This article has been updated on Sept. 11 to reflect the actual clock speed of the Edison. Previously, we incorrectly gave clock output.
Image courtesy of Intel