Two tech titans of yesteryear, IBM and SAP, had depressing quarterly earnings call this week. The worst part? Both are pinning their hopes on the very thing that is eating their lunch: cloud computing. And both are going to have to grapple with the profit-destroying machine that is Amazon Web Services. As Paul Ramsey, co-founder of the PostGIS open source spatial database, asks, "Has anyone ever gotten rich competing with Amazon?"
The answer is no.
Teaching Old IT Vendors New Cloud Tricks
In a statement SAP declared that it, "anticipates [its] fast-growing cloud business along with growth in support revenue will drive a higher proportion of more predictable, recurring revenue in the future." But if it's growing so fast, why has the company had to delay profits by two years?
As for IBM, its hardware business took a serious beating, while other areas also struggled to grow: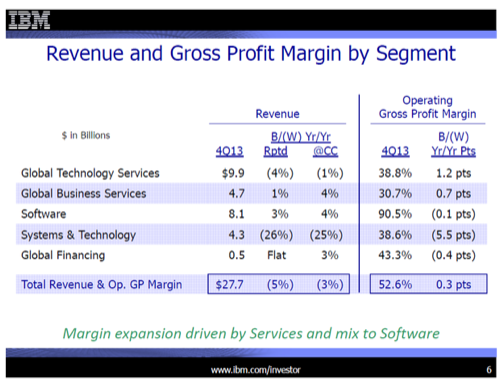 It's not surprising, then, that IBM would be looking to offload hardware businesses while investing heavily in cloud.
What is surprising, however, is that these IT heavyweights think they can find high-margin businesses running in Amazon's low-margin cloud world.
Playing Amazon's Game
No matter how much the tech industry may want to pretend that fat cloud profits sit just beyond Amazon's reach in private cloud or hybrid cloud, the reality is that Amazon owns the cloud. Today its footprint is primarily felt in the Infrastructure-as-a-Service (IaaS) market, where it has five times the utilized capacity of its next 14 largest competitors (excluding Google), according to Gartner. But it's a dead certainty that its influence will be felt in adjacent markets like Platform as a Service (Paas.
Oracle was the first to declare itself a serious Amazon Web Services (AWS) competitor, insisting that "Our intention is to sell our customers infrastructure as a service and the same customer a highly differentiated platform as a service will let us get better margins and highly differentiated suite of enterprise applications for the cloud."
Good luck with that.
Meanwhile, Amazon just announced its 40th price drop since 2006. How do IT incumbents like IBM, Oracle and SAP expect to match Amazon's AWS pricing power when each carries decades of built-up overhead?
One answer, of course, is that they can't. Cowen & Co. analyst Peter Goldmacher, writing of SAP, cautions that a sleight of hand may be underway to distract investors from the fact that the transition to the cloud is brutally painful and may not materialize:
"The relatively small contribution of [SAP's cloud] business [at just 5% of overall revenues] leads us to believe that management's emphasis on this segment is meant to distract investors from weakness in SAP's traditional Applications businesses … We believe SAP could choose to increase reported Cloud revenues by creatively allocating sales to the segment, like it did with HANA, particularly given that "Cloud" is a subjective term.
This isn't a criticism of SAP so much as an acknowledgment of the massive chasm between where the IT incumbents are and where they need to be to compete in modern, cloud-oriented computing. It won't be pretty. For example, in the same month that IBM announced a $1.2 billion investment in the cloud it also registered a $1 billion write-down to account for layoffs.
Creative destruction? Yes. But the destruction comes with unfortunate human costs.
Learning From Novell
I should know. I lived through a similar market shift. In 2002 I joined Novell, the once mighty networking software giant. NetWare, once the leading network operating system, was on a steady 11% annual decline. We needed to find a way to staunch the bleeding and ended up acquiring SUSE, a leading Linux provider, to give Novell a growth path.
The problem, of course, was that NetWare was a high-margin business. It was a cash cow, albeit a thinning one. Linux, for its part, had a completely different business model and required a very different cost structure to sell and support it profitably.
Which, of course, Novell couldn't do.
This isn't because the Novell employees were dumb or the management team wasn't committed. Novell had some of the smartest people I'd ever met and its executive team was fully behind SUSE Linux. But Novell was saddled with an expensive cost structure that couldn't profitably support a lower-margin, open source business. It has only been recently, as SUSE has been freed from all the Novell overhead and ancillary software, that it has been able to profitably grow.
Welcome To The Amazon Developer Jungle
In similar fashion, each of the IT heavyweights is going to have to learn to compete on Amazon's terms. It's unlikely that anyone will manage this without significant pain, or without figuring out the emerging world of developers. Quoting Gartner analyst Lydia Leong at length:
[Amazon has]essentially created demand in a new type of buyer — and they effectively defined the category. And because they're almost always first to market with a feature — or the first to make the market broadly aware of that capability — they force nearly all of their competitors into playing catch-up and me-too.
That doesn't mean that the IT operations buyer isn't important, or that there aren't an array of needs that AWS does not address well. But the vast majority of the dollars spent on cloud IaaS are much more heavily influenced by developer desires than by IT operations concerns — and that means that market share currently favors the providers who appeal to development organizations. That's an ongoing secular trend.
This…doesn't mean that the non-developer-centric service providers aren't important. Most of them have woken up to the new sourcing pattern, and are trying to respond. But many of them are also older, established organizations, and they can only move so quickly. They also have the comfort of their existing revenue streams, which allow them the luxury of not needing to move so quickly.
Nothing is safe from the broader market shift towards cloud computing.
It's unreasonable to expect Oracle, IBM and SAP to make the transition to the cloud with ease. Not because they're bad companies, but because the cloud forces them to fundamentally rethink and restructure, and that's incredibly hard to do. We should expect this to translate into difficult earnings calls for all the tech bellwethers for many quarters to come.