We spend a lot of time on email. A lot of time = life. Managers, professionals, and other high-skill workers spend on average 28 percent of their working week managing their inbox. Use the Right Inbox for success and to supercharge your Gmail.
For argument's sake, let's say it was possible to get all your emails out the way in one batch at the start of a week. Assuming you work a 40-hour week, from nine to five, it'd take you from first thing on Monday until just before noon on Tuesday to finish.
That's an obscene amount of resources being directed towards a single task. Wouldn't it be good if there was some way to streamline your email communications? That's where Right Inbox for Gmail comes in.
Why use Right Inbox for gmail?
Right Inbox saves you time on repetitive tasks and helps you to send better emails, in less time consistently. Once you install the Right Inbox app — a process that takes very little time — you'll immediately gain two levels up of time-saving, productivity-improving tools. And this is right at the beginning before you even begin writing your message: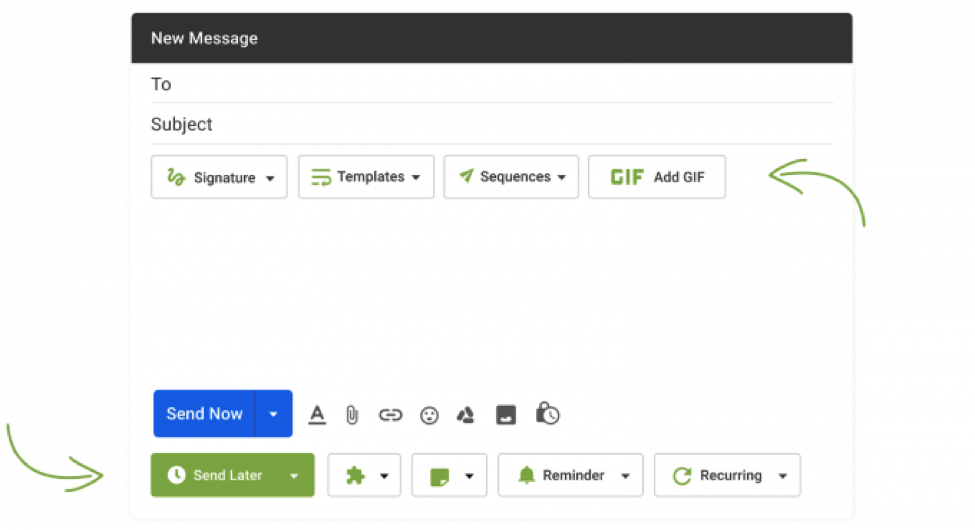 At the top of the message window, right below the subject line, you'll find a variety of features designed to soup-up your conversational skills. Switch signatures, insert a templated message, set up an email sequence, or add a GIF at the click of a button.
Below are all your scheduling options. Plus many features that allow you to sync with your preferred CRM platform, add private notes to your messages, and set up reminders.
What features does the Right Inbox platform offer?
Gmail is the world's most popular free email service. But that doesn't mean it's perfect.
By installing Right Inbox, you'll get all the functionality that you wish Gmail included as standard. You can find a full rundown of features on the Right Inbox website, but these are some of the most useful:
1. Time zone support for scheduling emails.
Whether you're a marketer, a freelancer, or working in business development, there's a good chance you'll be speaking. You not only talk, speak and send to clients, prospects, and service providers — you email across numerous states, territories, and even countries.
Having a global reach is how business is conducted today, but the required scope can cause a real headache when it comes to email scheduling. You might want an email to arrive in a prospect's inbox at 9:30 am on Tuesday — but your 9:30 am isn't the same as your important contact-client.
Typically, the only way to resolve the timeline issues is by Googling time differences and doing the quick mental math. Okay,  they're three hours ahead, so my 9:30 am is their 12:30 pm. Sound familiar?
No longer will you need to even waste the quick two seconds on these thoughts. And believe it, two-seconds, over time, adds up. Right Inbox has a built-in timezone support system, removing the need for you to work out the differences manually: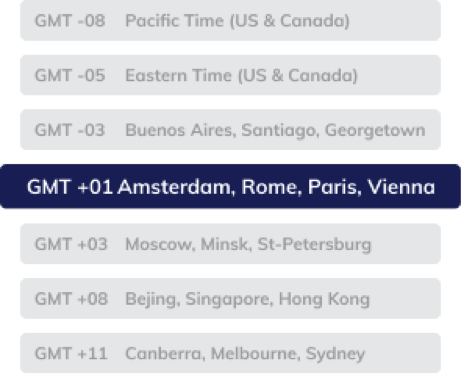 You can also make sure that your contact's timezone is with their info — and the built-in time zone support will handle the rest for you.
2. Save your most effective emails.
Anyone who works in sales and marketing knows that some emails work better than others. If you don't understand this concept, please test the theory.
Maybe your best email was the subject line. Perhaps it was the snappy intro. Possibly it was the eye-catching statistic you included in the body copy. Either way, if the email was effective — chances are you'll want to use that same email again.
Right Inbox lets you save your favorite templates and access them instantly: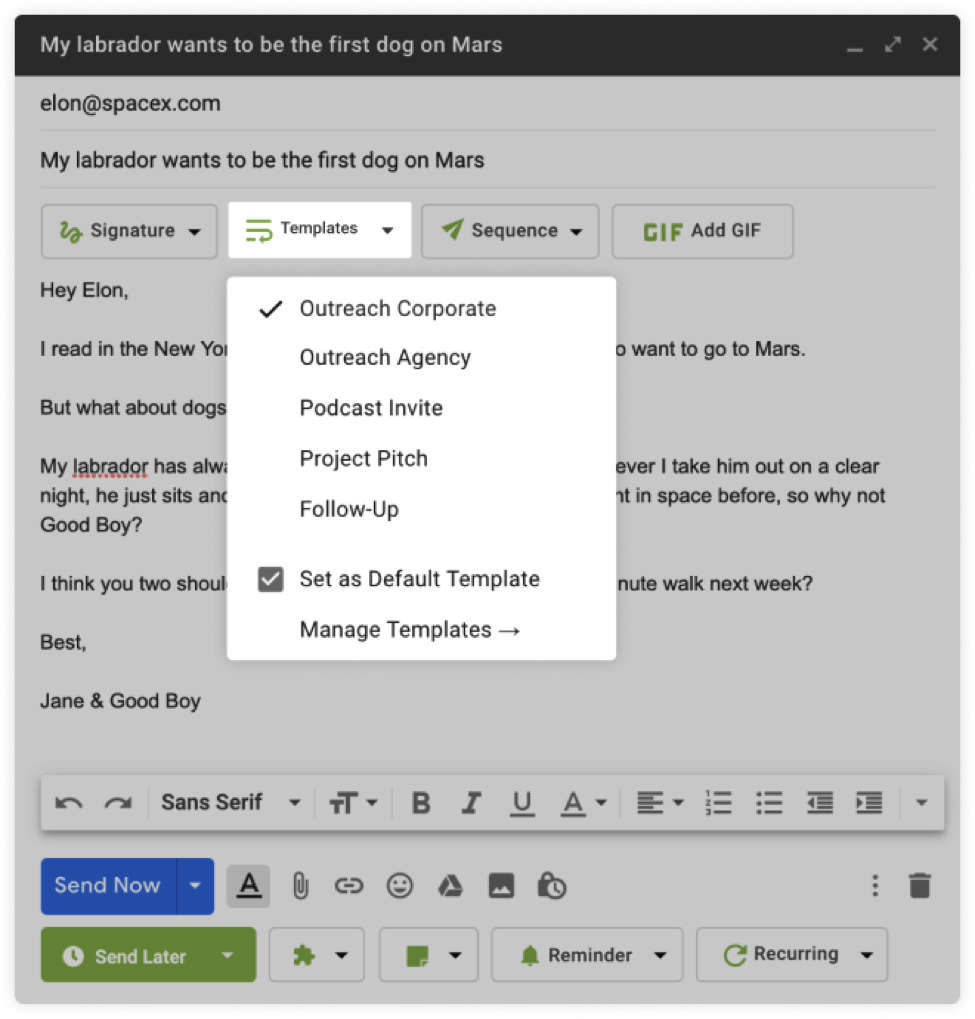 Naturally, you can set different templates for different types of message. After all, not every email you send will be going to the same sort of person, nor will they all be about the same subject.
3. Set up email sequences to automatically chase non-responders.
Sick of manually keeping track of who has and hasn't responded to your latest marketing communication or sales pitch? Wish you didn't have to chase up every single person who didn't reply? Again, Right Inbox saves you the time and frustration, making it easy to set up email sequences to automate the follow-up process: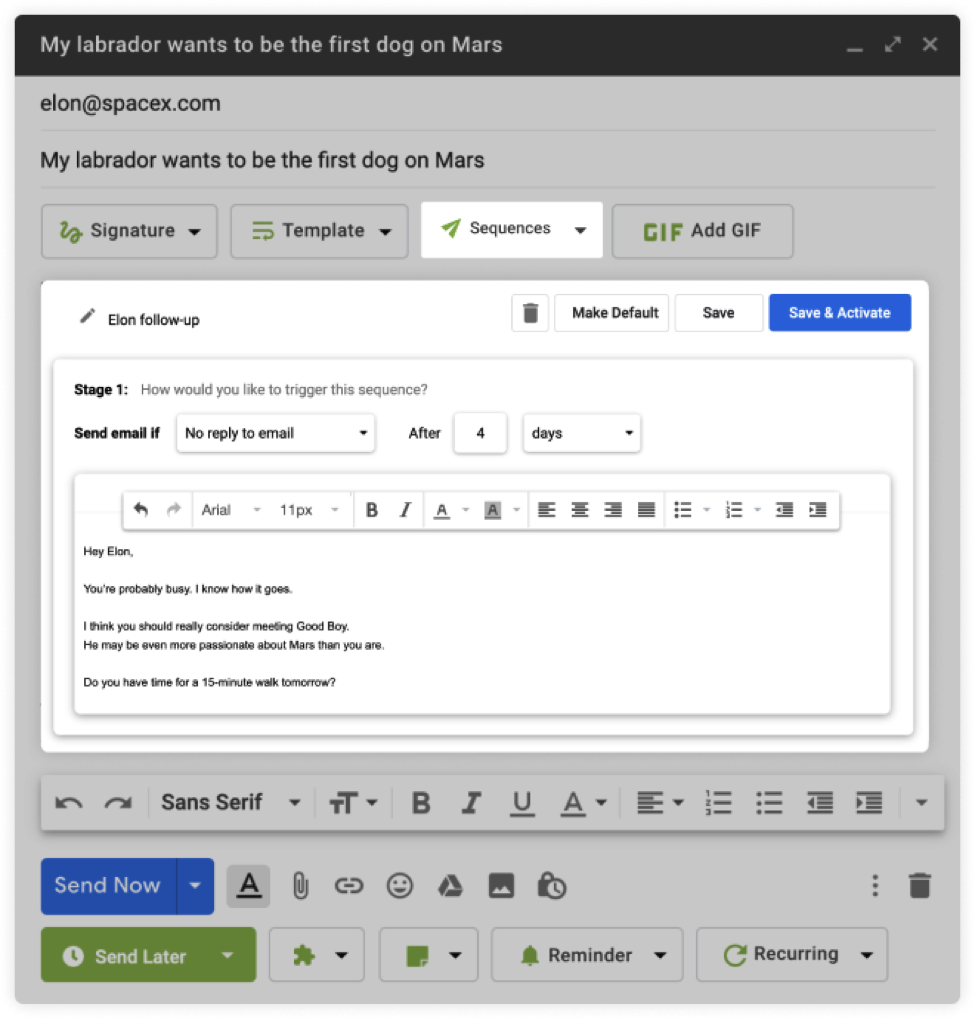 Those subsequent messages will be sent without any further action on your part — unless you receive a reply to the original message, in which case the follow-ups are automatically canceled. Use this feature in tandem with templates to easily add your best follow-ups to your email sequence.
4. Sync key email threads with your CRM tool.
Adding relevant email threads to your CRM system of choice doesn't have to be time-consuming or frustrating. Merely click the sync button at the bottom of the message window to copy your most important threads to the CRM platform of your choice.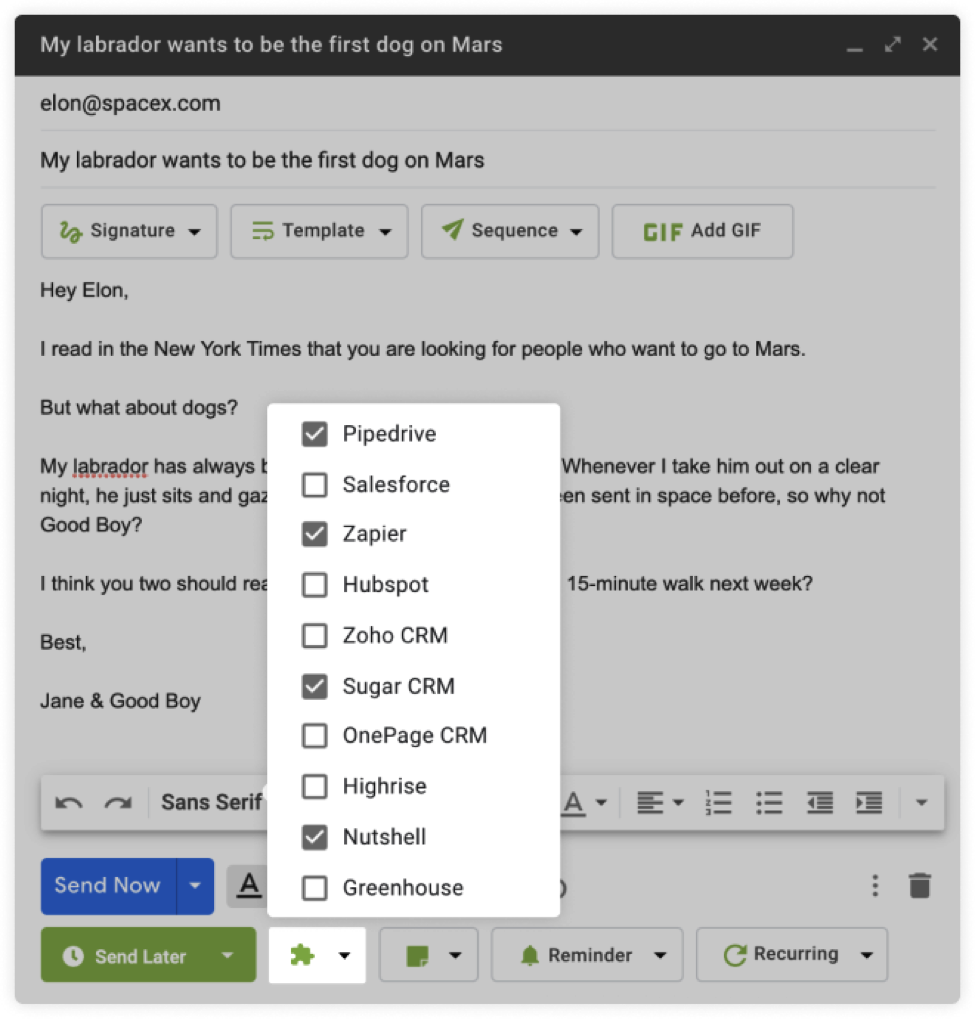 Plus every other CRM system that supports smart BCC email sync. Alternatively, you can set emails to sync automatically and only check the checkbox when you don't want a thread to be synced.
5. Schedule recurring emails to auto-send.
You want to dedicate your time to the emails that require real thought and expertise. The time-sucks are in the simple reminders that need to be sent at the same time every week or month. Thankfully, you can easily set up recurring emails.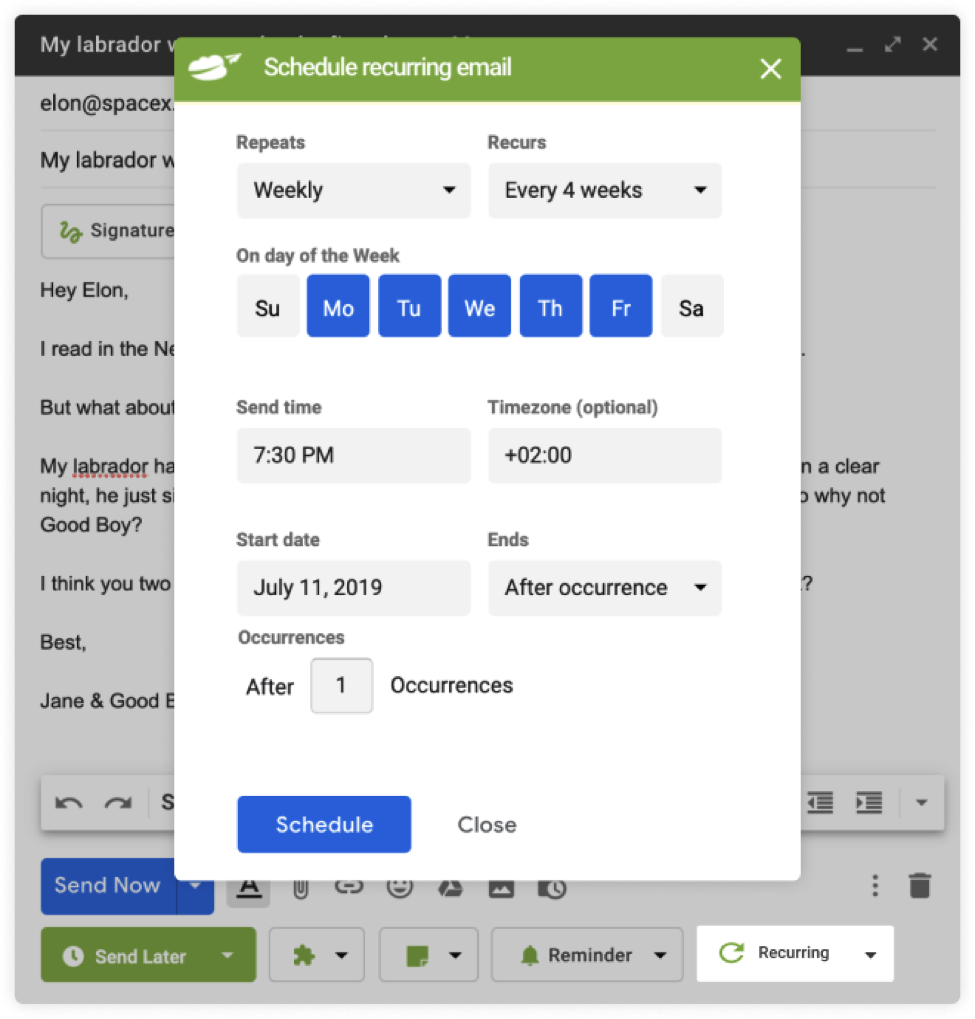 Reminder emails can be annoying for you. Still, you need to remind freelancers to send their invoices, chase down colleagues about meeting agendas, and prompt yourself to stick to a new habit. Allow these simple emails to be run on autopilot — freeing you up to add genuine value elsewhere.
What does it cost for the Right Inbox email?
One of the best aspects of Right Inbox is its flexible pricing model. Install the app, and you'll immediately be able to use many of the best features free of charge, but with monthly caps. Alternatively, if you prefer a life with no limits, take out a monthly subscription — or sign up for a year to receive a 25 percent discount. Teams enjoy discounts of $1 per user versus the standard price for individuals.
Right Inbox won't magically transform you into the world's best marketer or salesperson overnight — but it can give you a chance at that honor. This platform will make it easier to perform at the levels demanded by today's consumers. Supercharge the way you use your email.
Image Credits: Right Inbox