Accessing solutions and services over the Internet is not new. However, the speed at which new cloud computing tools and technologies are emerging is rapidly accelerating.
Most businesses turn to the cloud to save money and improve efficiency. Cloud migrations offer businesses the opportunity to simplify functional business processes and their IT architecture.
Rather than spending money on initial software development and maintenance, companies turn to cloud-based infrastructure solutions to outsource the responsibility for upgrades and management.
Companies that utilize the cloud can expedite internal processes and make customer data points more accessible from anywhere in the world.
Why Move to the Cloud?
Organizations using legacy on-premises applications must take steps to modernize their IT and implement cloud computing tools and systems.
Companies that embrace and adapt to change are more agile than those that do not. As a result, they can focus on spending more time and resources on core competencies instead of dealing with upgrade and management concerns.
Cloud platforms significantly reduce the cost of IT infrastructure in addition to the total cost of ownership.
By adopting and implementing a cloud platform, an organization can eliminate traditional processes such as spreadsheet-based accounting and focus on capturing real-time data.
Cloud systems ensure better visibility into financial and operational data.
Front and back-office processes can be seamlessly integrated to consolidate data across different departments within an organization.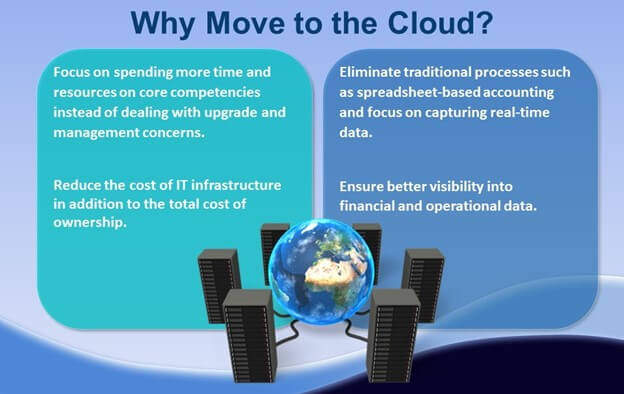 The market is changing dynamically. Companies are moving to the cloud to remain competitive, scale operations, and accelerate growth.
Cloud Computing Tools
Cloud computing tools benefit the organizations that use them in quantitative ways to provide insights on how to improve their businesses.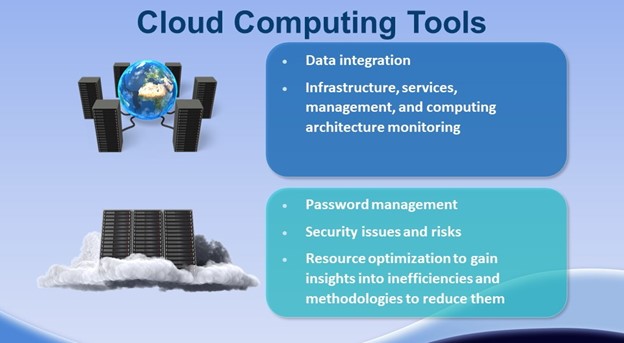 Some of the processes that are simplified include:
Data integration
Infrastructure, services, management, and computing architecture monitoring
Password management
Security issues and risk management
Resource optimization to gain insights into inefficiencies and methodologies to reduce them
Data Integration Tools
Data integration involves combining data from various sources for analysis, reporting, and business intelligence.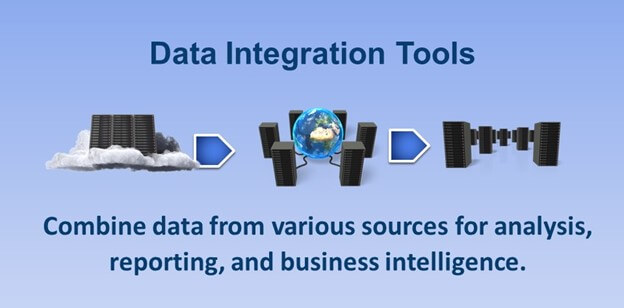 Cloud data integration tools can be accessed through a web browser and are hosted on a third-party provider's server.
Below are some popular cloud-based data integration tools that enable businesses to integrate data from multiple sources quickly:
Informatica Cloud Data Integration
Salesforce Platform: Salesforce Connect
Oracle Integration Cloud Service
SnapLogic
Talend Cloud Integration
Incomplete or inaccurate data has a significant negative effect on your company's bottom line. Integration tools help companies maintain quality data while enabling them to get the most out of growing data volumes.
Monitoring and Maintenance Cloud Computing Tools
Cloud monitoring tools track safety, performance, and availability of critical cloud services and apps. These tools monitor, manage and evaluate infrastructure, services, and computing architecture.
Below are several of the more popular cloud monitoring tools:
AppDynamics
Microsoft Cloud Monitoring
Amazon CloudWatch
Logic Monitor
New Relic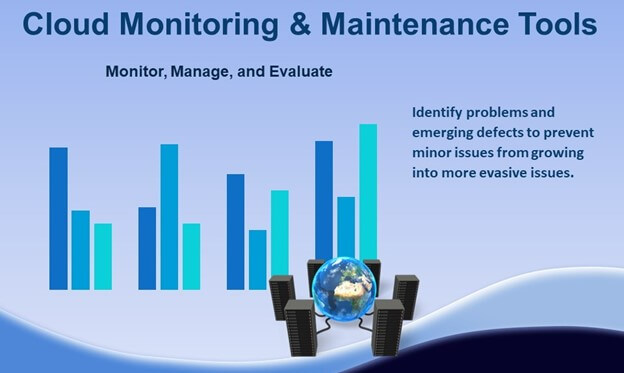 Companies use cloud monitoring tools to identify emerging defects to prevent minor issues from growing into more pervasive problems.
Password Management
Anyone who uses the Internet knows how difficult it is to remember passwords for every site they use. Many people try to use the same password or variations of it because it is easier to remember.
However, this practice often results in weak passwords and poses a security threat. How can you use a unique and strong password on all the websites, systems, and applications you use?
Unless you have a photographic memory, it is impossible to remember the vast number of passwords needed to access almost every site online.
For businesses, using a password manager is a critical security feature. It will:
Eliminate employees reusing passwords
Protect access to accounts with sensitive customer and company information
Improve staff security behavior
Rather than having to remember way too many logins for business processes such as cloud storage, Google Drive, and collaboration sites, a password manager will remember your passwords for you.
When using a password manager, users only need to remember one password to the manager itself. Although modern browsers have built-in password managers, they are not secure.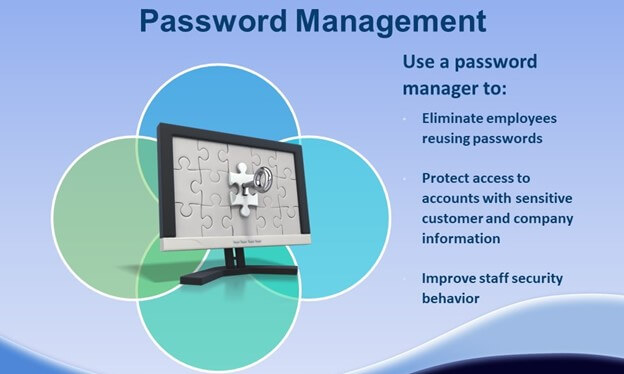 For example, Chrome stores master passwords in an unencrypted form. Hackers can gain access to your master password and then get into all your password-protected sites.
When choosing which password manager to use, avoid the services that allow you to retrieve your master password. Even though it is a pain to reset your master password, the consequences will be much more severe if it is compromised.
In addition to not having to remember tons of passwords, using a password manager also protects from some types of phishing attempts.
While you might not recognize a clone site in an email, your password manager will by not auto-filling your login information.
Cloud Computing Tools for Security Issues and Risk Management
Skimping on security tools is not a wise option, so many businesses today find that they are spending a lot of money on security.
You may be tempted to skip this step, but recent hacks reported in the news should persuade you against it.
In February 2019, hackers in China had significantly increased against US companies and did not show any sign of stopping.
According to Microsoft, Iranian hackers targeted thousands of people at more than 200 companies in the last two years.
North Korean hackers have targeted American businesses for over two years.
In 2019, Marriott announced a major security breach where hackers accessed sensitive records of 383 million guests.
Capital One's data breach announced last year had data stolen from anyone who applied for a credit card from 2005 through 2019, including bank account and social security numbers.
In September 2020, the United States Department of Justice indicted five hackers with Chinese intelligence service ties for cyberattacks on 100+ organizations, including IT, academia, and social media.
137 million Canva user accounts were hacked in May 2019, exposing information such as names, cities, and usernames.
The statistics above are scary when you think about the havoc a cyberattack can have on your business. This is driving companies to increase their spending on security tools.
However, many small businesses cannot afford to pay for expensive security tools, nor do they have the time and resources to understand how to implement them.
There is a new tool called DevSecOps that combines existing cloud computing tools and integrates security to simplify the process.
What is DevSecOps?
DevSecOps combines two methodologies into a single unified framework. It ensures faster coding by focusing on automating code production and streamlining efficiency. SecOps deals more with security issues.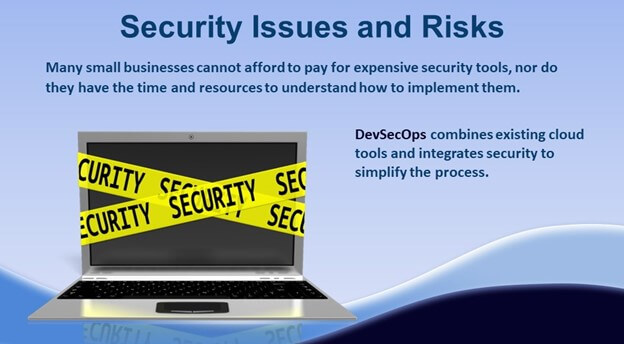 By utilizing both frameworks, DevSecOps enables teams to streamline development processes and security together.
Instead of implementing security processes after code has been written, DevSecOps increases coding and production efficiency and streamlines the process by focusing on security from the beginning.
If security issues occur early in the development process, they can be caught and attended to before software is released to customers.
The benefits to security teams and developers of adopting DevSecOps far outweigh its complexity and the time and resources necessary to implement it.
Cloud Computing Resource Optimization Tools
Cloud optimization is the process of selecting and assigning the best resources to an application or workload. Achieve better efficiency by balancing the best-fit infrastructure against compliance, cost, and workload performance.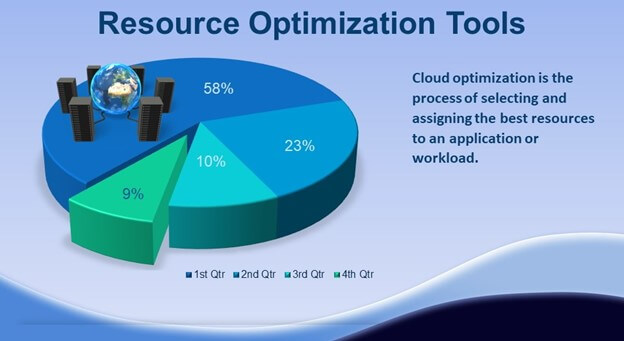 Below are several cloud computing resource optimization tools to minimize performance risks and maximize savings:
Microsoft Azure
AWS
Google Cloud
Flexera
VMware
CloudCheckr
There are considerable differences in each of the tools' capabilities. Some only report on underutilized instances, whereas others can automatically execute precise rightsizing using AI-based pattern recognition.
Simplify Your Business Processes by Migrating to the Cloud
The ability to scale your business can be inhibited by legacy business processes that were appropriate when implemented based on the business climate and technologies available.
Adopting cloud computing enables companies to accelerate the deployment of new capabilities to maintain a competitive advantage.
By untangling legacy business systems, moving to the cloud also helps businesses improve their functional processes.
Cloud computing tools and systems enable businesses to replace inefficient processes and respond to market conditions faster.