Before the emergence of the Internet of Things (IoT), doctors had limited options for interacting with patients. Physical visits, text, and telephonic communication were the only means by which patients could explain their problems to doctors. There was no system for continuous monitoring of the patient's condition and made real-time recommendations.
IoMT Benefits Healthcare Organizations for Improving Patient Care
IoT has completely changed this scenario while enabling healthcare institutions to expand their reach and improve patient care services. This is one of the major reasons IoT has gained the maximum traction among healthcare service providers compared to other emerging technologies like AI, ML, and data analytics.
Aruba Networks, an HP Enterprise subsidiary, has revealed in its report that the healthcare industry is the third most advanced sector in implementing IoT. It is fair to mention that IoT can effectively address healthcare challenges while assisting healthcare service providers in delivering high-quality services. Let's understand the importance of IoMT (Internet of Medical Things).
Understanding the Importance of Internet of Medical Things (IoMT)
IoMT is no longer a buzzword in the healthcare sector. As we are talking about expanding telehealth or telemedicine concepts, more integrated approaches will be required from the IoT domain. Internet of Healthcare Things (IoHT) or Internet of Medical Things (IoMT) can meet these requirements during the transition period in the healthcare sector from 2017 to 2022.
Advanced IoT healthcare applications contribute to implementing more integrated and mature eHealth as well as telehealth concepts. Machine-to-machine interaction with real-time data streaming between devices in different healthcare facilities is possible by implementing the IoMT concept in your healthcare organization.
Be it home-use medical equipment like blood pressure measurement band or high-end implant medical equipment; all the devices can be connected to each other for fetching and transmitting the patient's vital data in real-time through sensors. As a result, it can save billions of dollars and a lot of effort. But, most importantly, it can save the lives of patients in an emergency.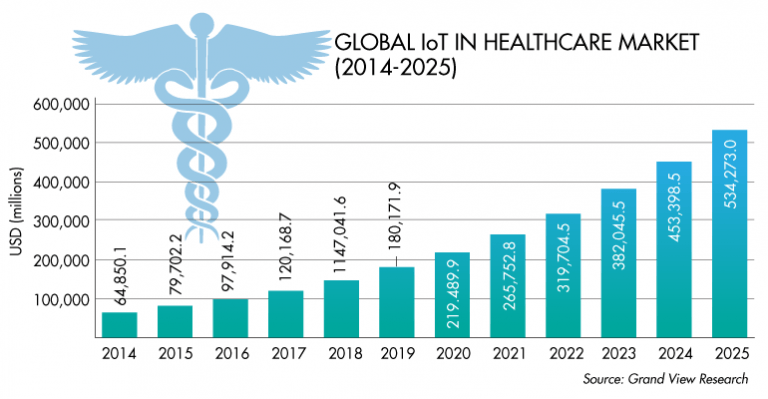 Goldman Sachs has given an estimate that IoMT will save $300 billion annually in healthcare costs worldwide. Also, WHO has estimated that there will be a shortage of 18 million health workers (globalvillagespacedotcom), by the end of 2030. Implementation of IoMT can neutralize the negative impact of this shortage by bridging the gap between physicians and patients.
In this pandemic age, IoMT has assisted the overstretched healthcare sector. It has made it possible for physicians to monitor the patient's condition without going near, thereby remaining protected against contamination. Apart from this, it can save the patient's life by sending the health data instantly to the doctor.
Let's dig deep into the key reasons why healthcare organizations should jump on the IoMT bandwagon now. Wide-scale deployment of IoMT-powered devices can benefit the healthcare sector in many ways. Here are some of the noteworthy benefits.
Key Benefits of IoMT for Healthcare Sector
Telehealth or remote care is not a new concept in the healthcare sector, but its importance has significantly increased over the period. Today, it is possible to provide healthcare facilities to patients at their homes. This is highly beneficial for healthcare organizations as they can easily provide remote patient care and reduce instances of hospital-induced infections.
IoMT promotes remote care by monitoring the patient's conditions all the time, enrolling or facilitating them for scheduling planned check-ups, and controlling their medication schedules. Smart IoT devices can also observe the patient's behaviors and send real-time alerts to medical facilities in case of a pattern change.
Patients can wear connected devices that enable doctors to monitor their vitals from the hospital. In addition, 24/7 tracking of health conditions can assist healthcare service providers in anticipating any unfavorable conditions and take a proactive approach to minimize such conditions.
Mobile health or mHealth is an emerging concept that involves proactive care of patients' health using healthcare mobile apps. With the IoMT rollout, mobile apps can effectively capture and store all vital information. As a result, it can make the physician's work a lot easier because they can make accurate decisions on time.
Customized mobile health apps also enable physicians to give drug prescriptions based on accurate prognoses. Patients can also check their medications and keep track of them. A mobile app can also remind patients to take their medication and facilitate them to press the confirmation button after taking it.
The mHealth concept ensures better and effective communication between patients and doctors to significantly improve patient care services. In addition, the IoMT concept can empower mHealth and enable mobile app development companies to come up with innovative app solutions.
Taking Surgeries to New Level
Robotics and artificial intelligence can be seamlessly integrated with the IoMT concept. This combination can help surgeons worldwide. Robots offer enhanced vision and improved precision that help surgeons go beyond the limits of traditional surgical procedures and get the optimum outcome in laparoscopies and surgeries with minimal invasion.
IoMT can facilitate better communication between patients and doctors or surgeons. This effective communication can help surgeons streamline activities in the OR (Operation Room). For example, staff can identify patients through personal medical information, and IoMT sensors can be deployed to fetch and analyze data after surgery.
Also, IoMT devices can give guidelines to the patients regarding post-surgery care. These devices can be connected to videos for snatching high-resolution images that help surgeons check even the most minute detail necessary for better care before and after surgery.
The most important objective of IoT and IoMT devices is to track various activities. For example, in a healthcare organization, it is necessary to track the activities of the workforce to increase efficiency and decrease operational costs. These days, multi-specialty hospitals have multiple campuses and subdivisions, and each of them has tens of hundreds of staff members.
IoMT devices built especially for such hospitals can help management to keep track of staff members' activities and, to an extent, their movements. While monitoring day-to-day activities, IoMT devices can efficiently automate management-related processes and assist you in addressing workforce management or administration issues.
A few hospitals have started deploying connected video cameras and wireless ID cards to prevent unauthorized access and ensure the patient's safety from various infections. Healthcare organizations also tend to ensure that their staff meets specific targets daily. Here, BLE (Bluetooth Low Energy) technology is useful. It also remains helpful in tracking the location of devices, medication, and other necessary stuff within the healthcare organization.
IoT promotes the smart city and smart industry concepts, whereas IoMT promotes smart hospital concepts. For example, the referral program is a bit cumbersome for patients as it involves much paperwork. Also, there are high chances of data loss and data transmission failure because some files have confidential information and some files are too big to send. Also, due to paperwork, most of the files remain in hard copy that brings storage-related challenges.
Altogether, the referral program puts strain on overworked healthcare professionals as they have to spend their valuable time preparing the necessary paperwork. Now, IoMT can automate this entire process where centralized databases replace paper registers and big files. As a result, it is easy and quick to share information, insights, and resources for hospitals in a digital form.
In a way, IoMT can save valuable time and effort for healthcare professionals through automation, digitization, and a single management system. Moreover, such smart hospitals can easily improve patient care services as healthcare service providers can pay due attention.
Concluding Remarks
The proliferation of IoMT products has opened up the doors of opportunities in the healthcare sector. Patients, physicians, healthcare organizations, and health insurance companies can leverage the benefits of IoMT devices alike.
In the future, we will witness the immense growth of IoMT devices in healthcare services worldwide to enhance patient care and expand the telehealth concept's reach.