Microsoft executives have been in New York showing off a pile of new hardware devices, and among the new phones and laptops, developers finally got the HoloLens news they were waiting for: The company finally opened applications for the Microsoft HoloLens Development Edition.
However, with the good news comes some, erm, less good news: The first prototype kits won't be available until the early part of 2016, and will cost $3,000 per device.
See also: HoloLens Reaches For Outer Space
Serious software studios may not blink at that price, but it could crush the dreams of smaller indie shops, amateur enthusiasts and student developers who were hoping to get their hands on the new hardware before the public at large.
It also suggests that Microsoft's augmented reality headset is going to cost a lot more than the Oculus Rift when it goes on sale to the public—Oculus Rift developer kits were sold for a mere $300-350.
Oculus' head gear is a different beast, though. The Facebook company's wearable is designed for virtual reality, while HoloLens augments reality. (Augmented reality places digital holograms over the real world; virtual reality creates worlds that are entirely digital.) That's not the only difference: HoloLens works without the aid of a computer or smartphone, so all of the computing and processing is being done by the headset itself. That kind of power doesn't come cheap.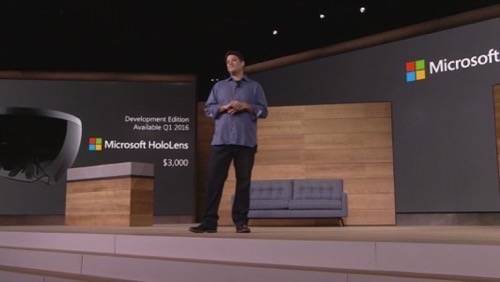 The Race To The Face, Pocket And Hands
Microsoft first took the wrappers off HoloLens back in January, offering an augmented reality experience akin to a hybrid of Google Glass and Oculus Rift.
In New York Tuesday, Microsoft also showed off a new virtual controller for HoloLens—essentially, a hologram rendered over a player's arm that could fight off a robotic army of ants marauding through a living room.
Interested developers can apply today for a HoloLens unit from the official online portal. Developers must live in the United States or Canada and participate in the Windows Insider program.
Microsoft hasn't explained how exactly it will evaluate applications, only stating, "We are looking for a wide spectrum of developers to create diverse experiences," on its application page. "The more you share in your application form, the easier it will be for us to see how you'll help build the future of holographic computing with us."
Another headliner at the event was the company's mobile tech announcements: two new Lumia phones, a revamped Microsoft Band 2 fitness tracker, and the next generation Surface Pro 4. The only real surprise in the line-up was a Microsoft-made Surface Book—the first laptop designed and built solely by Microsoft—which features an innovative hinge and a detachable screen.
The company also confirmed the upcoming Windows 10-powered update for Xbox One, which was announced at E3 and arrives in November.
With this slew of new device announcements, Windows 10 now really is everywhere at last: CEO Satya Nadella and his team will be hoping developers follow the trail.
Images courtesy of Microsoft