If it seems as though it's almost impossible to avoid Facebook, that's because it is.
In its most recent attempt to personalize your technologies, Facebook announced that it's headed to the living room. The social network teamed up with Sony to integrate its Facebook Login—you know, that feature that lets you log into many websites or apps with your Facebook credentials—into the new PlayStation 4 game console. According to the company, this will make it easier to connect your Facebook account with the PlayStation Network and pull in personal information, as well as share in-game photos and videos captured in real-time.
Of course, like with most apps, Facebook Login is optional. But it's just further evidence of the social network's continued attempts to tighten its clutches on our connected devices.
Not-So-Anonymous Game Play
The PlayStation 4 isn't Facebook's first foray into the gaming landscape. This summer, the company partnered with Unity, a popular game engine, and introduced a cross-platform software development kit that aims to make it easier to integrate Facebook's social features into games that work across different devices.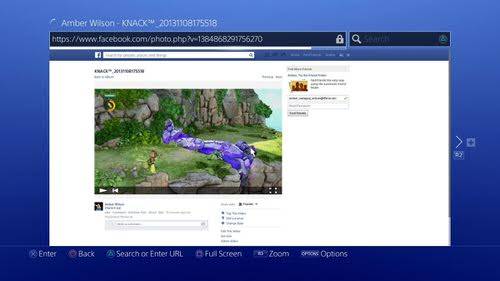 Similar to the PS4 integration, Unity gamers can invite their Facebook friends and share achievements in game.
Introducing Facebook integration could turn the gaming experience on its head. Traditionally, many gamers use "gamertags" or usernames that don't necessarily reveal any personal information. Now, logging in to the PlayStation Network with your Facebook account shows your real name and profile picture, adding a level of social accountability that wasn't there before.
Gaming networks have largely been anonymous playgrounds, much like YouTube. When Google integrated Google+ into YouTube this month, it faced severe backlash from users who prized their anonymity on the network. Facebook might be able to evade a surge of disgruntled users, if only because gamers can still play anonymously under their PSN login while only approving Facebook friends once requested.
Facebook All The Things
Facebook is tied to our personal identity in a way no other service is. All the relevant information an application would need is already saved on Facebook, so it makes sense to simplify signing up for services with information already stored online.
The list of applications and websites using Facebook Login is extensive. Almost any site that requires an account lets you use Facebook to create one. From e-commerce to ridesharing, more companies are integrating Facebook to collect personal data, under the veil of providing a more social experience.
Amazon recently announced its own Facebook integration just in time for the holidays—now you can see what is on your friends' Christmas wish lists. By connecting your Facebook account to Amazon, you can see when your friends publicly reviewed or wished for items you're currently browsing on Amazon.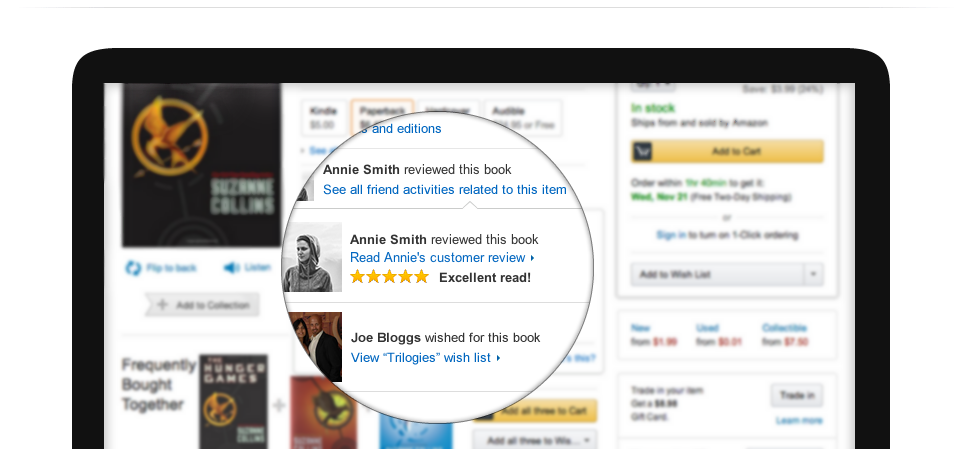 Of course, the company's Facebook integration isn't new. Similar features include a Friends and Family gifting option that lets you import your friend list and automatically find their Amazon wish list, and the Amazon Birthday Gift program lets customers crowdsource gift cards from their Facebook friends.
For some companies, Facebook is the only option for creating a user account.
Lyft, the popular on-demand ridesharing service, requires users to have Facebook in order to use the service. While it does provide some level of safety—you can see a person's face and name to confirm their identity—it forces users who don't have a Facebook account to use another option.
Music streaming service Spotify had a similar requirement in 2011, which it has since eliminated, making it mandatory for all new users to sign up with a Facebook account. Needless to say, people were upset that the social network was once again using outside services to mine their data.
Integrating Facebook Login is mutually beneficial for the social network and app developers, as they both collect precious user data. But what about end users? Sure, it is simple to sign in with a Facebook Login instead of creating multiple accounts, but beyond that, there is no real reason not to just use an email.
What it boils down to is this: Facebook wants to own your data. So far, it's doing a pretty good job.
Although the company faces competition on the social login front from Google+ and Yahoo, Facebook still dominates the social login. A new study from Gigya, a social login provider for brands including Pepsi and Verizon, shows that over 50 percent of users prefer Facebook Login to other services.
This means more people are opting to share real data with service providers, choosing personalization over privacy.
Is It Worth It?
It's not just your name and likeness that Facebook now knows. Each time someone allows Facebook Login to manage an application or service, the social network becomes a personal identity manager, one that we're voluntarily permitting by giving up data one app at a time.
Because I generally login with Facebook on mobile apps, the company knows I'm an avid ride-sharer who favors Lyft, I dine out regularly by getting suggestions through Yelp, and I prefer to filter my images with Instagram.
Even my best friends don't know all that.
And what is it, exactly, we are able to do with Facebook integration? On the PlayStation4, I can take screenshots of my kill shots and post them directly to Facebook, or import my friend list to see whom I would actually want to play with.
On Spotify and Amazon, I can publicly share what songs I'm listening to and what I'm buying my dog for Christmas—though no one really cares.
Ultimately, by allowing Facebook to vacuum up all of our data, what we really get are conspicuously tailored advertisements that just happen to apply to the applications we use most.
PlayStation 4 image via Facebook. Wish List image via Amazon.