According to Gregory Zackowicz from Omnisend, all major kinds of emails witnessed a 95% or greater year-over-year (YoY) spike in 2020. The statistic isn't alarming, considering everyone was glued to their screens almost the whole year. With that momentum, we enter 2021 and try to add strategic soundness and refinement to our outcomes from the last year. 
Email Marketing Trends and Tips Straight from the Experts
So email marketers and content marketers, hop on as we list key trends and tips (warnings) from some of the best in the game all across the world. It will surely help you to create a high converting email.
Email marketing trends for 2021
Here are the most noteworthy trends that we gathered from 29 expert content marketers.
1. Automation
Ecommerce brands ought to automate welcome messages, cart abandonment emails, and product and browse abandonment emails. With the rising volume of emails and help from Artificial Intelligence (AI) in creation and personalization, this seems to be the best course to take. Humanized automation is the way forward if you want to woo your subscribers and tempt them to make the purchase.
Advanced CRM tools like Marketo and Salesforce have features like lead scoring and predictive models that help forecast the users' activity and send out messages accordingly. These functionalities will also enable send time optimization (STO), which will help the companies to send emails to the subscribers based on their open history. Thus, it is a future-proof trend that will stay even after 2021. 
For example, Amazon sends out automated product recommendation emails according to the customer's past purchases. This is possible with the help of AI technology. 
Here's an email example from Amazon: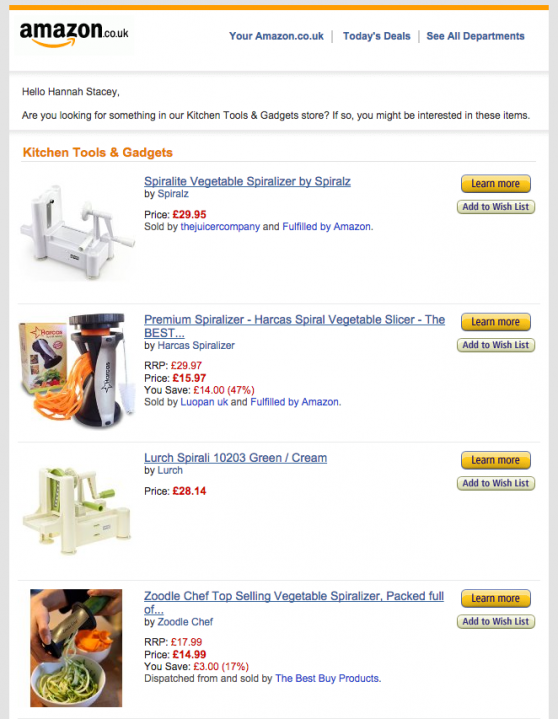 Source: https://www.smartmail.io/resources/how-to-use-personalized-product-recommendations-in-email-to-increase-conversions-by-15-or-more
Netflix
According to their past activity, Netflix uses the same principle to recommend relevant movies and web series to the users. Marketers can even use tools like Phrasee to craft AI-driven subject lines and enhance the open rate of their emails. 
2. Futuristic technologies
We're talking virtual shops, trial rooms, and browsing shelves on email with AMP (Accelerated Mobile Pages) technology. 
With the help of AMP in emails, the subscriber can RSVP to an event, check out to complete the purchase, and book a ticket from the email itself. AMP can also be used to create menus, accordions, and sliders in emails. These elements make it easier to convey more information in the limited space of emails. 
See how Email Uplers has used this technology to create an email. It has a slider, accordion, subscription form, and contact form developed with the help of AMP rather than CSS functionality.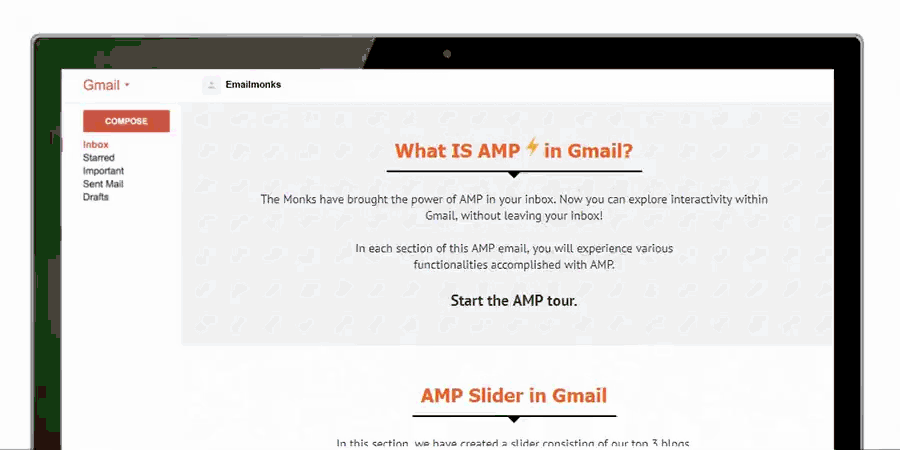 3. Empathy
Email marketers understand that a crisis is probably not a great time to receive mail selling gardening equipment. So instead, write messages that are sensitive, kind, and display an understanding of consumers' problems and challenges.
Really Good Emails has sent out an emotional email that is perfectly aligned with the current situation. It urges the readers to stand together in the fight against racism and spread love.

4. Agility
After a year of rushed proliferation, it's time you made your systems capable of producing quality emails regularly. It's also time you became flexible and instantly adaptive to fluid markets, ever-changing needs, and wants. 
Agile email marketing helps to create the most relevant emails and deploy them in time. This is possible because it focuses on taking smaller steps to achieve bigger tasks. In addition, agile methodology endorses the idea of multitasking and encourages the email marketing team to work together rather than in a siloed fashion.  
5. Trust-building
Empathy goes hand-in-hand with trust-building. Consumers are increasingly aware of data regulations, so it's time brands flaunted their GDPR compliances and privacy policies. Set up a preference center instead of collecting data sneakily like old times. The double opt-in method will gain immense popularity because anti-spam guidelines are likely to get stricter. 
6. A/B testing
As there is a tremendous shift in the customers' preferences in the post-pandemic era, A/B testing will gain immense momentum in the times to come. Rather than assuming, use the power of A/B testing to figure out what works the best with your subscribers.
What was working for your brand before a few months might not work anymore. Therefore, the safest bet is to send out two variants of an email and see which one performs better. Then, monitor the email analytics and optimize your email campaigns accordingly.

7. Visual email marketing
Plain text emails are hardly used nowadays. Instead, most marketers are experimenting with different types of visuals, like GIFs, cinemagraphs, and embedded videos in emails. They are also trying to bring freshness to the subscriber's inbox by using a monochrome layout and gradients in the emails. It also imparts a vintage feel to the emails. 
8. Changes in email marketing team structure
Companies are looking to hire email automation specialists and advanced email developers in the marketing teams. There was a time when an email marketing manager used to be responsible for the entire email execution process.
However, in 2021 and the years to come, there will be a huge demand for email developers and automation experts.   
9. Brand Indicators for Message Identification (BIMI)
A text record that allows companies to display their logo in email inboxes is known as BIMI. It helps to build brand credibility by letting the subscribers know who the email is from.
Take a look at this screenshot that clearly demonstrates what BIMI is all about.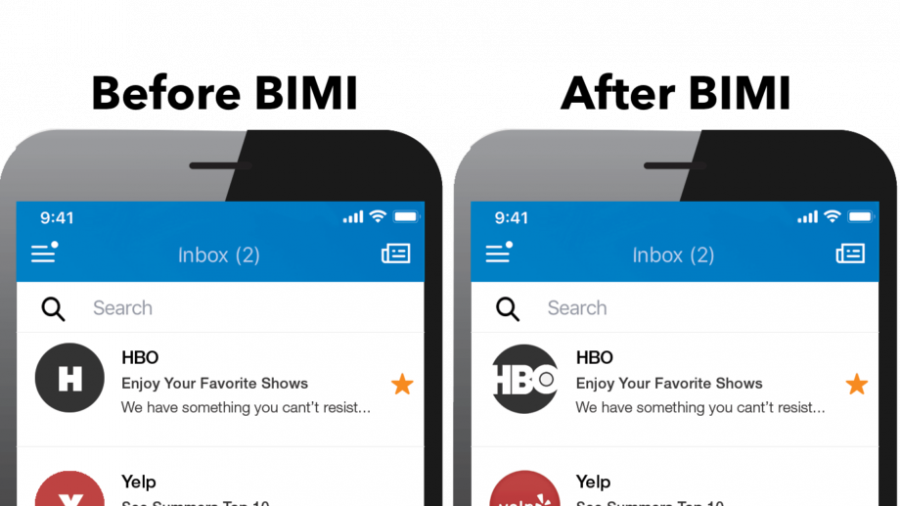 Image Credit: valimail dot com; thank you!
It also helps prevent any spoofing or phishing attempts and impart a more secure experience to email users.  
Email marketing tips for 2021
We consulted the global experts have also decided to warn email marketers against some easy traps to fall for this year. So read on and stay alert.
1. Deal explosions
You might have a lot of stock from the last year that you now want to liquidate. So, what do you do? Clearance sales, deals, discounts, of course. But maybe, all your customers are not fans of sales. Maybe, some of them would not appreciate discounts in their inbox every week.
So, segment them into those enthusiastic about deals and those who aren't.
2. Shallow messaging
A headline such as 'Yoga Mats For Use At Home' simply doesn't work anymore. Instead, you need to talk to the consumer's heart, tell them how this product can help them achieve something or make a small difference in their lives. And no, just emojis won't work.
3. Inadequate segmentation
Here's the deal. Create microsegments, even if you're not actually injecting them into your automation funnels. It's a good practice and a way to be ready for the weather to change and trends to transform. Micro-segmentation and hyper-personalization will grow to be email marketing best practices and norms rather than just trends. 
4. Undermining tech
Everything from testing to personalization now has a tool. So don't replace your plans with them; instead, make them a cohesive part of your plans and strategies. The goal is to earn, realize, and measure maximum clicks, opens, and conversions.
Parting Note
With email becoming more dynamic, inventive, and critical to content marketing strategy, it would only be wise to invest in email marketing strategists.
A specialized person who is adept at creating, marketing, tracking, testing, strategizing, and managing emails will add more value to your marketing plans than many writers and content marketers who know a little bit of email marketing.
These email marketing trends (emailupplers dot com) will surely help you create more effective emails that perform better and draw more attention from the subscribers.