It is not something – companies are using AI and ML to fight financial fraud. Financial fraud is not science fiction. AI solutions can be applied to enhance security throughout business sectors, like retail and finance. The latest emergency technologies are driving transformation across all industries in virtual terms and disciplines and assisting them in streamlining internal processes for better efficiencies. Streamlining processes makes sense of big data which uses to drive intelligent decision making and build new, hi-tech services to deliver seamless customer experience.
Financial services are one of the sectors where AI and machine learning are impacted. When it comes to fraud, cyber-criminals try their best to access customer accounts. AI and machine learning can protect companies and individuals from such attacks.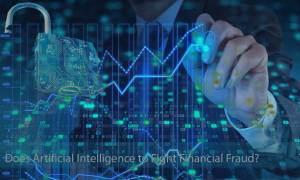 How AI and machine learning technologies fight against the growing fraud threat?
One of the most interesting and key features of ML algorithms is that the technology has the potential to analyze large amounts of transaction data and malicious transactions accurately in real-time. The approach used by technology detects the complex patterns that cannot be easily identified by analysts, banks, and financial organizations.
The algorithms leverage several factors, including the location of the customer, the type of device used for a transaction. Users can fetch other data points to get a detailed picture of each transaction. AI approach drives real-time decisions and helps protect customers against fraud without altering the user experience.   https://readwrite.com/2019/08/15/marketing-targets-achieved-with-the-help-of-artificial-intelligence/
The trend of AI and machine learning to detect virtual financial fraudulent will continue over the coming years. Companies will be relying more on ML algorithms and AI technology to detect suspicious transactions.
Early detection of fraud attack
AI can detect fraud attacks within seconds using advanced AI-based rating technologies. Omniscience may be the future of fraud management. When an online business leverages structured learning and rules alone, it becomes harder for new attacks to catch it. Charge-backs display six to eight weeks after that the fraudulent activity has occurred, and online businesses hurry to update their rules engines.
AI balances supervised and unsupervised learning and alleviated the need to catch-up with online fraud.
AI stops nuanced abuse attacks.
AI-based fraud prevention systems evaluate historical data and anomalies. Knowing the historical data doesn't affect customer experiences and stops more nuanced abuse attacks.
Frees up, fraud analysts.
With the rising new cyber threats combined with large amounts of data to analyze, it won't be easy for fraud analysts to identify anything that looks suspicious. Having a process that is not simple is where financial institutions need to consider an innovative approach after that, allows the instant analysis and elimination of cross-channel data while detecting fraud in real-time.
AI completes the data analysis in milliseconds and detects complex patterns in the most efficient way that can be difficult for analysts anyway.
AI reduces the need for manual work for monitoring all transactions, since the count for cases that require human attention reduces. The work quality and efficiency of fraud analysts also get enhanced since their workload becomes more streamlined. AI removes the time-consuming tasks and lets them focus on critical cases, like when risk scores are at the peak.
Reduction of false positives.
One of the biggest challenges of banking is to minimize the number of false positives. AI assists them in such an operation, thereby saves time, money, and avoids frustrating customers. AI and ML play a significant role since both technologies are capable of analyzing a broader set of data points and fraud patterns. A secure connection between entities-including fraud scenarios which are still needed to be uncovered by fraud analysts.
The false positives can be reduced with AI and ML algorithms, which means a few customers will be falsely rejected for fraud concerns. Being firmer with fraud concern individuals also minimizes the labor and time costs, earlier was planned to allocate staff for reviewing flagged transactions.
AI reduces the friction customers' experience.
Artificial intelligence helps merchants by approving online purchases and reduces false positives. AI combines the features of supervised and unsupervised learning to reduce the count of friction customer experience.
Effective attack detection.
ML algorithms are designed to detect patterns in structured and unstructured data. This makes them a better option than humans, for instance, easy and effective detection of new and emerging fraud attacks.
Effective attack detection is one of the key benefits offered by ML and AI. Emergency technologies are robust to change the outlook for banks and financial institutions exponentially.
Achieve regulatory compliance.
If any financial institution relies on a fraud prevention system that has manually defined rules and policies, it cannot keep up in the modern digital banking ecosystem. Financial institutions need like as a fraud detection system; AI systems will enable ML base algorithm.
Conclusion
Machine learning lets institutions to analyze data with context throughout mobile applications, transactions, and devices and need minimum manual input.