Marketing has come in the 21st Century and it's reassuring to know that customers still know best. In an age where building trust is more important than ever for businesses — could 2021 become the year of user-generated email content?
Could 2021 Become the Year of User-Generated Email Content?
Email marketing has remained a significant way for businesses to retain customers and generate some loyalty among users. Even as GDPR has challenged the customer retention landscape, there are still many opportunities for businesses to bond with their audience by marketing straight to their inbox.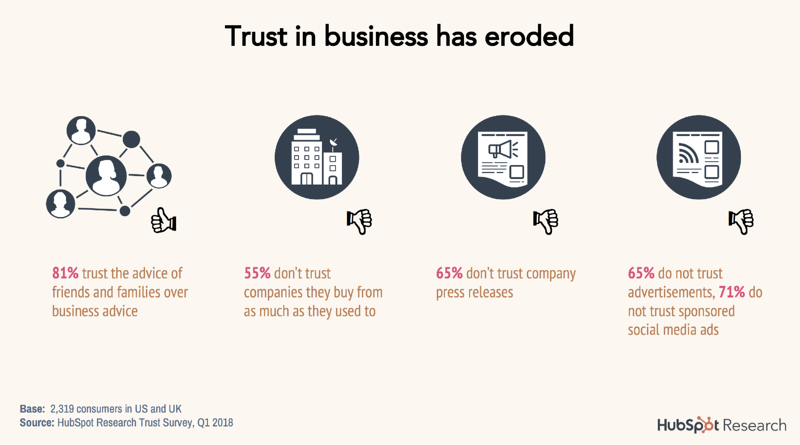 (Image: HubSpot Blog)
As HubSpot research suggests, consumers appear to be boosting the marketing efforts of companies. With 81% of consumers in the US and UK choosing to trust their friends and family's advice over that of businesses.
The placement of trust poses a challenge for marketers to overcome in their campaigns. After all, what message can be used to promote products or services when fewer people trust what businesses say?
One of the most effective answers to this question appears to come in the form of user-generated content.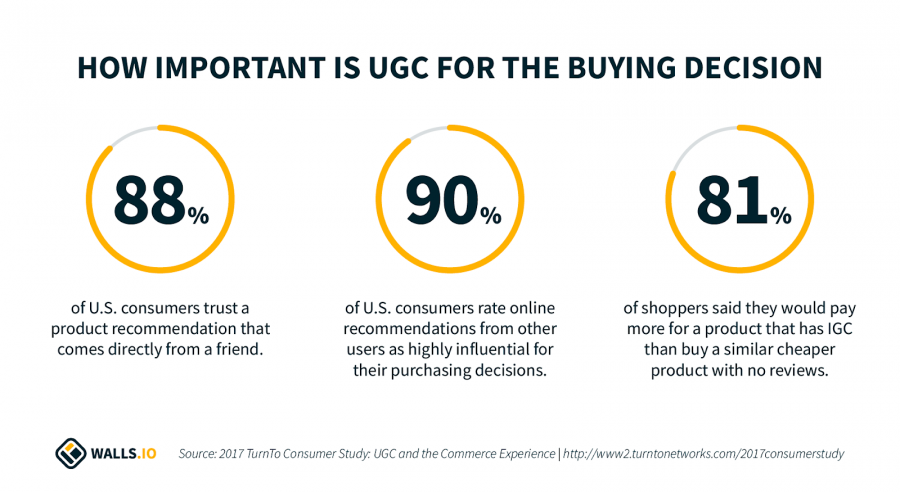 (Image: Campaign Monitor)
The graphic above shows that as much as 90% of consumers value the recommendations of others highly when it comes to forming their own purchasing decisions. This is significant because it indicates the power of utilizing user-generated content (UGC) and enabling businesses to communicate their messages through their customers' creativity.
What is User-Generated Email Content?
User-generated content is being developed all the time. From photos taken on holiday in coffee shops to unboxing the latest gadgets, consumers share more and more of their experiences and upload them for the world to see.
In a nutshell, user-generated content is any form of content, such as text, images, videos, audio, reviews, and so on, that consumers create and publish online – typically on social media.
Anything that's shared about a company on platforms like Facebook, Instagram, YouTube, Twitter, TikTok, or Pinterest is UGC, and there are millions of people who are doing it.
In fact, as many as 3.2 billion images are shared across social networks on a daily basis. These images mean that UGC has become a very effective – and extremely cost-effective – way for brands to promote their products and services in a new and refreshing way.
Rather than marketers brainstorming their approaches towards campaigns and engaging with people, UGC allows them to check out pre-existing content for inspiration and convert it into campaigns built on genuine voices and real opinions.
How Email Marketing Can Benefit From UGC
User-generated content can be a key player in helping brands increase their conversions, build trust and generate posts with a more personal touch on social media platforms like Facebook, Twitter, and Instagram. So why can't these qualities transfer to the world of email marketing?
While email marketing is a complex skill to master with so many facets to worry about, like subject lines, embedded calls-to-action, and design factors, marketers can sometimes be guilty of being too cautious when changing their approaches. However, UGC makes for a tailor-suited inclusion to this form of marketing.
The reason why UGC works so well is that it carries the potential to fill the gaps in your marketing strategy when it comes to encouraging click-throughs and conversions. After all, some of the biggest challenges that marketers face revolve around boosting email engagement rates, inviting consumers to take action, converting subscribers into customers, and building more personal connections between the brand and its subscribers.
When correctly utilized, user-generated content has the power to use the voice of consumers to generate greater email engagement and foster more personable connections between the brand's users.
Review-Based Content
The greatest asset of user-generated content is that it provides solid social proof for your product. In a modern post-COVID marketing landscape where more consumers are likely to be working from home and spending more time away from the high street, social proofs can evolve to become vital for selling products that can't be trialed online.
This has led to many beauty-based companies turning to user reviews and repurposing them in their email campaigns. Notably, a cosmetics company, Glossier, opted to create a simple collage of product reviews featuring some of the more eye-catching things that customers have said.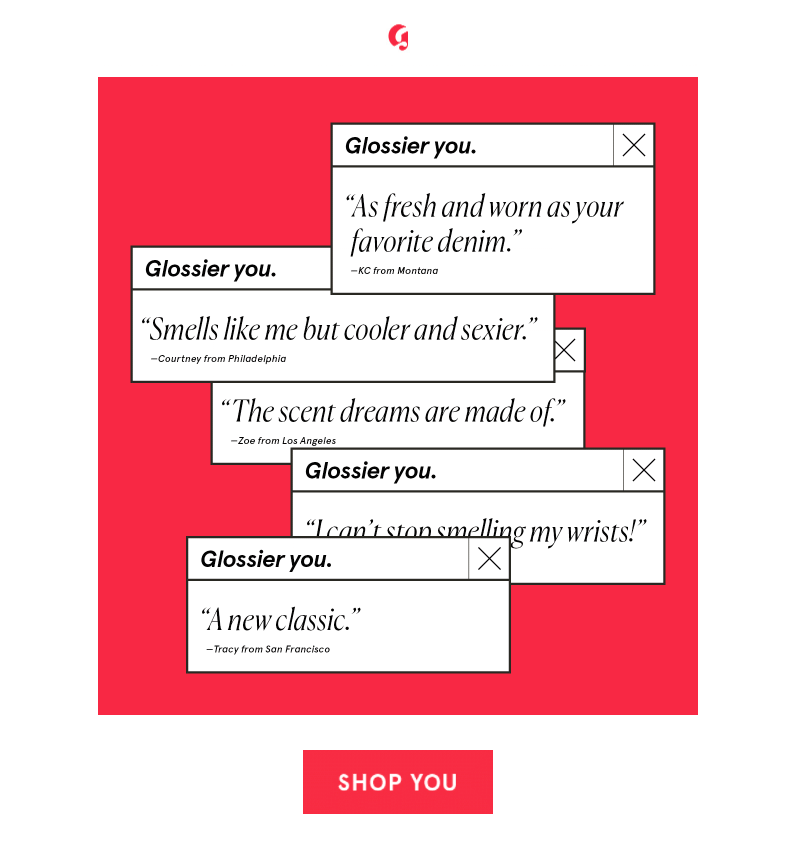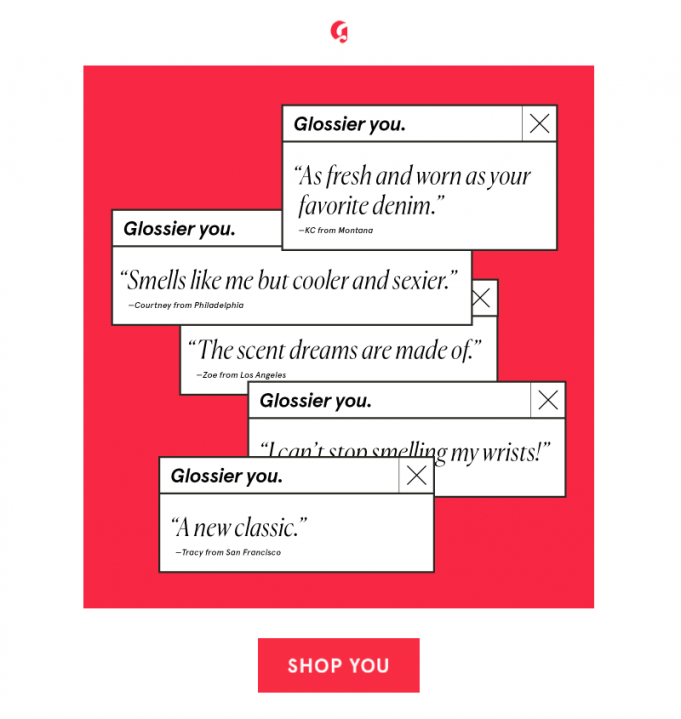 (Image: BeeFree)
The selection of testimonials was put together using users' feedback for the brand's first fragrance, Glossier You.
In this case, the reviews could combine to form a solid social proof for a product that's impossible to preview online. Shoppers can't smell fragrances through the computer screen, so in this case, UGC helps them to gain enough confidence in the quality of the product to make a purchase.
As more shoppers move away from brick-and-mortar purchases in the age of remote work, we'll likely see more marketers take to using user-generated content as an effective social proof in 2021.
Build Communities
Another great perk of utilizing user-generated content is that it can be a great way to build a loyal community of customers online.
Building content communities is one of the best ways of showing customers that you're on-hand to communicate with them and that you value their input. To help facilitate your community's growth, you could invite them to comment on your posts on-site or via social media. Some companies have vibrant forums on a platform where users can talk about the brand and share their content for others to see.
Of course, generating a community of users will require a cross-channel focus and the development of some form of a reward system in place to encourage more content being produced. In your email newsletters, you could highlight the best community comments of the month or the best-submitted content about your products – whether they're funny pictures, illustrations or anecdotes.
By adopting this strategy, your subscribers will respond by creating content in line with your preferences which, in turn, can be showcased at the end of the month. Content uploaded on your forums or social media can draw more attention from other users, helping to develop a vibrant and active community.
Cost-Effective Campaigning
The best thing about user-generated content is that it's an extremely cost-effective way for brands to generate trust among their email subscribers.
For this reason, some brands are already focused on creating UGC-only campaigns to maintain a level of relevance for their users despite selling services that are rarely updated, being unable to undertake newsletters or generate blog content, or for businesses that are so active in their marketing efforts that they need new ideas regularly.
Unlike other email marketing tools like segmentation, personalized product recommendations, AMP, and so on, user-generated content doesn't need to rely on AI marketing algorithms or personal data collection to be successfully implemented. It's a largely organic way for businesses to engage with their customers without having to fork out on their own campaigns. In return for the content they create, users will likely only require a simple acknowledgment, thank you, or small incentive for their work.
Understanding your customers is a significant part of paving the way towards UGC success within email campaigns. With this in mind, it's worth tracking your progress with an analytics platform like Google Analytics or Finteza to accurately monitor the type of UGC emails that are generating more click-throughs and landing page arrivals.
Due to the recent rollout of Google Analytics 4, it could be difficult to get a proper analysis of email traffic, so it's worth tapping into alternatives like Finteza, which enables you to analyze various traffic sources — and UTMs, including email.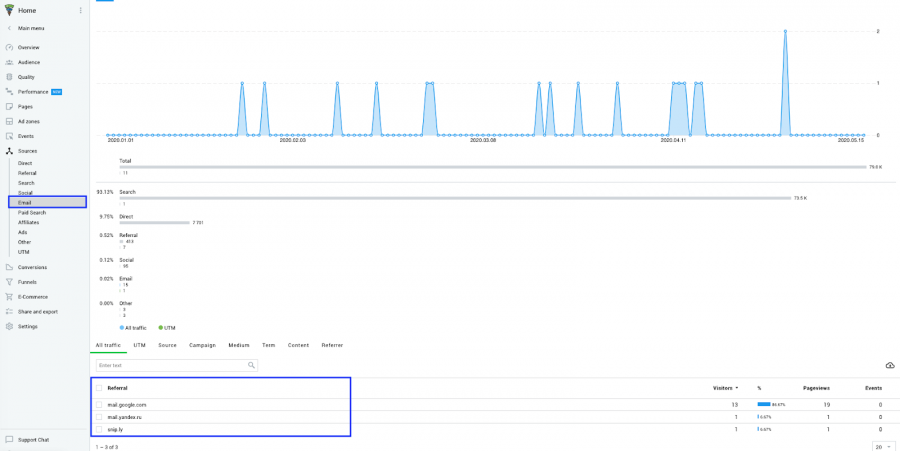 When you've gained insights into the type of content that draws in more customers, be sure to create promotions or competitions that encourage the submission of more tailor-suited content.
2021 is a year that's set to be punctuated by further fallout from the fight against COVID-19. Many businesses face the prospect of transitioning towards a "new normal" marketplace this year that looks set to feature significantly fewer brick and mortar purchases and much more online shopping.
In this new landscape that's set to be populated by online shopping and engagements with businesses, user-generated content is likely to emerge as one of the best ways for marketers to appeal to their customers by repurposing audience content. In a world that feels very different, content that helps consumers find social acceptance of the products that they're considering purchasing could represent a significant return to normality.
Top Image Credit: ihsan aditya; pexels