In the seven years since Apple released the iPhone and changed what it meant to own a mobile device, it has trotted out one male executive after another at its annual Worldwide Developers Conference to showcase new software, apps, and operating systems.
Conspicuously missing on stage during the excitement and announcements: Women and minorities.
Bay Area-based writer Joe Kukura recently scanned through 16 hours of WWDC keynote address video. His findings: 57 men have spoken during a WWDC keynote since 2007, but just one woman. In 2009, Stephanie Morgan and her male business partner made a very brief appearance to tout their iPhone app. The other developer speakers who took the stage in 2009 were all male, and all went on solo. [Update: Turns out, one other woman has appeared at a WWDC keynote: Jen Herman from Zynga. See update at the bottom for more info.]
After reviewing the keynotes myself, I noticed women or minorities have appeared a handful of times in photos while white male executives demonstrate the capabilities of the smartphone's camera or editing software. They just weren't on stage themselves.
Siri, the iPhone equivalent of a personal secretary who Apple identifies as female, briefly made an appearance in 2012—though voice-command systems hardly count as representatives for gender diversity.
Apple: Recognize Your Audience
Women make up half the population, account for 60 percent of online purchases, and were a major factor in the iPhone's success, preferring the small, slender phones to Android devices. And smartphones are more popular among blacks and Hispanics in the U.S. than among whites.
So why has Apple all but omitted them in WWDC keynotes?
See also: At Last, Women In Technology Are Making Themselves Heard
It's indicative of a much broader diversity problem within the technology industry—especially in roles that are highly technical, where—to put it plainly—women and minorities are vastly outnumbered by white males. But let's be clear: Even if there are relatively few women and minorities in the upper echelons of the tech industry, Apple clearly has both the resources and the cachet to attract them as employees and speakers.
Instead, it looks like no one at Apple has even thought about it. And by overwhelmingly favoring white men as speakers at its biggest event of the year, Apple basically tells people in the audience and those watching around the world: This is what a successful technologist looks like.
Those disparities are mirrored in the WWDC audience—obviously not in a directly causal fashion, but one that's striking nonetheless:
Apple's stage presence might not accurately represent the people using their products, but it's a fair reflection of its leadership.
In October of last year, Apple hired former Burberry CEO Angela Ahrendts for the role of senior vice president of retail and online stores, effectively bringing its female leadership count to two, including Andrea Jung who sits on the company's board of directors. Apple's company leadership resembles its stage presence—although the leadership does come off slightly better, given its 9-to-1 male-female ratio, compared to 57-to-1 prevailing at the WWDC keynote.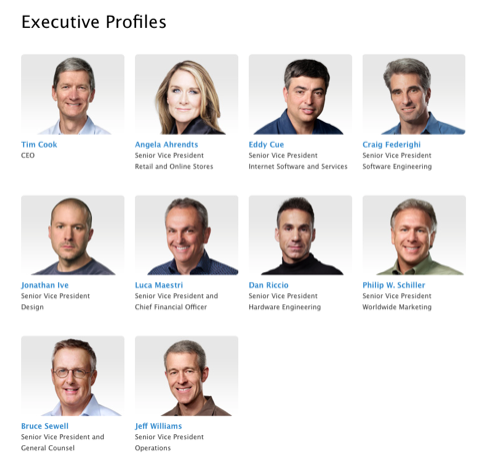 Taking Steps To Change
The race and gender disparity in technology is not going to change overnight. But there are steps companies can take to highlight diversity in their own organizations to begin to change the perception of the technological workforce.
See also: Google's Diversity Transparency Is Great—But It's Still Just A Start
Google, for instance, recently released information on the gender and race imbalance at its own company—Google is 70% male, and in the U.S., 60% white. By acknowledging this disparity, Google is in a better position do something about it, and to encourage both startups and larger companies to do the same.
There's no bigger stage for Apple than its annual developers conference. People come from all over the world to see what the Cupertino, Calif.-based company has planned for the rest of the year. Apple should use this opportunity not only to show off the importance of its new tech that will change how people build products and services, but also show off the importance of an all-inclusive work environment.
This year, Apple's WWDC slogan was "Write the code, change the world." The company needs to recognize the world is a very, very big place, in which different genders and races all use its products.
Maybe next year, Apple's slogan could be: Write the code, change the ratio.
Update 5:28 PM:Here's a photo from the WWDC women-in-tech get together, posted by Mashable writer Christina Warren. Three female engineering leads from Apple speak to the audience. Maybe they can get on stage next year!
Screenshot image of Apple's 2014 WWDC keynote by Stephanie Chan for ReadWrite
Update: It has come to our attention that another woman has appeared on the WWDC stage in 2010, Zynga's Jen Herman. Apologies for the omission, Jen. (And thanks, Amanda Wixted, for letting us know!)