Venture capital luminary Fred Wilson believes Apple will lose its place as a top-3 tech company within 10 years because of its focus on hardware and weakness in the cloud. But Apple's ability to connect with developers might actually be a bigger problem.
See also: How Mobile Is Killing Innovation, And How Blockchain Could Save It
I know, that's heresy. After all, as of last year Apple boasted six million developers in its iOS ecosystem and paid those mobile developers $10 billion to date, representing three times as much as has been paid out to "all other platforms combined," according to Apple. Those are big, impressive numbers.
But here's another data point: Apple is nearly invisible on GitHub, the darling code repository of the broader developer community. With more developer activity moving to GitHub, can Apple afford to keep going it alone?
What's Trending On GitHub
At one time, the answer would have been an obvious "Yes." Apple didn't need to play nicely with anyone else because, well, it's Apple. So nobody in Cupertino would've lost sleep over Redmonk analyst Donnie Berkholz's observation, which said "Both [Microsoft's] C# and [Apple's] Objective-C are unsurprisingly almost invisible [on GitHub], because they're both ecosystems that either don't encourage or actively discourage open-source code."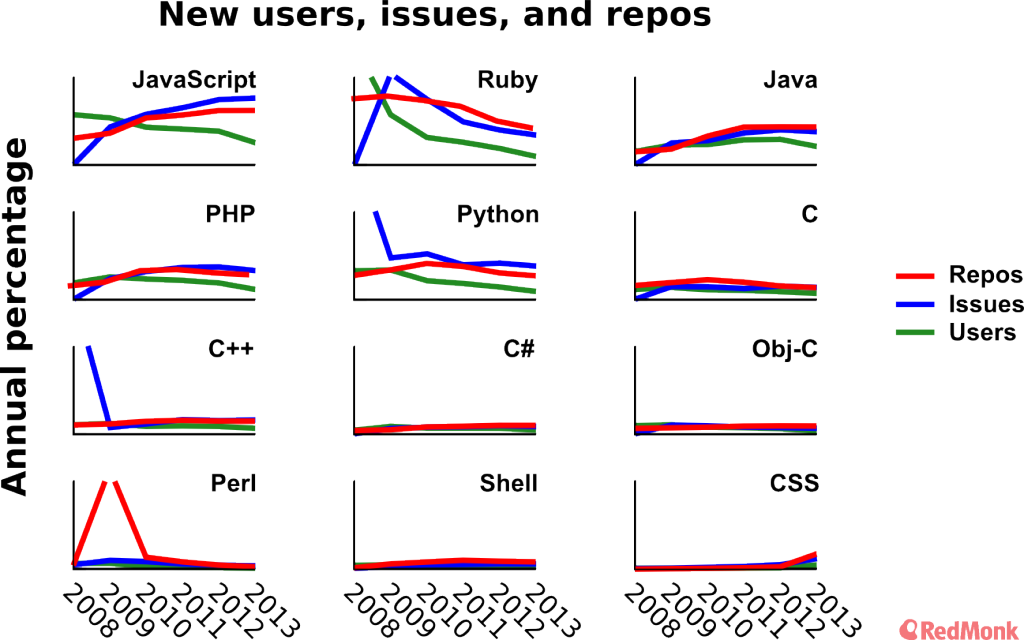 Developers that have worked within Apple's walled garden have been paid handsomely for it. This isn't a problem when a platform can command fealty, but that's less and less the case with Apple.
That said, Apple's Objective-C is alone. As Berkholz suggests, "It's increasingly obvious that only 5 languages have historically mattered on GitHub on the basis of overall share: JavaScript, Ruby, Java, PHP, and Python." Everything else is "irrelevant today."
Ecosystems Beyond iOS
If we look at jobs posted to HackerNews, iOS and Android look roughly roughly equal at the moment. The same is true if we look at the absolute number of jobs being posted on Indeed.com: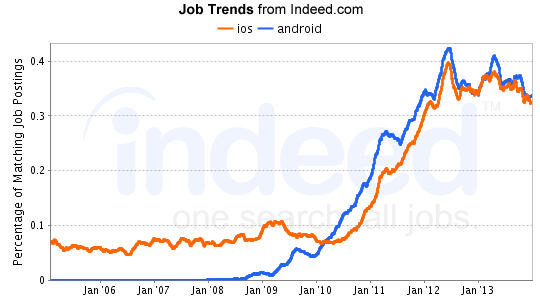 This chart looks a lot different, however, if you look at relative growth in jobs:
Clearly, something has changed in mobile. Apple is not the hegemon it used to be. As a recent Evans Data survey reveals:
41% of Android developers said they finish apps in one month or less, while only 36% of iOS and 34% of Windows Phone devs said they could achieve as quickly a turnaround
84% of developers targeting tablets choose Android as their lead mobile platform, compared to 62% for iOS
This shows up in how much developers make on the respective platforms, with Google's Play cutting into Apple's App Store in a very real way, according to Distimo data: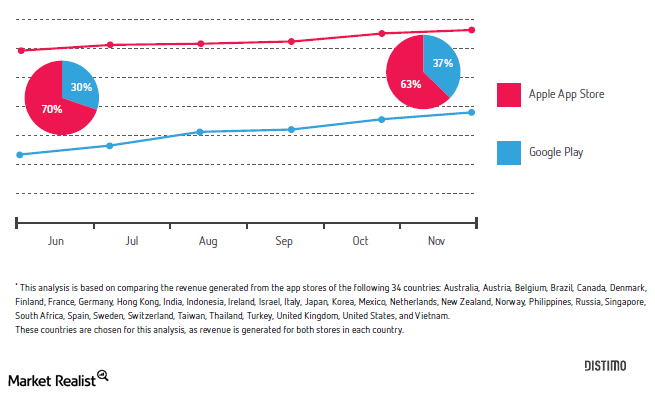 Time To Panic?
This isn't to suggest that Apple needs to panic, but it may need to find ways to embrace the broader, open-source developer ecosystem without forcing that ecosystem to fit neatly into its current development community. Otherwise, it risks seeing more developers shift to Android or even HTML5, as has also been happening.
In all this, GitHub traction matters. We're not talking about some niche category of developer hacking on GitHub. As Berkholz's Redmonk colleague James Governor opines, "GitHub is no longer just about Web Development, but rather all mainstream development."
To thrive in the next decade of mobile development, Apple may want to consider opening up a bit to open-source developers. The place to do that is GitHub.