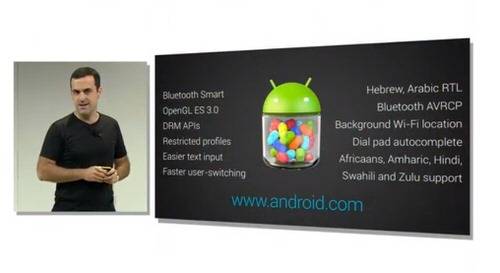 Google finally unveiled a new version of Android today at an event in San Francisco. No, not Android 5.0 Key Lime Pie—just an update to the existing Jelly Bean version, Android 4.3.
Android 4.3 Jelly Bean is not the major jump in Android design and functionality that many users have been waiting for. It does, though, add several features that make Jelly Bean a little more functional for developers, publishers and users.
The newest Jelly Bean flavor has six primary new features:
OpenGL 3 for Embedded Systems: OpenGL will allow Android developers to build highly detailed games and images as standard features in Jelly Bean 4.3. Developers can access them via either the OpenGL ES 3 framework or native application programming interfaces.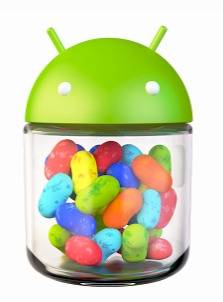 Bluetooth Smart: Also known as Bluetooth Low Energy (BLE), this feature will allow people to connect devices (like a smartwatch, heart rate sensor or anything else that can be connected with Bluetooth) to an Android 4.3 device (like the new Nexus 7) in order to provide sensor information to the device for fitness, proximity, medical monitoring and more.
Notification Access: Apps can now interact with the status bar notifications in Android as they are posted and send them to other devices connected via Bluetooth.
Restricted Profiles: Google has given Android the ability to use multi-profile sign in for Android devices already, but this update allows certain profiles to have restricted usage—for instance, if you want to block your kid's ability to download paid games or apps from Google Play or restrict their Internet browsing capabilities on an Android tablet or smartphone.
DRM for Media Companies: Android 4.3 adds a new Digital Rights Management (DRM) feature that enables media application developers to integrate DRM into their content streaming protocols. Apps can also access a built-in VP8 encoder for high-quality video capture. Google partnered with Netflix as an initial partner for the new DRM features, which will be available in the updated Nexus 7.
Improved Profiling Tools: New tags and on-screen GPU profiling to help developers increase speed and performance in their apps.
Google also is making Android smoother and faster in Android 4.3 Jelly Bean with reduced touch latency, CPU input boost (which means tighter integration with a device's primary processor), hardware accelerated 2D rendering and improved syncing and buffering.
Google also added a way to create transparent overlays in apps and widgets to make for better looking Android apps. Optical bounds improvements in Android 4.3 work with widgets so that they fit better on the screen and look better with effects such as shadows and glows.
Android 4.3 also has some improved location and sensor capabilities, such as the ability to do "hardware geofencing" that's designed to optimize power efficiency by moving location computations to hardware rather than performing them in Android software. Google also is increasing location accuracy by allowing for Wi-Fi scanning (where an app determines location by scanning nearby Wi-Fi signals) without the user actually turning on Wi-Fi. That will help save battery life significantly for many users while increasing the specificity of location.
Google will roll over-the-air updates to most Nexus devices starting today including the Nexus 4, Nexus 10, original Nexus 7 (Wi-Fi and 3G versions) and Galaxy Nexus smartphone.