Cloud computing now totals nearly $20 billion, but not everyone shares equally in those cumulus riches. According to a new Synergy Research report, Amazon Web Services dominates the cloud with 28% of the overall market, with Microsoft Azure making gains but still commanding just 10% of the market.
And while that AWS lead isn't as hefty as it once was, the cloud market clearly seems to be settling into the Haves, mainly comprised of AWS and Microsoft, and the Have Nots, which includes everyone else.
A Big Market Getting Bigger
For years we had to guess at how big the cloud was, given that Amazon, Microsoft, and others refused to break out cloud revenue. That is changing, and Synergy estimates that quarterly cloud infrastructure service revenues (which includes IaaS, PaaS, and private and hybrid cloud) is close to $5 billion, with trailing twelve-month revenues topping $16 billion.
In terms of growth, 2014 saw cloud revenues rising 48% over 2013, with Amazon continuing to outpace the market on a massive base of revenue: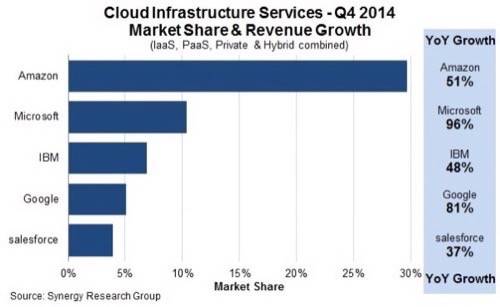 This isn't as substantial as AWS' lead once was. As Gartner analyst Lydia Leong once detailed, AWS used to offer five times the utilized capacity of its next nearest 14 competitors … combined.
In fact, by some estimates AWS is the fastest-growing software business in history. Not bad for a company selling commodity compute and storage services.
Such largesse is set to get even bigger, as John Dinsdale, chief analyst and research director at Synergy, notes:
Many actual or perceived barriers to cloud adoption have now been removed and the worldwide market is on a strong growth trajectory. The momentum that has been built up at AWS and Microsoft is particularly impressive. They have an ever-broadening portfolio of services and they are also benefitting from a slowdown in the super-aggressive price competition that was a feature of the first half of 2014.
Not everyone will share equally in the future of the cloud, however, just as cloud riches have been spread unevenly to date.
Selling Convenience
As Redmonk analyst Stephen O'Grady notes, "the most important feature of cloud computing [is] a low barrier to entry." Convenience sells cloud computing resources. AWS, more than any other vendor, grasped this early and has sold it steadily.
This is why both AWS and Microsoft Azure (and Google) continue to grow faster than the overall market. Private and hybrid cloud vendors force would-be users to live within the constraints of corporate IT, which is the very thing that cloud adopters seek to escape. Dressing up a corporate data center, with all its bureaucracy, in cloudy clothes is a poor substitute for true cloud resources.
Nowhere is this better illustrated than in this tweet from 451 Research's Owen Rogers. In trying to get pricing for simple resources in Microsoft's private cloud offering, Rogers ran into roadblocks:
How the hell am I supposed to know how many CALs I need? It's a cloud FFS – unpredictabile scalability is what it was invented for!

— Owen Rogers (@owenrog) March 10, 2015
While Microsoft gives its customers the freedom of public cloud in Azure, it keeps miring customers in private cloud hell:
I literally can't believe how complicated costing a .@MicrosoftUK private cloud. It's 2015 – why is it this f*&king complex?!

— Owen Rogers (@owenrog) March 10, 2015
But it's not just Microsoft. This is par for the course with anything short of public cloud. In fact, as 451 Research indicates, public cloud "infrastructure as a service" is growing at the expense of IT outsourcing and on-premises IT spending. All attempts to replicate the benefits of public cloud without actually delivering public cloud are stalling.
So far, this trend is lining the pockets of Amazon and Microsoft, with smaller players like Digital Ocean also doing well as they cater to developer convenience.
Which points to a way forward for would-be cloud contenders: make developers' lives easier and you stand a chance. Continue to cater to the CIO, however, and you're toast.
Photo by