Americans are getting serious about cutting the cord. By the end of 2017, more than 22 million people had dropped their cable or satellite TV providers; millions more have chosen not to sign up for cable or satellite TV services at all.
A slew of recent industry reports have shown that Americans are actively in pursuit of new ways to consume entertainment. According to eMarketer, their reasons for cutting the cord are primarily based on factors related to price and convenience. eMarketer also projects that within the next three years, the number of people who have never subscribed to paid television services will equal the number of people who have abandoned it. All in all, a whopping one out of three Americans is expected to forgo cable or satellite as the primary source of content viewing by 2021.
These trends present a challenge to brands and agencies. How do you reach the third of the audience no longer watching traditional TV?
Don't worry; it's not all doom and gloom. Historically speaking, mediums have constantly been disrupted; with that disruption, they improve. More options means more fragmentation. And better technology means better data, better targeting, and, in turn, better performance. That's not to mention the access to tools that allow for experimentation with creative that was once limited only to those with big budgets and third-party resources.
Looking back at the transformation from radio to television, from the internet to mobile, from dot-coms to social media — and now from TV to OTT services — there's clear evidence that industry evolution can prove to be exactly what a brand needs to take it to the next level.
Looking forward, these are three established OTT companies, employing unique and distinctive business models, that are currently winning the battle for viewers' attention while attracting advertisers' dollars.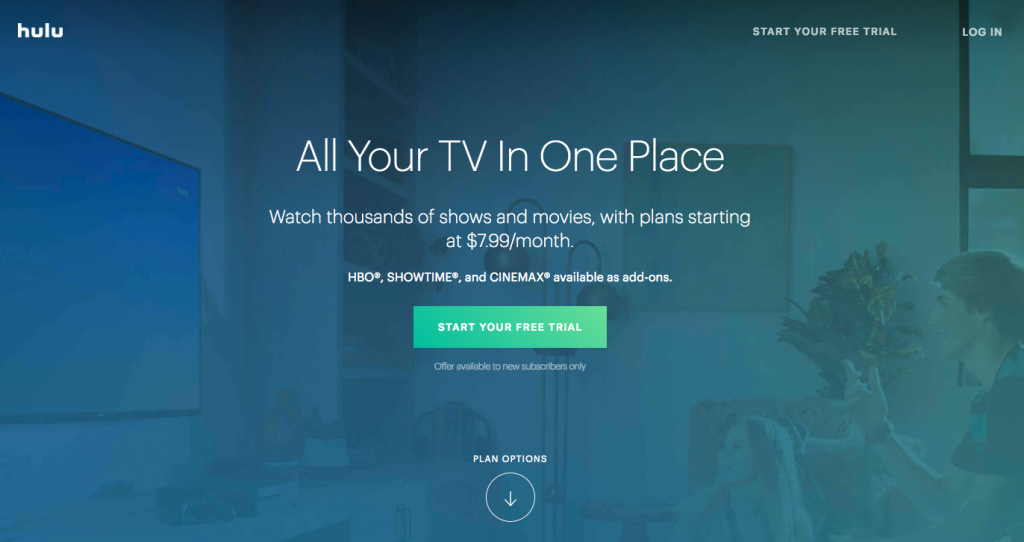 Hulu
Hulu is a paid subscription streaming service that offers both ad-supported and commercial-free subscription packages. It offers an extensive library of premium TV and film content, with options for live and on-demand channels and a slate of original series. Hulu secures some of the highest commercial pricing in the industry and is consistently sold out. A recent deal with The Walt Disney Company aims to give Hulu the flexibility afforded to its closest competitors, Netflix and Amazon Prime Video. Unlimited access to the Hulu streaming library is $7.99 per month; Hulu with Live TV costs $39.99 per month.
Hulu has generated significant amounts of buzz with its original show "The Handmaid's Tale," which helped it earn critical acclaim, a dozen coveted Hollywood awards, and worldwide recognition for its original programming. In early 2018, Hulu reported that it had 17 million subscribers and, despite a revenue loss in 2017, was able to capture $1 billion in ad revenue — something that makes an irrefutable case for the shifting of advertising dollars toward OTT.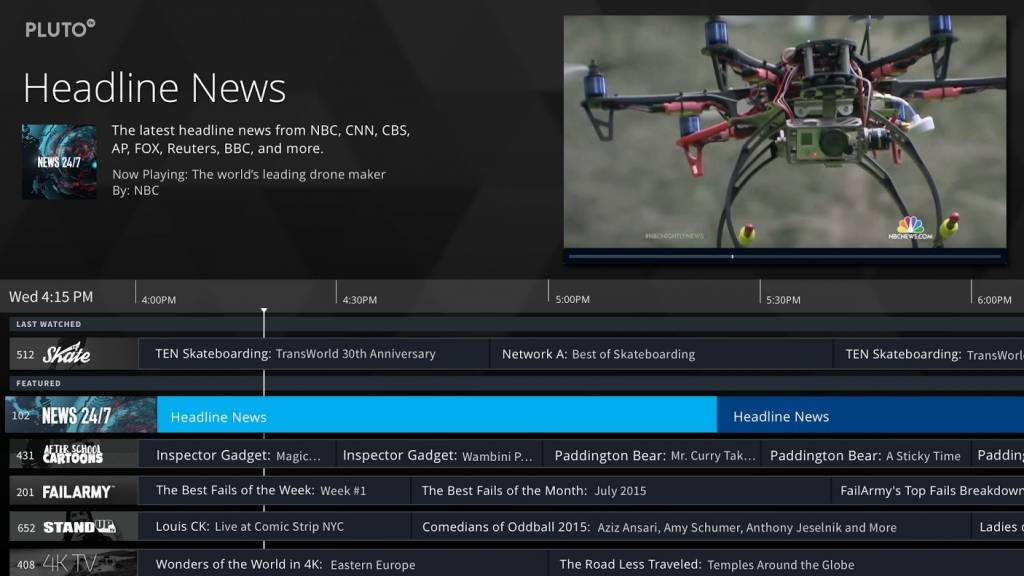 Pluto TV
Pluto TV is rapidly gaining momentum as a competitive player on the OTT block. It's completely free to consumers and available on all major devices. Pluto TV delivers more than 100 TV channels and an on-demand library with thousands of free movies. It's premised on the "lean back" TV experience and equipped with traditional TV features, including an online program guide and channel-surfing capabilities. Being free and full of premium programming, it's easy to attract existing OTT fans and those new to the space.
Pluto TV offsets the cost of the viewer experience by offering ad-supported commercials, similar to those executed by traditional cable and broadcast networks today. It includes established networks like NBC News, CBSN, Food TV, and Fox Sports, as well as popular internet channels including Cheddar, PopSugar, WPT, and People TV. The brand recently struck deals with major studios, including MGM and Warner Brothers, and has earned its place as a sought-after advertising outlet for marketers looking to reach cord cutters. Pluto TV has been called the "best cord-cutting app," and Digital Trends said, "It doesn't seem like Pluto TV will be going anywhere."

Roku
Roku has marked itself as a trailblazer in the world of OTT with its affordable hardware and easy-to-use interface. In addition to its devices, Roku offers a robust variety of ad-supported and subscription-based content channels. Roku's streaming players connect directly to TVs, and the service can also be accessed by smart TVs with built-in Roku. The service offers access to more than half a million TV episodes and movies, as well as Netflix, Amazon Prime Video, Pluto TV, Google Play, Hulu, and the major four broadcast networks. Recently, Roku launched its own app called The Roku Channel, full of ad-supported movies and TV shows. While The Roku Channel itself is free, the streaming players start at a cost of $29.99 for the hardware.
Roku went public in September 2017 after seeking an IPO valuation of $100 million. The bulk of the brand's revenue comes from its Roku players, but it's seen its customer lifetime value nearly double in a two-year span; it relies on a mix of streaming subscriptions, licensing partnerships, and advertising, all of which have led to brands migrating to Roku from traditional TV buys. The company has seen a number of competitors enter the player fray since its inception, but Fortune noted in 2017 that Roku "is doing better than Google and Apple," thanks to its OS-agnostic device. This is just one of the many reasons advertising revenue is finding its way to Roku.
Cutting the cord has earned its place in the mainstream, and brands are vying to influence the viewing habits of an ever-increasing OTT audience across the United States. These three OTT brands have all developed rich, intuitive platforms for CMOs to direct their ad spend and earn back their market share and sales. The numbers are in, and it's evident that streaming stands to get a lot more lucrative — for both streaming companies and their advertisers.