Wearable World Congress, ReadWrite's signature annual conference in San Francisco on May 19-20, will feature the key players who are shaping wearable technology and the Internet of Things. This series profiles some of the experts who will be speaking at the conference.
Nearly two years ago to the date, Neha Sampat spoke to ReadWrite about a new company she was launching called Built.io. She described it as "plug and play" software for enterprise app development that could be used without expert assistance.
Today, her app-building technology not only survives, but thrives. Built.io counts increasingly large companies among its users, including McAfee and VMware, the latter of which used Built.io to develop an app that can scale to 2,000 application programming interface requests per second. Those APIs, which allow developers to connect their applications and services to others, serves as the lifeblood for the company's next play, Built.io Flow.
Buy tickets now: Wearable World Congress, May 19-20
With this new service and set of tools, Sampat wants to do for Internet of Things (IoT) what Built.io did for enterprise—make their applications simple, compatible and flexible, no matter what sensors and devices users want to connect. The company likens Built.io Flow to a high-powered IFTTT ("If This Then That")—a service that easily links up consumer apps and services for automation—but designed with companies in mind.
Sampat herself has not escaped notice, either. A tech executive without a traditional technology background, the CEO has been named one of the 50 women in technology dominating Silicon Valley, as well as a 2015 San Francisco Business Times "Top 40 Under 40″ honoree. Next month, Sampat will join ReadWrite at Wearable World Congress, where she and others who are building the foundation for IoT, brick by brick, will weigh in on its greatest challenges and opportunities.
In the meantime, I reconnected with her and Chief Operating Officer Matthew Baier to discuss our connected future, the crucial role of APIs in it and how Built.io will address them.
How did Built.io Flow get its start?

Sampat: When we think about the Internet of Things, it's essentially an extension of what we're already doing today around mobile. The physical device isn't necessarily important, whether it's a phone or a watch or a sensor in a city. It's really about the data and how that data is consumed. From our perspective, we've claimed the term "Internet of APIs" because that's what matters: connecting the data and making it powerful. In order to do that, you need to create purpose-built connections between APIs.
Baier: The goal for Built.io Flow is to make the integration that's necessary for the Internet of Things to be useful and very, very accessible. Whether it's a device or a sensor or a beacon or an appliance, as long as it has an API, it'll work with Built.io Flow. We see this as essentially democratizing integration, allowing any user to participate, and making connections between APIs to do something useful with the data.
See also: What Happens When Almost Anybody Can Build A Mobile Business App?
How could IoT companies make use of the new tools?
Baier: Today if I want to connect an enterprise system's API with a beacon, I need to hire an integration expert, and that's expensive and slow. With Built.io Flow, a visual designer can connect your endpoints using drag-and-drop technology. There are some platforms that do this in a consumer space, like IFTTT. They have a very simple rules engine that says, "If this happens, do something else." What we're looking at with Built.io Flow is the enterprise use case—where rules aren't that simple.
They need to be able to work with multiple "ifs," multiple "thens," multiple "thats," that connect with multiple systems. We're allowing enterprise [customers] to get the same convenience with tools that are a lot more powerful and better tailored to business needs. More importantly, it's not a million-dollar process; it's a five-minute drag-and-drop operation.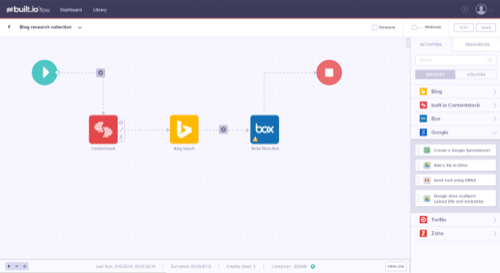 So what do the results look like in the real world?
Sampat: If you look at our infrastructure costs in our Mumbai, India office, 70 percent of the costs were tied to our air conditioning units, and there's a shortage of energy in the area. We used Built.io Flow to cut costs significantly and do our part to conserve energy.
Baier: People would turn on the AC full blast and then overcorrect by opening the windows, and then start the cycle again. Some of our junior developers used Built.io Flow to hack together a solution in a weekend that connects to the AC unit and a motion sensor. When it senses people in the office, it levels to a reasonable temperature, and when it senses that people aren't there, it shuts off. We've seen a 30 percent cut in our energy bill and made employees more comfortable without trying very hard.
Sampat: The use cases can be endless, but some of the apps we're going to launch with involve improving cities. If you're able to connect the various data points in a city and make them smart, you can improve the people's lifestyles.
To hear more from Neha Sampat and other innovators and experts, register for Wearable World Congress 2015, May 19-20 in San Francisco.
Photos courtesy of Neha Sampat and Built.io