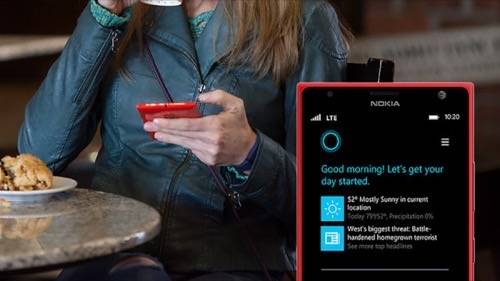 Microsoft's Cortana app will make its way to iOS and Android devices in the near future, a new report from Reuters says, quoting "people familiar with the matter." The rumor has in fact been doing the rounds for some time: Last November, Microsoft executive Julie Larson-Green hinted that such a move was on the cards in a briefing with reporters.
Getting the app on other devices is one thing; getting anyone to use it is quite another. Assuming Cortana jumps out of Windows, can it thrive elsewhere?
Digital Assistants Go To War
It's the latest move in a fascinating battle between the digital assistant apps—Microsoft's Cortana, Apple's Siri and Google Now—that are becoming more and more integral to the mobile platforms they represent. (Indeed, stock Android 5.0 is little more than Google Now plus some extra wrapping.)
All these apps offer voice control, intelligent searches, and varying levels of personalization. Siri, which was wrapped into iOS in 2011, puts the emphasis on voice commands: Users can do anything from play all the rock songs on your iPhone to read out your most recent email. It can call up any information from a device or the Web quickly and easily.
Google Now isn't so concerned with voice input (though it is available). Here the focus is on personalized cards of information that pop up at the right time and the right place, with no user interaction required. Sports scores, travel times, movie recommendations, and so on, all prompted by data mined from your history on Google's various services.
Cortana, the most recent of these apps to launch, tries to combine the best of Siri and Google Now: advanced voice control and smart predictive responses all rolled up into one. Considering the low market share enjoyed by Windows Phone across the world, it may have little choice but to spread its wings.
Cortana's Breakout
Siri, Google Now and Cortana are busy vying for position. They're all based on knowing as much about us as possible, and that means extending to as many devices as possible: Phones, tablets, laptops, browsers, consoles, smartwatches and the rest.
Siri, of course, is never going to make it to Android or Windows Phone; Apple apps run on Apple hardware and that's that. But Microsoft may want to take some pointers from Google Now, which has made the jump over to iOS—it's embedded in the Google app that offers Web search and various other features on Apple's iDevices.
The iOS version of Google Now is fine for displaying cards, but it misses the deep hooks into the operating system that it enjoys on its home turf. It's not one swipe away from the home screen, for instance, as it is on Android 5.0 Lollipop, and it can't be called up with an "OK Google" unless the app is already running. It feels slightly watered-down, walled-in and read-only, and it's likely that an iOS Cortana would experience the same fate.
Google Now can perform some tricks on iOS, though. It can monitor your location, display updates in the Notification Center, and tap into other Google services. Because so much of the data it mines lives on the Web—from Gmail to Google Calendar—it doesn't necessarily need access to iOS or its native apps to function well.
That brings us back to Cortana. Over time, iOS has opened up a little, allowing third-party apps to run and refresh in the background, and have deeper access to the operating system (note the introduction of third-party keyboard support in iOS 8). Yet for Cortana to make headway, it's going to need some top-notch Microsoft apps on iOS, and a strong cloud system behind that.
Android is an easier proposition, as it gives more control to any third-party apps who want to take it. You can completely replace the Google Now launcher with another skin, if you want to—Facebook Home is one high-profile app that does this, and that's a path Cortana could theoretically go down. (Just look at the lock screen replacement Microsoft has already built for Android.)
The next phase
Right now, Microsoft has "nothing to share" about Cortana coming to iOS and Android, according to a spokesperson I contacted. But if Office for iOS and Android are anything to go by, it seems that Microsoft is going to follow Google's lead (get your apps and services to as many people as possible) rather than Apple's (let the people come to the apps instead).
Bear in mind that from this fall, millions of new Windows 10 PCs are going to come with Cortana installed, giving Microsoft millions of new opportunities to collect and display data. Google's Chrome browser and Chrome OS offer rudimentary support for Google Now, which you can expect to see improve over time. Again, Google Now's aim is to get everywhere, and Chrome is a vital cornerstone of that.
Siri feels like the odd one out here. Its focus has always been on easy, hands-free voice access to your data on mobile devices, rather than watching and predicting your every move, and it's not yet on Mac OS X. If the patent applications are to be believed, it might not be long until that changes, but right now it seems Apple is happy to ease off on the spooky pre-emptive notifications and the privacy implications that go along with them.
When you weigh all of these factors up, it's about services as well as platforms. Siri only knows who your brother is if there's a matching entry in your Apple contacts; Google Now only knows about your next flight if there's a confirmation in your Gmail; and Cortana only knows you need to be across town in an hour if you've marked it on your Outlook calendar.
If these digital assistants are going to be truly smart, then they need to know as much about their users as possible, and that goes beyond iOS and Android to the cross-platform services underpinning them—it's an issue that extends across mobile, desktop, wearables, the smart home, the car dashboard and the Web.
In that light Cortana has no choice but to jump to as many devices as it can—ubiquity is key for an ambitious all-encompassing digital assistant. At that point, the only question is: Who do you want running your life for you?
Images via Microsoft, Google and Apple