At the Consumer Electronics Show on Tuesday, Intel CEO Brian Krzanich got very excited about something that looked like a button. Turns out, it was the company's brand-new, open-source wearable processor, Curie, which just happened to be sized and shaped to resemble, well, a button.
Krzanich held the module with a couple of fingers in front of the audience. "Curie is really meant to be a platform," he said. "It will be available in the second half of 2015."
The move makes so much sense, it's kind of amazing Intel hasn't done this before. The company has been extremely hot on wearables, acquiring fitness-band maker Basis, working with Opening Ceremony on the MICA smart cuff, and either fueling or helping others bring forth numerous body-donning technologies.
Curie can go into jewelry, purses, eyeglasses, clothing detail or trim—basically, just about anything we slip on or strap to ourselves. It's also low power—a crucial feature for slim gadgets that couldn't possibly house a giant battery.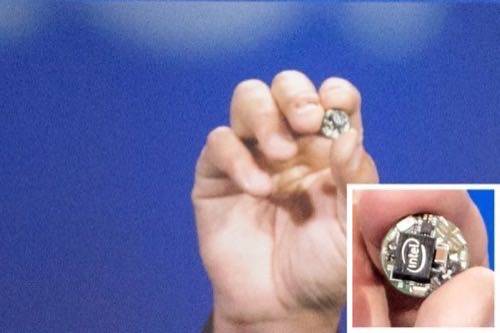 As a component, Curie builds off of Intel's Quark chip to create the Quark SE "system-on-a-chip," essentially a very tiny computer system crammed onto a sliver of silicon. It includes Bluetooth Low Energy radios, sensors and battery charging functions, and supports gesture recognition.
Gestures could become more prevalent as input mechanisms for wearable devices, considering many do not come with touchscreens or voice recognition support.
Inset courtesy of BusinessWire; all other photos by Adriana Lee for ReadWrite