BlackBerry has finally launched its new-old smartphone, the keyboard-bearing BlackBerry Classic.
The phone, which has been available on pre-order for a month, offers users a rather unique proposition these days: a physical keyboard. The company earned its stripes with devices bearing hardware QWERTY keyboards, and some might argue that BlackBerry's business really began to slide when it ditched them to hop on the touchscreen trend.
See also: BlackBerry Goes Back To The Future With Its "BlackBerry Classic"
The Classic offers both—a keyboard and a touch-enabled display that's actually larger than the one featured in its last hit, the Bold 9900. Along for the ride are the familiar physical navigation keys and trackpad. Altogether, the phone should provide plenty of nostalgia for old-time BlackBerry lovers.
Whether that's enough to make it the hit the company so badly needs is another question.
The Classic Bid To Get Back In The Black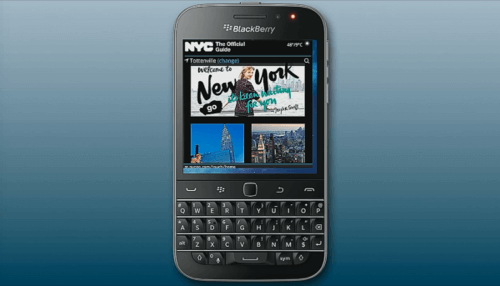 There's no strange keyboard layout, like the weird one with three rows of keys in BlackBerry's Passport. The Classic's keys, touchscreen and shortcuts were designed to let users fly through their communications "triage," so they can select blocks of emails or zip through texts with lightning replies, even without looking at the keys.
Like previous BlackBerrys, those buttons have tactile contours and plenty of responsive spring when pressed, which should please touch typists. Folks who treasure the ability to manage their device with one hand should note that this phone is also much smaller than the Passport, and was designed for one-handed use—more like the old Bold 9900 from 2011.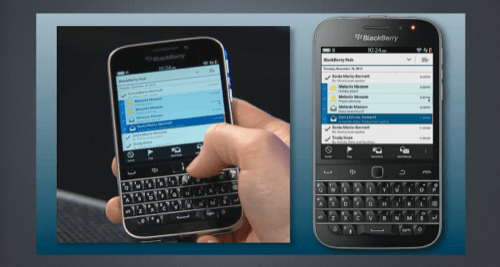 The Classic's other hardware specifications seem to come from that era too. The device features a dual-core Qualcomm processor, 2GB of RAM, a 1230 mAh battery and a 3.5-inch touchscreen (at 720 x 720 pixels, 294 dpi HD resolution).
BlackBerry, perhaps trying to get in front of any criticism of its compact screen, notes that the display is still 40% bigger than that of the Bold. Jeff Gadway, head of product and brand marketing, also pointed out that "when you bring up a keyboard on an iPhone and compare it with the Classic, the [Classic's] display is within 4%." Of course, he didn't mention which of Apple's super-sized iPhone he was referring to, though it's all but certain he wasn't talking about the monstrous iPhone 6 Plus.
As for battery life, while the capacity of that power cell doesn't look too impressive, the company made software optimizations that, it says, should keep it going for 22 hours. The smaller screen ought to help save power as well.
While the lack of screen space and mediocre specs may disappoint mobile gamers, the internals should be perfectly adequate for the productivity-minded folks BlackBerry has aimed the Classic at. So if you just need a self-described "workhorse" to plow through messages, this device should be up to the challenge.
A Blast That's Better Than The Past?
BlackBerry makes direct comparisons with the Bold, which had plenty of fans. Now the company can't help but emphasize how the Classic offers similar design cues, but a greatly improved experience, with:
A browser that's three times faster
A display with 60% more space
Battery life that's 50% longer
Classic also features an 8-megapixel rear camera, a 2-megapixel selfie camera in front and the latest version of the BlackBerry OS.
Version 10.3.1 brings with it heightened security, which should please companies, and productivity tools like the Hub, Assistant and Blend—the latter of which lets users manage their work Classics using their personal computers.
Perhaps the most noteworthy change between the old and new BlackBerries: Android apps. The Classic offers two app stores and can run apps from the Amazon App Store as well as BlackBerry World.
This device is clearly all business, which is actually rather savvy. BlackBerry is going after smartphone users who have been largely ignored lately: hardware keyboard fans, phablet haters who still value one-handed use, and people who demand a long-lasting device. That makes for a blast from the past that could be the company's smartest play in years.
The BlackBerry Classic is now available worldwide for $449 (unlocked) at retail stores and online at ShopBlackBerry.com and Amazon. For more information, visit the official product page.
Screenshots of BlackBerry's press conference in New York, by Adriana Lee for ReadWrite