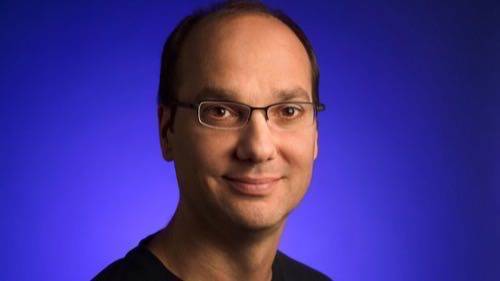 Google CEO Larry Page dropped a bomb on the smartphone world this morning, announcing that Andy Rubin, head of Google's Android unit, is "handing over the reins" of the world's most popular smartphone platform to Sundar Pichai.
Android is the most used mobile operating system in the world: we have a global partnership of over 60 manufacturers; more than 750 million devices have been activated globally; and 25 billion apps have now been downloaded from Google Play. Pretty extraordinary progress for a decade's work. Having exceeded even the crazy ambitious goals we dreamed of for Android—and with a really strong leadership team in place—Andy's decided it's time to hand over the reins and start a new chapter at Google. Andy, more moonshots please!
Page stated that Sundar Pichai will pick up the Android reins, in addition to his responsibilities overseeing Google's Chrome browser and OS and its Google Apps platform .
Today Chrome has hundreds of millions of happy users and is growing fast thanks to its speed, simplicity and security. So while Andy's a really hard act to follow, I know Sundar will do a tremendous job doubling down on Android as we work to push the ecosystem forward.
Page's statement leaves many questions unresolved.
What will be Rubin's next "moonshot" at Google? How long will he remain at Google?
Does Pichai's oversight of both Android and Chrome OS herald a future unification?
What does this mean for the Android brand? Nexus? The rumored Google X Phone project inside Motorola?
Will this impact the current line-up of Chrome-based mobile devices?
Rubin's Victory: Market Domination
No one can doubt the rapid global rise of the Android smartphone platform. As of the end of 2012, Android commanded a 48% market share — up from 31% in 2011. Second-place iPhone trailed with a 19% market share.
While initially derided as a imitation of Apple's popular iOS software, Android has rapidly improved. As ReadWrite Editor-in-Chief Dan Lyons wrote last week, even the Apple faithful within the media have begun singing Android's praises:
One by one, many of Apple's biggest, loudest, best-known fans are jumping ship. First came Guy Kawasaki, who has become not only an Android fan but now is consulting for Motorola. Then Robert Scoble made the leap. Now Andy Ihnatko, a tech reporter for the Chicago Sun-Times, has switched to Android. Moreover, he's writing a series of articles for TechHive explaining, in great detail, all the reasons for his move.
Rubin's Failures
Despite Android's massive market share, the promise of a Google-led OS with a thriving ecosystem of hardware partners has been limited by Samsung's dominance of Android. As ReadWrite noted last week, 8 of the top 10 Android devices in the world belong to Samsung. Samsung's flagship "S series" commands over 17% of the Android market. Samsung's Note line similarly dominates the "phablet" segment.
The breadth of Samsung's offerings is choking other Android manufacturers to death. Samsung controls 47% of the total Android ecosystem, according to Localytics. Essentially, Samsung is taking all the market share and profits while would-be competitors like HTC, LG and Motorola battle for scraps.
Earning reports bear this out. HTC announced earnings on Monday and was down to $2.03 billion for Q4 2012, a paltry sum compared to Samsung and Apple. Google is raking in about $1 billion a quarter from Motorola. The Droid Razr was the only non-Samsung smartphone to break the top 10.
Tablets, too, remain a sore point for Android, given that Apple's iPad continues to dominate. Potentially more troubling is the inconvenient fact that, as Adobe Digital reported, tablet usage drives more Web traffic than smartphones.
So the popularity of the iPad — along with Amazon's Kindle line, which relies on its own flavor of Android — will limit Google's access to those devices and users. This could become particularly troubling for Google if tablet users tend to stick around remain inside Amazon's and Apple's retail and media ecosystems.
From the Adobe web traffic analysis:
Tablets drive more traffic because internet users prefer them for more in depth visits.
After analyzing more than 100 billion visits to 1000+ web­sites worldwide, Adobe Digital Index has discovered that global web­sites are now getting more traffic from tablets than smartphones, 8% and 7% of monthly page views respectively. Pretty impressive for a device category that was introduced less than three years ago!
More surprising, perhaps — and a more pressing issue for Google — is that Adobe noted that "all countries saw tablet traffic double in the past year."
Rubin's departure marks a clean sweep of the leadership at major operating systems over the past six months. Scott Forstall, formerly Apple's Senior Vice President of iOS Software, was replaced late last year by a team that Tim Cook suggested was more "collaborative." And Microsoft's Windows 8 chief, Steve Sinofsky, took his leave not long after the new OS debuted last October.
UPDATE: The Wall Street Journal obtained a copy of Rubin's email to Open Handset Alliance members, quoted in full, below:
Dear friends,
In November of 2007 we announced the Open Handset Alliance with 34 founding members. Today, I'm grateful to the over 85 OHA members who have helped us build Android and drive innovation at such an incredible pace. The Android ecosystem has seen tremendous growth since the launch of the very first Android device in October 2008. The volume and variety of Android devices exceeds even my most optimistic expectations – over 750 million compatible devices and counting!
At its core, Android has always been about openness – the idea that a thousand brains are better than one. Just as the ecosystem has grown, so has our team at Google. I am incredibly proud of the phenomenal group of people that spend their days (and nights) building the Android platform and services. Just look at last year…a lean yet incredibly ambitious team released Jellybean with Google Now, launched Google Play in many languages and countries and collaborated with several partners to build three new Nexus devices to help drive innovation in the ecosystem.
Today, the success of Android combined with the strength of our management team, gives me the confidence to step away from Android and hand over the reins. Going forward, Sundar Pichai will lead Android, in addition to his existing work with Chrome and Apps. Hiroshi Lockheimer – who many of you already know well – plus the rest of the Android leadership team will work closely with all of our partners to advance Android and prepare the platform for new products and services yet to be imagined.
As for me, I am an entrepreneur at heart and now is the right time for me to start a new chapter within Google. I am amazed by what we have accomplished from those early days (not so long ago!), and remain passionate about the power of a simple idea and a shared goal – an open source platform freely available to everyone – to transform computing for people everywhere.
Thank you for your support,
– andy
Lede image of Andy Rubin courtesy of Google