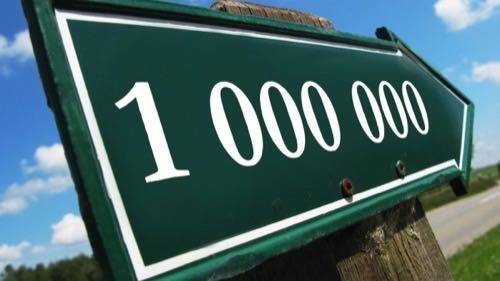 Apple and Google have been playing the numbers game about iOS and Android for years. Apple had the headstart, of course, but Android first caught on the number of smartphones that it ships and activates every day. Apple maintained its lead when it comes to sheer volume of apps in its App Store vs Android 's Google Play until October 2011.
And it now looks like Google Play will be the first application repository to hit the million-app benchmark, months ahead of Apple.
On Monday, Apple announced that it had reached 40 billion downloads and 775,000 total apps in the iOS App Store. Taken with previous data from Apple, ReadWrite extrapolated that the App Store has been growing by about 641 apps per day – or 19,230 apps per 30 days. If we assume those rates are constant, then Apple will need 11.7 months for its developer ecosystem to push out another 225,000 apps to reach the million milestone. (Of course, if the growth rate changes, that time fram could change – in either direction.) Either way, look for the iOS App Store to hit a million apps in the second half of 2013, most likely toward the end of the third quarter or the beginning into the fourth quarter.
On the other hand, the Android ecosystem has been growing even faster. Between September and October 2012, it grew by about 25,000 apps. If we assume that growth rate as constant, then Google Play should already be slightly ahead of 775,000 apps by now – and accelerating at a faster rate than the App Store. Through all of 2012, Google Play added about 350,000 apps to its Android ecosystem. In comparison, Apple added 225,000 apps to the App Store between Jan. 2012 and Jan. 2013. That is actually below the amount of apps the App Store gained in 2011, which has been estimated at 250,668.
On its current trajectory, assuming linear growth, Google Play should hit the million app mark by June 2013. (That estimate was first made by technology blog The Sociable last week. The Sociable's co-editor Darren McCarra estimates there are nearly 800,000 Android apps in Google Play and thinks it will hit 900,000 by April, and then a million by June.)
Without firm numbers from Google, though, it is hard to know the exact growth rate of Android apps over the last few months. So, we asked the number crunchers from Boston-based mobile analytics company Localytics whether The Sociable's numbers were reasonable.
"Yes, the June prediction makes sense. I looked at the growth we've seen in the second half of 2012 in Android apps, applied it to the 700,000 in October number, and came up with June as the one million crossover month," said Daniel Ruby, Localytics co-founder and director of online marketing.
For both iOS and Android, we are applying reasonable guesses to the numbers available. There certainly could be fluctuations, especially if Android encounters the same type of declining growth rates that Apple experienced in its App Store between 2011 and 2012. But if the numbers remain on course, Google Play will certainly hit the seven-figure milestone before the App Store does.
"Now, this assumes a lot – I assumed linear monthly growth in the first half of 2013 at a rate of the average monthly growth in Q3 and Q4 2012. But my numbers do imply that June is an appropriate target for Google Play to pass one million apps," Ruby said.
In December 2011, Google chairman Eric Schmidt famously said in an interview at LeWeb Paris that developer interest in Android would exceed that of iOS within six months. That prognostication proved to be false, but Schmidt may be able to claim delayed validation a year later – if Google Play is indeed the first to crack the million app mark.
Lead image courtesy of Shutterstock.