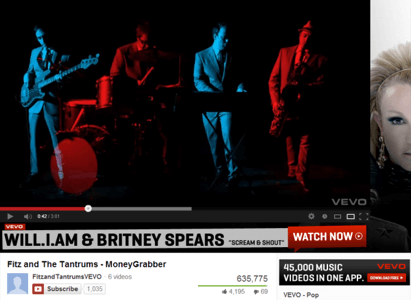 T'is the end of the year and all across YouTube, videos – primarily music- are being scrubbed clean of fraudulent views. Except one set of channels. VEVO, the one with a special partnership with YouTube, has remained untouched. Obvious VEVO power-play much, YouTube?
YouTube has long had issues with botting – the practice of paying for fake views, much in the same way people buy fake Facebook likes or fake Twitter followers. In a bold move before the Christmas holiday, the Google-owned site stripped billions of views from the channels belonging to Universal Music Group, Sony BMG and RCA Records. Hundreds of examples of music-related content were removed as well.
Tallying Up The Fake Views
The music channel with the most fraudulent views removed was Universal Music Group, with the tally coming out to just over 1 billion (1,015,813,000), according to third-party analytics site SocialBlade. Sony BMG lost a little over 850 million views, while the RCA channel dropped 159 million.
As first reported by the Daily Dot, this year-end cleaning of fake views also hit hundreds of other non-musical YouTubers, which led many to wonder in related Google forums whether this was the work of a bug. In a forum post, YouTube confirmed users had violated the Terms of Service item 4 section H, which states: "You agree not to use or launch any automated system, including without limitation, "robots."
YouTube did not respond to the Daily Dot's requests for comment on the removal of views and videos from Universal Music Group, Sony BMG, and RCA Records, nor did they respond to ReadWrite's. Tech blog Tom's Guide however, got a confirmation from Google that the music channels had indeed violated the ToS.
Claims Of Bias
Netherlands-based web celebrity and gamer Athene Wins – who is a bit of a YouTube watchdog – called the take-down of fake views from certain channels "biased" in a vlog addressing Daily Dot's article, given that he believes botting has also occurred on VEVO channels.
"They're just making sure all big labels and artists are forced to go with VEVO," says Athene Wins, who points out Chris Brown and Britney Spears VEVO channels were untouched as far as the removal of botted views.
"Don't tell me that you are going to be botting views for Chris Brown TV" but you "stop botting" at Chris Brown's VEVO," he added.
The removal of botted views on only certain music channels does look suspicious, but the comment the Daily Dot received from Universal confirmed they have been focusing on pushing content into their VEVO channel, instead of their original YouTube channel. VEVO, after all, charges very high ad rates.
It is also possible that the millions of fake views on Universal Music Group, Sony BMG and RCA Records was done to make channels appear more popular than they were, since they were created in 2006, before the music video conglomerate VEVO (which includes Universal, Sony BMG and RCA Records talent) launched in 2009. Reddit, for example, relied on fake users to make the site appear more popular than it was, when it first started out.
YouTube's funneling music into one central distributing network, VEVO, also makes sense for simplicity, as all music on the site can then be under one umbrella. This re-organizing of music content also means VEVO is staying on YouTube; back in July VEVO threatened to leave the Google-owned video sharing site unless they lowered their fees.
Keeping the botted views on VEVO (if they do in fact, exist), then, makes sense from a business investment standpoint. Inflating the VEVO traffic keeps a nice justification going for those VEVO channels' high ad rates, all the better for everyone's bottom line.