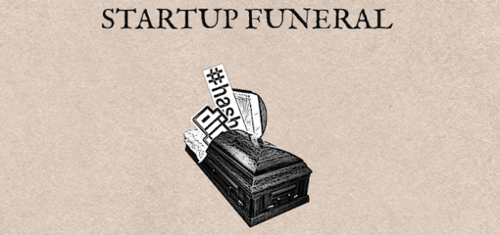 Failure gets a lot of praise in the tech world. It's a great learning experience, it's a vital growth opportunity, etc. But nobody celebrates the actual event. Recently several entrepreneurs in New York City got together to do just that, holding the inaugural Startup Funeral to honor the memory of three dead technology companies.
"Every startup has a launch party, but what happens when a startup dies?" asks event co-organizer Leo Newball Jr. "No one is around to commemorate the life of that startup. There are launch parties but never any funerals, so we wanted to have an event that celebrates startups that don't make it and what was learned from that."
Joining Newball to organize the event were four of his colleagues at New Work City, a coworking space in New York's Chinatown: Kevin Galligan, Jason Kende, Valerie Lisyansky and Jason Nadaf. They had people dressed as priests, mourners, urns full of hard candy, a bagpiper and lots of alcohol, which is almost always a good idea on occasions like this. (The alcohol, not the bagpiper.) They thought about a casket but caskets are expensive, even to rent.
Addieu, Get-A-Game, Kozmo.com
The dead startups honored were mobile social-networking company Addieu, mobile game and activity locator Get-a-Game and the late, seldom-lamented but often-derided Kozmo.com, which failed way back in 2001 but to this day is held up as the embodiment of dotcom-era foolhardiness. Three ex-execs spoke and 100 or so in the audience listened and commemorated.
"These people never got the opportunity to say goodbye properly to the startup they founded or worked for," Newball says. "So it felt like a real goodbye for them. It was cathartic on a certain level but it was all done tongue in cheek, so there was a spirit of fun and many people just enjoyed the ridiculousness of it. The event was different things to different people."
After Grieving, Starting Over
For Chris Siragusa, former CTO of Kozmo, it was a chance to talk about his new company, Max Delivery, which is a lot like his old company. Kozmo offered one-hour delivery of snacks, coffee, DVDs, magazines, tubes of toothpaste – pretty much whatever you wanted at a moment's notice. Max Delivery does the same, with one big difference: Kozmo was free and was killed by its high-cost, low-revenue business model. (In 2000 its revenues were $30 million, delivery costs $35 million and net loss $120 million.) Max Delivery charges a fee and makes a profit.
"Startups are often an iterative process," Newball says. "Even if one dies, the entrepreneur can go on and learn from the process. Life continues, even if the startup doesn't. That's the message of Startup Funeral. Not everyone is going to make a Twitter or a Facebook on their first try."
More Funerals Coming
The team behind Startup Funeral is now planning its second event, which will take place early next year. They're deciding between a marching band and a Viking funeral theme. The hardest part, says Newball – aside from getting a permit for a flaming Norse galleon – is finding startup founders willing to stand onstage and tell an audience what they did wrong.
"It takes a brave person to get up in a public forum and say, 'Hey, I failed.' But, honestly, we don't care what you say when you get up to the podium. You can talk about your dog if you want. Or you can talk about the lessons you learned. We won't judge you one way or another. We're just happy to have you at the event."
Two people who did not attend the Startup Funeral were Kozmo cofounders Joseph Park and Yong Kang, the guys who blew through $250 million in funding in three short years. Park is now president of BibleGateway.com. Kang went back to his former career, Wall Street investment banking… at Lehman Brothers. Some people never learn.