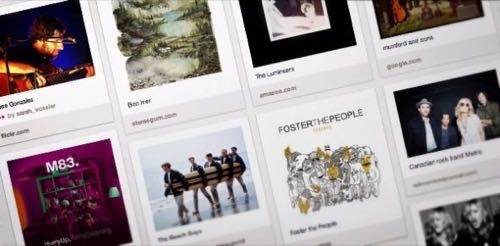 Pinterest is steadily growing out of the stereotype that it's just for sharing recipes and planning weddings. The social scrapbook already plays a central role in the social media strategies of visual artists, publishers and certain types of businesses. Now, with the addition of features for pinning music and video, musicians are catching on.
Just as early-adopter bands and artists flocked to Twitter, Tumblr and Instagram, some are experimenting with visual bookmarking on Pinterest. Conventions are emerging as those brave enough to dive in head-first experiment with different approaches.
The most obvious way musicians are using Pinterest is as a collection of visual artifacts from across the Web. This includes everything from photos of recent gigs, artists they admire or gear they love playing with to visual art that matches their music. This approach is akin to the way bands have used Tumblr.
Alanis Morissette uses Pinterest both as a promotional vehicle for her own work and as a way to connect with fans in a more meaningful way. That includes not only a scrapbook of personal photos but also a pinboard dedicated to sharing favorite quotes and a board titled "Alanis Recommends" containing mostly self-help books. These features add a personal flavor to her social media presence, something Pinterest is uniquely positioned to help facilitate.
Beyond Pictures: Sound and Video
Despite its roots, Pinterest is no longer just about imagery. It also happens to be a good way to share sounds and videos, a fact that makes it increasingly appealing to musicians looking to promote their work. Music videos from sources like YouTube, Vimeo and others can be embedded directly into Pinterest pages and, not unlike Twitter or Tumblr, can be "repinned" by others, creating the potential for content to go viral.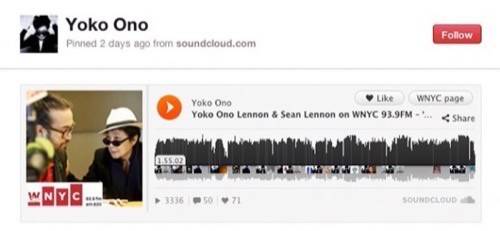 Last week, the site officially integrated with SoundCloud, a partnership that makes Pinterest an even more natural fit for bands and musicians. Until now, the most effective way to share a song on Pinterest was to pin a YouTube video containing the track. This new feature simplifies things a bit and provides an additional avenue for distributing audio files.
Yoko Ono was quick to take advantage of SoundCloud support. The artist and wife of the late John Lennon uses the feature to embed new songs as well as audio clips from radio appearances. The "SoundCloud" board on Ono's account includes everything from music recorded with her late husband to a recent episode of a radio program on which Ono appeared with her son Sean Lennon. Her Pinterest account also serves as a home to past visual art projects, writings and activism-related links.
Music outlets like The Fader, HypeBot, VH1 and MTV have also jumped on the Pinterest stage. Record labels are also using the service to promote artists and new releases. Many labels create boards specific to popular artists in their roster, effectively giving those artists a semi-official presence on the site without requiring them to manage it. This approach offers less opportunity for deep engagement with fans, but it's a start.
Success Is Hard to Measure
As popular as Pinterest is becoming generally, for musicians it's still a realm of early adopters. Relatively few artists have official accounts on the site. Even Amanda Palmer, who is often noted for effective use of Twitter and other social platforms, hasn't pinned anything.
How can an artist know whether Pinterest is paying off? Success can be difficult to gauge. Certainly, artists with a large following on Pinterest should expect to see an increase in video views, listens and click-throughs to related media and articles. For smaller acts, the payoff may not be as dramatic at first. In either case, metrics don't exist that would help artists and managers determine the effectiveness of a particular strategy. Did pinning those new tracks from SoundCloud help get them heard by more people? Maybe, but neither SoundCloud nor Pinterest offers analytics granular enough to know for sure.
Pinterest doesn't yet have a huge community of bands and musicians, but features like SoundCloud integration will likely encourage more to take advantage of the service. What it does have is a sizable – and growing – user base, something artists would be wise to tap into early.