Shopkick, a new location-based service (LBS) app for the iPhone, is launching today and it's taking LBS software in a direction we've been expecting all along. Rather than rewarding users with virtual goods or contextual information like user reviews, it goes straight to the heart of the matter – kickbacks, discounts, and real-world incentives.

Shopkick wants to "turn offline stores into interactive worlds" using your smartphone and some interesting technology that detects not only if you're in a store, but what floor you're on. It even knows when you're in the changing room.
Rake In The Kickbucks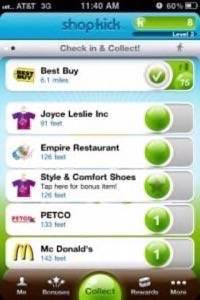 The idea is simple – everything you do earns you points, or "kickbucks," which can be redeemed for anything from Facebook Credits to gift cards. Check in to a store and get a couple of points; physically walk in and get even more points. Once you're in, start scanning the barcodes of certain items and the points really start rolling in. As you go, the app begins suggesting deals and offering discounts.
The app is launching with five big names as partners – Macy's, Best Buy, Sports Authority, American Eagle Outfitters and the Simon Property Group (an operator of malls across the country) – meaning many of the rewards come in the form of gift cards and items from those stores.
Shopkick's LBS Innovation
Shopkick takes a new approach to location, and especially the sort of persistent background location we've all been awaiting. One of the big problems with persistent location is battery life – constantly tracking someone's location uses up a lot of battery. Additionally, many of the places that this app is attempting to track are indoors – not ideal for GPS, which works best when you have a clear path to the satellites above – and traditional location methods become problematic. Location can also be determined using Wi-Fi signals, but it is often inaccurate and certainly couldn't be trusted down to a changing room level.
As the company emphasizes throughout its website, simply walking into a store earns users kickbucks. So how does it know you're there? And how could it possibly know you've gone into a changing room? According to The New York Times, "the app knows someone is in a store by listening for an audio transmitter placed in each participating store; the phone's microphone picks up the signal, which people cannot hear."
Will It Work?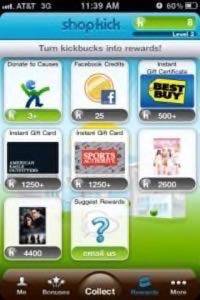 The big issue we see right now is how much it takes to get to these incentives. Unless you're an avid shopper, some of the rewards just seem like they might be unattainable. We hope that this is a realm that Shopkick will look to fine tune as it goes. I'm not sure I visit some of these places enough in a year to even get a $10 gift card. A "Twilight" DVD, for example, takes 4,400 kickbucks. It almost reminds us of the gift counter at the arcade when we were children – there the discman sat, taunting us to play the Skeeball game enough to collect those 10,000 tickets when, if we just ponied up the $40 bucks, we could simply go out and buy one.
Perhaps, the background, check-in-less aspect of this app that will save us. But if the only way to actually get ahead is to walk around in search of items to scan for points, we're not so sure it's worth the time.
Starting today, the app is available in the App Store as a free download.