New York-based Peachtree Media Advisors has just released its annual report summarizing mergers, acquisitions and amounts of capital raised in the online media market last year. The report is available as a PDF download (2MB). In 2008 there were were 707 merger, acquisition and capital raise transactions in the online sector of media – which was 92 more transactions than 2007. The breakdown was 348 capital raise transactions and 359 acquisitions. Despite the increase in transactions however, the actual dollar value declined from 2007.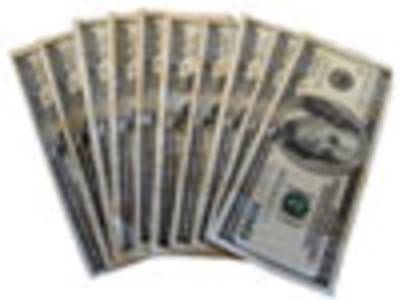 In 2008 there was $16.9 billion in reported deal value, a decrease of 62% from the $44.4 billion in 2007. Peachtree attributes the drop to "a lower number of large scale strategic acquisitions in the online media sector." In other words, valuations took a dive.
In M&A transactions, most of them occurred in the consumer sector of online media – 329 transactions, representing 46.5% of the total transaction volume in 2008.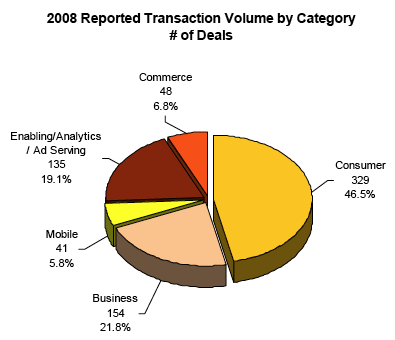 The 2008 reported M&A deal value by sector:
Consumer – $6.2 billion (36.7%);
Business – $4.8 billion (28.4%);
Mobile – $592 million (3.5%);
Enabling – $2.5 billion (14.6%); and
Commerce – $2.8 billion (16.7%).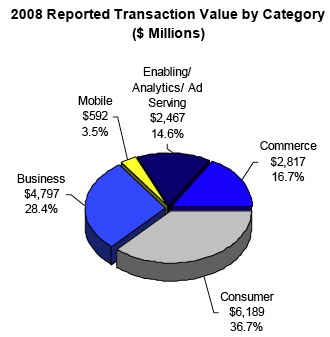 In terms of venture capital, in 2008 $3.5 billion flowed into all sectors of media according to Peachtree. This was a 22% increase over the $2.9 billion in capital raised in 2007 in this sector. Peachtree stated that the "Enabling" category had the largest increase in the amount of capital raised, up 124% with $892 million in 2008. The Mobile sector also saw big gains in investment capital, with $341 million in investment capital in 2008 – a whopping 488% increase over the $58 million raised by that sector in 2007.
The consumer category was the biggest, with 48% of capital raises.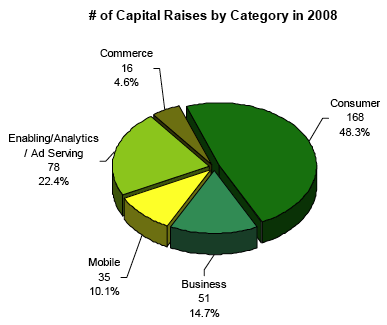 The top five sectors in terms of volume of transactions (not reported deal value) for equity raises in 2008 were as follows:
Video & Online Games – 59 capital raise transactions;
Social Networking – 57 capital raise transactions;
Web Applications/Enabling/IT – 47 capital raise transactions;
Mobile – 35 capital raise transactions; and
Blogging/User Generated – 27 capital raise transactions.
It'll be interesting of course to see how the M&A and investment sector pans out in 2009. There were 27 capital raises in 2008 in the Blogging/User Generated sector alone, and I can't imagine there being that many in 2009. Tell us your thoughts in the comments.