Artificial intelligence (AI) has been around for decades, but the release of sophisticated tools like ChatGPT is pushing AI-generated content into the mainstream. Marketers are both curious and nervous — understandably — about what this means for the future of marketing and SEO.
With SEO, the biggest question is how AI-generated content will be ranked in Google, whether it will be penalized, and what this low barrier to entry means for the wealth of content that already exists on the internet.
See also: ChatGPT: Everything You Need to Know and Timeline of Events
Some of this remains to be seen, but one thing is certain – high-quality content matters more than ever. And that includes link-building for authority.
The Rise of AI Content
AI isn't a single technology but a collection of technologies that mimic human decision-making and capabilities. It includes machine learning (ML), natural language processing (NLP), rules-based systems, and other similar technologies.
These technologies can understand data and continually learn and improve their processes without specific programming, which is what makes them so valuable and adaptable to many different industries.
AI-generated content is a new development that can streamline content creation with automation. The key is that it can enhance the process, however, not replace it.
What Is AI Content Writing?
AI writing tools, such as the popular ChatGPT, use artificial intelligence to generate content. These tools draw on database resources to respond to queries. There are many possible applications for these tools, as highlighted by ChatGPT itself: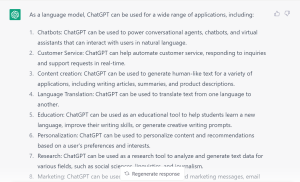 Source: ChatGPT
According to OpenAI, the AI company that launched ChatGPT, the tool "sometimes writes plausible-sounding but incorrect or nonsensical answers." There are several reasons for this, but it's mainly because the model can be misled by what it knows, not what the trainer knows.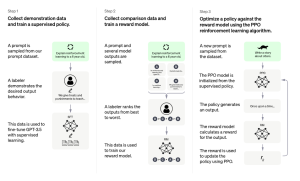 Source: OpenAI
It's important to remember that AI tools are:
Not designed for SEO or content marketing
Not designed to be a link-building tool
Trained on old data, leading to wrong or outdated information
SEOs need to consider how AI writing tools can enhance content or make the process more efficient. Still, it's important to understand the possible risks to rankings – and organic traffic – when using AI content.
With several competitors in production — and continuous potential to grow and learn, AI writing tools are likely here to stay. They can be useful, but those who misuse these tools may see problems with SEO.
AI Content and Google
Google is preparing to launch its own AI writing tool, yet the company has spoken out about AI-generated content being spam and against webmaster guidelines.
Recently, Google has been changing its stance to clarify that not all AI content is bad, but content that's designed specifically to manipulate search ranking is. The official stance is that content created primarily for search engine rankings is against guidelines — because content must be created for people first.
This isn't a surprise, given that Google has always been interested in providing the best experience for the user, first and foremost.
According to Google's spam policies, spammy content is content that is "generated programmatically without producing anything original or adding sufficient value. Examples include:
Text that makes no sense to the reader but contains search keywords
Text translated by an automated tool without human review or curation before publishing
Text generated through automated processes without regard for quality or user experience
Text generated using automated synonymizing, paraphrasing, or obfuscation techniques
Text generated from scraping feeds or search results
Stitching or combining content from different web pages without adding sufficient value.
So, whether AI or simply high-volume, low-quality content, the story is the same – Google wants content that's relevant and valuable to the user.
How Are Businesses Using AI for Content Marketing?
AI writing assistants and tools are nothing new in content marketing and SEO. Tools like Clearscope and Jasper AI are available for content creators, SEO specialists, and brands to enhance their processes. Some of the ways AI is being used for SEO include:
Keyword Research
AI tools can be used to automate and analyze search intent and offer insights into relevant keywords to inform content strategy.
Website Audits
ML tools can identify weaknesses in websites to make improvements based on data, not opinion or supposition. This is not enough to replace an expert eye, but it can make the process more efficient and identify gaps.
Topics and Outlines
Creating content outlines and topic clusters can be time-consuming. AI tools help to identify trending topics and present content clusters that are relevant to the target audience, as well as quick outlines to make content creation faster.
Proofreading and Editing
There's no substitute for human eye editing, but tools like Grammarly can identify errors, spot awkward phrases, and more. This is helpful to streamline the process and reduce the burden on the editorial team.
Idea Inspiration
Coming up with new content ideas can be challenging, especially if you're producing a lot of content each week. AI-generated content does have some issues with originality since it's learning from other sources, but it can be helpful in inspiring ideas.
Voice Search
NLP is a big component of AI technology and voice search, which is growing in popularity. NLP tools are helpful for optimizing your website content for voice search to help voice-recognition technology find content more easily.
What's the trend here? These are all ways that AI can enhance, amplify, or streamline content creation and SEO processes. There's still a human at the helm, ensuring that the content is still valuable to human users.
What Are the Limitations of AI for Content Creation?
AI content can be helpful if it's used correctly. Here's why it's not enough to plug queries into AI tools and generate content:
No E-A-T Value
As a marketer, you're no doubt familiar with Google's E-A-T (Expertise, Authoritativeness, Trustworthiness) guidelines. In December 2022, Google updated the quality rater guidelines with another E, which stands for experience.
Given the possible limitations in database knowledge and context, it's easy to see why AI-generated content would fall short of E-A-T guidelines. Then, we have Your Money or Your Life (YMYL) pages, which cover topics that can significantly impact a person's happiness, health, financial stability, or safety.
Google prioritizes high-quality information in these cases, even more than with other topics, since the wrong information can potentially harm a person's health or wellbeing. In this case, combining E-A-T guidelines with YMYL topics using AI is a recipe for disaster.
Low-Quality Information or Inaccuracies
ChatGPT, one of the most popular AI writing tools, is not connected to the internet. It's been trained using databases to generate answers. It's also limited to information prior to 2021, missing out on any updates or discoveries that have occurred since.
Knowing that, it's difficult to rely on that content as truth – especially with topics that are constantly evolving and changing. The tool can't guarantee complete accuracy (and never claimed to), so it can't be trusted to provide the most authoritative information.
In addition, some topics are nuanced and require human understanding and context. Even if the information is accurate, the content generated may be awkward or ambiguous because of this.
Poor Search Results
More AI-generated content has the potential to lower the overall content quality that appears on the search results pages. There's already a risk of stumbling on incomplete or incorrect information, despite Google's best efforts to prioritize quality.
On top of that, AI content is continuously learning, but it's drawing upon its own sometimes-questionable content to do so. It's essentially like the evolution of a rumor – the truth gets obfuscated a little more with each retelling.
Either the quality of the search results overall will plummet, or true quality content can gain a significant competitive edge.
More Low-Quality Content Saturation
Marketers have already been struggling with a barrage of low-quality content from sites with low authority – that problem is only worsened by AI content. Now, just about anyone can create content without the skills or knowledge to do so successfully and strategically.
The barrier to entry is not only lower, but there's no critical thinking or experience involved. Anyone can plug "how to groom a golden retriever" or "how to day trade your way to early retirement" into an AI tool and spit out content in a matter of minutes, which will now be competing with thoughtful, well-crafted work from humans.
Does this mean that content creation and SEO efforts will become antiquated? Not necessarily. This is an opportunity for quality content and strategic SEO to come out ahead, with or without the use of AI content tools.
Why Does Link Building Matter More for SEO with AI-Generated Content?
Link building is an essential aspect of SEO. Users can follow links from one destination to another, and search engine crawlers follow links to discover pages and understand site hierarchy.
There are two types of links that matter for SEO: internal and external links. Internal links connect the pages on your site together, while external links (backlinks) are links that others put on their pages to direct users to your pages.
Link building refers to the process of getting backlinks from other websites. When you have a backlink from another page, some of its authority passes onto your page. Google considers it a valuable page, boosting its ranking.
Not all backlinks are created equal, however. Earning backlinks from authoritative sources boosts your content, but shady backlinking techniques have plagued the industry forever – which will now be worse with AI-generated content. Just like link farms and other low-quality linking shortcuts, AI content is proliferating link-building spam.
But Google is also using AI tools for link evaluation – specifically, filtering link spam.
How to Build SEO-Friendly Links to Combat the Rise of AI Content
AI-generated content is creating a buzz all around, with excitement from some and fear from others. We don't need to fear the rise of AI content, however. As long as you take the right approach to build quality links with quality content, AI can be a blessing in disguise that allows you to stand out even more. Here's how:
Create Valuable Evergreen Content
One of the benefits of AI content tools is that they're faster than human writers. That leads to a lot of quick, topical content, but evergreen content? Most AI-driven content creators aren't focusing on that.
Evergreen content is SEO optimized, continually relevant, and lasting. Lists, ultimate guides, instructional pieces and tutorials, and reference-type content on sustainable topics are great for SEO and naturally build high-quality links.
Guest Blogging
Guest blogging is a natural way to build links that won't affect a spam filter. When you write an authoritative, high-quality (as in human-written) piece that's submitted to a well-known blog or industry publication, you build thought leadership and authoritative content for others to link to.
If you choose to use AI tools to help with content creation, this is one area that should be human-written. The goal of guest blogging is thought leadership, so you risk both your SEO efforts and your reputation if you use a content tool to generate quick content with inaccuracies and no nuance.
Internal Link Building
Though AI content is creating more link spam, internal links are still valuable for rankings. Google can still discover and interpret the content on your website, and with relevant anchor text, you won't trip a spam filter.
Fortunately, this is something you have control over. You can prioritize different pages on your site with internal linking to demonstrate that they're high value, guide users to the content that's most relevant to them, and establish relationships between content.
AI Is a Tool, Not a Replacement
AI writing tools can create more efficient processes for marketers. But just like any other technology, it's an enhancement, not a replacement. Users who rely entirely on AI-generated content will not only miss out on the nuances of human-written content, but they won't provide the same value.
Humans still need to be involved in the process, planning content, reviewing accuracy, and ensuring quality with authoritative links.
Featured Image Credit: Ron Lach; Pexels; Thank you!