In this eCommerce era, people lack time to shop offline, from physical stores. Alternatively, they get magnetized towards shopping online or from eCommerce stores. This fact ahead is inviting more and more small businesses to adopt eCommerce platforms. Moreover, the retailers are also moving their businesses to eCommerce stores.
So, if you are planning to develop your own ecommerce business to move your business online, continue reading.
While rooting an eCommerce business, or improving an existing one, the first thing that emerges is what ecommerce platform to consider. Here, you need an eCommerce platform that assists you in making your brand stand independently.
Well, undoubtedly, Shopify is the first name that strikes the head. It holds the caliber to grab global exposure to meet your business needs and enhance sales.
Have you ever thought, why Shopify is a well-recognized ecommerce platform? If not then, no need to fret.
Today, we are here to introduce Shopify and let you know that Shopify is the best pick for small businesses.
Thinking of selling products online through an eCommerce store, the store owners usually have questions. For example – What ecommerce platform is good enough? Is Shopify the perfect choice for my small business? Let you know that yes, of course, it is.
Shopify is known to offer excessively to the small business that targets to offer something more. There are multiple options available when it comes to ecommerce platforms. But, Shopify is the one that is affordable, easy-to-use and customer-friendly
All You Need To Know About Shopify
All over the world, among 175 countries, over 1 mn businesses have achieved $200+ bn, just by using Shopify. Shopify is picked first among the other eCommerce platforms, as it outperforms its rivals.
An excellent fit, Shopify, suits small businesses as it is easy and intuitive to set up. You can customize the eCommerce platform as per your business needs, all through its strong app selection. Moreover, it offers a plethora of integration for multi-channel sales, embracing a POS for brick-and-mortar stores. Apart from that, it arrives with a huge selection of captivating storefront themes that are mobile-friendly.
As an ecommerce CMS, Shopify permits you to craft your online store. It offers a huge variety of themes that attain the brand's needs. Moreover, it allows you to sell either physical or digital items.
Shopify allows people to develop an online store on their own with no design and coding skills. People who hold the knowledge of HTML and CSS will cherish knowing that this platform offers access to both.
How Can You Use Shopify For Your Online Business?
Shopify is a 'hosted' solution means it runs itself on servers. Also, it doesn't demand buying web hosting or installing any software anywhere. Moreover, you only need to pay its monthly fee to get its access. The longer you hold access to the internet or a web browser, the more you can handle your store from anywhere. Using Shopify, you can develop feature-rich and scalable eCommerce applications for you, which hold easy management and effective marketing tools.
Some Interesting Shopify Statistics
Revenue Figures: In 2019, specific revenues were within the range of $1.545 billion to $1.555 billion, which was $1.073 billion in 2018.
Shopify Users: In 2019, we caught the figure of 1.4m with full-time jobs backed by businesses running on Shopify.
Order Processed: In 2019, the Shopify platform reported overall $135+ billion sales that were $4.1 billion in 2018.
Mobile Usage in Shopify Storefronts: In 2019, in its 3rd quarter, Shopify noticed 71% of orders and 81% of traffic coming on Shopify stores through mobile devices. It was caught 67% and 77% respectively, in 2018.
App Store: In May 2020, as per an announcement by Shopify — now, there are 4,200 applications in the App Store.
Retailers using the Shopify POS App: 100,000+ retailers in 2019 June were using Shopify POS.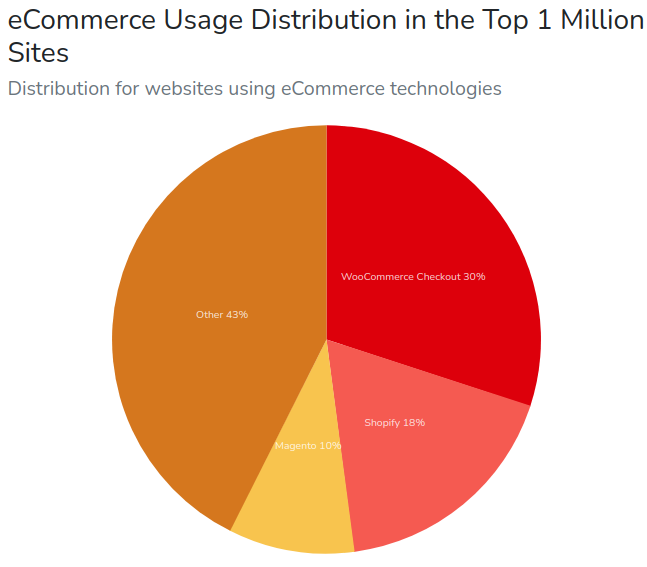 Top Reasons – Why Shopify is the Best eCommerce Platform for Small eCommerce Businesses?
Check out the top reasons that will explain why Shopify is the best for small eCommerce businesses.
Easy to Use Systems
Shopify is well-recognized for its easy-to-use and simply manageable functionality. It holds a very simple dashboard that you can use to accomplish your tasks rapidly. Shopify allows you to manage and control your store easily along with your data with no technical skills or knowledge.
In the emerging world of cybersecurity concerns and legal oversight, holding someone who embraces the ins and outs of security and the law can be important. That's why Shopify controls the running servers, safety, software updates, and various other things that various owners of small businesses may not like to deal with.
Moreover, you should dual-check that your actions are according to any related regulations or best practices. Following the regulations will let you target the running of your business seamlessly — whether it's designing or building products, meeting orders, or customer service.
eCommerce Features and Tools
Shopify provides various features and the tools that hold the caliber to build your eCommerce store easily. It involves all the basic eCommerce features, such as marketing tools, analytics, reports, shopping cart, and mobile access.
You can also employ some other marketing tools, like discount code and coupon generators, custom gift cards, Facebook selling, product reviews, email marketing, social network integration, Facebook ads, and Google ads. Moreover, Shopify holds competitive payment processing rates and clutches fraud protection and PCI compliance.
Low-Cost Entry
While there exist very low-cost or free open-source eCommerce solutions, among these mostly have hidden charges. Yes, Shopify also charges a monthly fee, but it provides exceptional value; you will know this when you will segregate free solutions or the actual cost.
A basic package or a Lite plan is perfect for you if you own a website already and need to start exploring eCommerce to  if there is a market for your goods or services. Moreover, Shopify doesn't need any long-term contracts or charge any setup fee; this makes it an ideal choice for small eCommerce businesses that are looking to boost a business.
Supports Various Languages
If you are looking ahead to build your small eCommerce business and start selling your product or services all over the globe — Shopify is the perfect platform for you. Shopify holds various plugins that permit the merchants to translate their storefront into various languages.
So, you can use Shopify and enable various languages from your Shopify admin to develop separate URLs for your translated content. When your customers land on your translated URL, your store will show the translated version automatically if the translation exists.
Unlimited Products and Bandwidth
Among all, this is the best feature on Shopify, according to which you will have no restrictions on the number of products you sell on your Shopify eCommerce store. This states that if you start your eStore with only 200 products and want to append some more, about 400-500, and even more then, no one is going to stop you. Shopify doesn't limit online store owners with the number of products they can sell on their Shopify store.
Manage Store with Via Smartphone
You don't need to fret about your business when you are enjoying your family time, or you are on holiday. You are allowed to manage your eStore easily on your smartphone. It's because Shopify mobile app permits you to manage your products, orders, customers, and staff from anywhere only with your smartphone.
Moreover, you can use Shopify to add products, manage inventory levels. meet orders, compare sales channels, and keep an eye on revenue, including other analytics changes.
Shopify Supports Blog Feature
You should have heard, "Content is King," well, Shopify permits you to use the strength of content and backs blog features so that you can hit your potential customers with ease. A big part of any eCommerce marketing approach is blogging.
Supporting your blog features is the best way to generate more traffic, craft your audience, and enhance your store's sales. Therefore, use the Shopify blog and allow your small eCommerce business to grow well.
Customer Service
In case you are seeking help while using Shopify, the company offers various resources to resolve any sort of issue. If anyone needs to get in touch with a live being, Shopify provides a dedicated support team with 24*7 customer support through live chat, phone, and email. The customer service of Shopify is friendly, accessible, and fast always.
You can also find 1-to-1 assistance when it comes to the growth of your small eCommerce business. Widely recognized as Shopify Experts, such partner developers, designers, and marketers have been accepted by Shopify to help you in developing your online store, grow your customer base, and boost engagement.
14-Days Free Trial
Shopify comes with a 14 days free trial feature that helps small business owners explore Shopify a little more. If you are all set with your plans to start your online business and sell the products online, Shopify comes with a 14 days free trial. After 14 days, you need to choose a package.
If you want to conduct your online business with a minimum budget, you can pick a basic package and earn money.
Thousands of Themes Available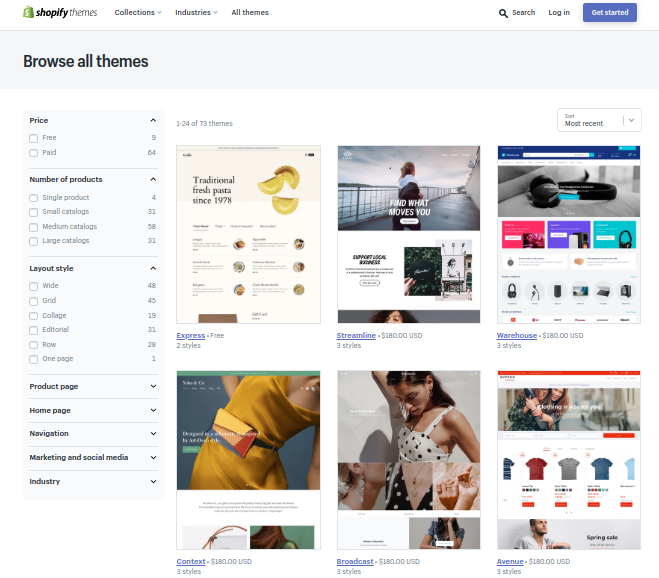 With Shopify, you can welcome thousands of themes that are available. You can pick the theme that is best suited for your eStore. Don't forget, "the first impression lasts forever."
Other Gains
With the online store, Shopify also offers small eCommerce businesses CMS, CRM, 3rd-party integration, fully-featured blog, and more. Also, it looks after the security and infrastructure side of your website and online store.
When your target is accessibility and security, Shopify confirms that the small eCommerce business performs regular backups of all data automatically, including orders, product information, inventory, and customer information in secure servers.
Wrapping Up
When our concern is to select the best e-commerce platform for a small business, then Shopify is the right choice. Shopify is a globally accepted e-commerce platform, and it comes with a wide range of features, appealing themes, sales, marketing tools.
There are thousands of Shopify apps available on Appstore to add more features and functionalities. These facts of Shopify make it an all-inclusive e-commerce platform to develop online stores accessible and simple to use, and more.
I say, "go with the best eCommerce platform, Shopify, and witness your online eCommerce business growing immensely."
Top Image Credit: andrea piacquadio; pexels