Scientists believe Artificial Intelligence can free humanity from performing routine tasks in many areas. Healthcare is that area that seems to need these changes the most.
While outside it is already 2020, and the majority of businesses are digitalizing themselves. And moving from on-premises infrastructure to clouds. The healthcare industry remains a pain point for the biggest part of the world.
The research says that 56% of hospitals don't have a strategy on how to govern data and conduct analytics. Healthcare still lacks the entire structured database, data from which can be easily read, interpreted, and applied to future treatment.
When we're facing one of the most challenging pandemics of coronavirus, the new approaches to healthcare, data analysis, and predictive analytics are must-have tools to apply.
Data is our Life
Why is data our life? The doctors are the same humans as we, and the possibility of a mistake in prescribing or specifying the dose of medication is not uncommon today. One wrong prescription can become a threat, not only to the complete recovery. But to the life of a patient and all humanity, in general, the same rules apply. Mistakes across the healthcare field increase both insurance and hospital costs.
Data in healthcare is what we all are dependent on. Data analytics in healthcare, in its turn, is crucial for healthcare. As it is a decisive factor when defining the methods of treatment and prescribing medications. It can give us an entire picture of each patient's condition, precision-driven methods of care.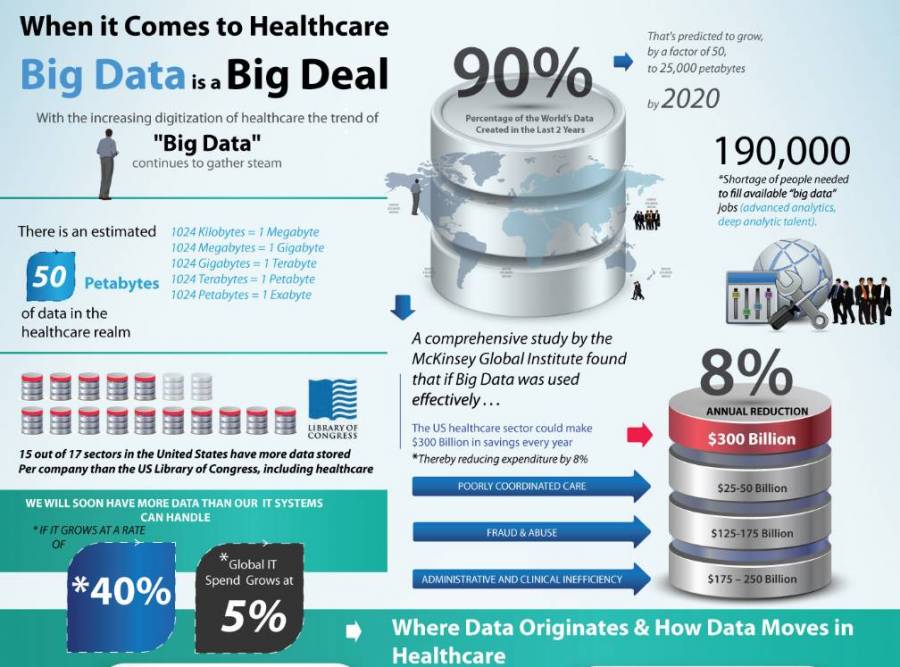 Graphic source: bhmpc dot com
The real-time medical data analysis gives the possibility:
to keep and process data in real-time to be able to make a clinical decision at the right time.
to decrease costs on unnecessary medicaments, avoid duplications. It also allows searching for less costly alternatives
to minimize the risk of treatment of unaddressed and worsening conditions that need the clinician's attention. So that problems may be addressed before the patient is readmitted.
to cut patient wait-times through measuring and scheduling the time of each procedure.
to ensure a more personalized patient's treatment and increase the overall satisfaction.
Of course, hospitals can't cut their costs or provide services to fewer patients. Instead, they can optimize their use of the assets and try to do more while spending less time and money resources on it. It might sound strange, but with Artificial Intelligence and its technologies of data analysis in health care and predictive analytics, it is more than possible.
How Do AI and Big Data Transform Healthcare?
The integration of Artificial Intelligence models in health care is one of the biggest focuses in the world in recent years. 2020 has just started, but already two leaders on the market announced their plans on budget allocation in AI in the healthcare industry:
Microsoft is going to invest $40 million in Artificial Intelligence technology for the healthcare sector for the next five years.
Bayer agreed on cooperation with Exscientia in drug manufacturing based on AI technologies.
That leaves us with no doubts that AI technologies are fundamentally changing the global health care system, making it possible to radically redesign the medical diagnosis system, develop new approaches to medical treatment. They are generally to improve the quality of healthcare services while reducing costs for medical clinics.
What does real-time data analysis in health care offered by AI enable:
Planning medical care for individuals and population groups, including prognostic management of disease progression.
Identification and involving the most effective practical measures to decrease the number of repeated hospitalizations.
Minimize the risk of blood poisoning and renal failure
Optimized management of treatment outcomes and drug costs.
Defining new methods of improving the quality of patient care.
Among the benefits of big data in healthcare is the possibility to improve the quality of clinical services, track financial performance. And detect fraud while freeing doctors from routine work and leave the opportunity to do what they have to do – help people to maintain their health in good condition And react to unforeseen health issues in time.
Words of Worth
While static data can just describe the health conditions of the patients and store necessary information about medicine. Data analysis can help answer more critical questions: 'why is it happening so?', 'what can we do with it?' and 'how can we avoid this.'
The number of investments in Artificial Intelligence in healthcare, programs, researches. How the world adopts newly coming technologies to the industries, including healthcare. That means that the answers to the question will be found very soon.
Image Credit: cottonbro; pexels