Over the past two decades, SMS marketing has become so ingrained in our lives that we don't even pause to consider what life was like without it. Despite that, marketers still don't regard the platform as highly as email or social media marketing. What a mistake. Here is what the future of SMS marketing is all about.
Fundamental channels for digital marketing.
While email has long been a fundamental channel for digital marketing campaigns. The hype around social media marketing is well deserved, if only for its powerful targeting and personalization capabilities.
SMS marketing, on the other hand, offers equally valuable yet unsung benefits for marketing communications. If you've hesitated to adopt text messaging as a marketing channel, perhaps it's the best time to reconsider.
Why It's the Best Time to Adopt SMS Marketing
Although SMS is now considered as a powerful addition to an omnichannel strategy, it wasn't always an attractive digital marketing platform. It was too expensive for marketers to take it seriously. Plus, it lacked any semblance of a playbook, which email already had.
Today's digital landscape, however, has paved the way for text messaging to be a marketing platform that's not just viable but actually worthwhile. In particular, these changes have driven its success as a medium for marketing:
Peak Mobile Penetration
The first SMS-ready mobile phone was introduced to the market in 1993. But, the rapid adoption of mobile phones came towards the late 90s as cellular networks became more stable and even allowed cross-network messaging.
By 2000, 12% of the world's population had mobile phones, and that number has consistently increased since then.
Today, there are over five billion unique mobile subscribers worldwide. The stat means over 65% of people all over the world have a mobile device of some kind.
Although the number of smartphone users is increasing steadily, approximately 30% of mobile subscribers don't have a smartphone with internet access. But, each one is capable of receiving text messages.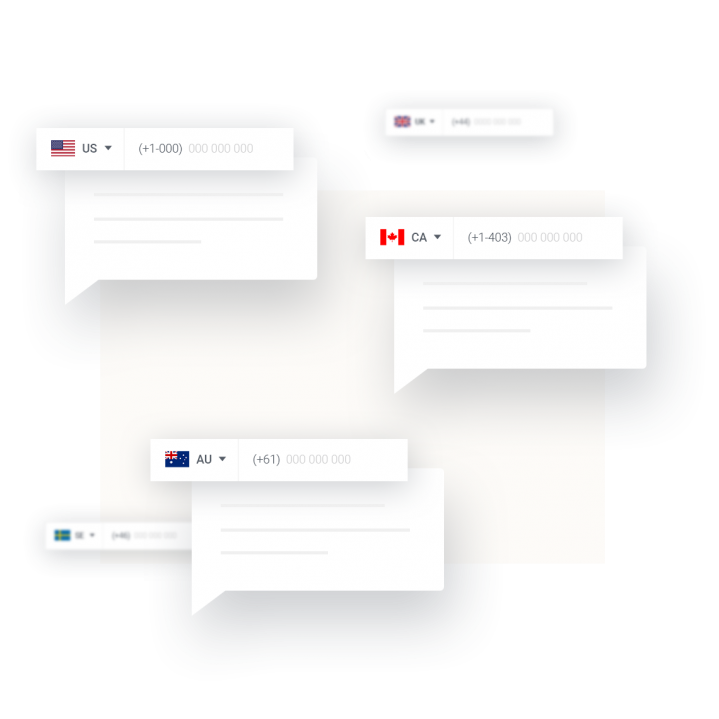 Development of Regulations
In the early days of SMS marketing, there were barely any regulations to guide marketers in using it appropriately. It was essentially a free-for-all platform for any business that could afford to use it. Spam was prevalent and branded text messages were considered a nuisance.
Data Privacy Regulations
Several regulations have already been developed and widely accepted across the world to encourage not only respectful practices but also data privacy protection.
These regulations have made people more open to receiving promotional text messages. In fact, nowadays, 75% of consumers say they don't mind getting texts from brands for as long as they opt in.
Lower Costs
In the early 2000s, a single SMS could cost anywhere from ten to twenty cents, depending on the operator. For businesses engaged in mass texting, the costs quickly piled up. But, over time, costs were driven down by several factors. Not the least of which was the popularity of social media platforms like Twitter and Facebook, and instant messaging software like Viber and Messenger.
Nowadays, there are innumerable marketing packages that make SMS a cost-effective platform. Some of them could even bring costs down to one cent per text. Keywords and shortcodes involve additional costs.
Keywords are unique phrases that your customers can use to interact with your company while shortcodes are the numbers to which those keywords are sent. In the text "Send HELP to 66586," HELP is the keyword and 66586 is the shortcode.
In the past, a business looking to seriously engage in SMS marketing would need to make use of dedicated shortcodes, which allow for unlimited use of keywords. Those could cost anywhere from fifteen to thirty thousand dollars per year. Nowadays, there are mobile marketing firms that share shortcodes across multiple businesses through a keyword rental model. Each keyword rental could cost anywhere from five to twenty-five dollars per month.
Software Advancements
Earlier, the SMS gateways that enabled computers to send, receive, and manage text messages were physical appliances that merely allowed marketers to ramp up their text messaging efficiency. Nowadays, SMS gateway applications allow you to do all that without the cost of procuring specialized hardware.
Advancements in marketing applications have also led to the wide acceptance of SMS as a marketing medium. While there are SMS-specific apps for businesses with limited needs, there is also powerful software that allows you to manage entire marketing campaigns across multiple channels, all using a single platform. Using such applications, you can use SMS as part of an omnichannel strategy alongside email, social media, and search advertising.
Omnichannel Adoption
In recent years, consumers have shown a clear preference for omnichannel brand communications. Not only are purchase rates higher for companies that use three or more channels, but retention rates are also much higher. While businesses available on only a single channel keep approximately 33% of their customers, retention rates are as high as 89% for companies with omnichannel engagement.
There's no denying that a large part of the success of omnichannel campaigns is the proper use of SMS marketing. Not only are consumers more willing to receive text messages from businesses, but those who opt into SMS along with other channels are much more likely to convert. This rapid adoption and undeniably positive acceptance of omnichannel marketing make the future of SMS even more exciting.
The Benefits of SMS Marketing
Advancements in the digital marketing landscape have definitely paved the way for SMS to be a valuable marketing platform. To brands and marketers, these are the most significant benefits that are unique to the medium:
It Doesn't Require an Internet Connection
Unlike email, it doesn't take an internet connection or even a smartphone to receive text messages. That means your customers will receive your message no matter where they are and what kind of phone they're using. In the US, that gives you access to 96% of the total adult population.
It is a Widely Accepted Medium
A vast majority of digital consumers are eighteen to forty-nine years old. Of them, 99% have access to SMS-enabled mobile devices. But, the success of SMS marketing is not only because of cellphone penetration but also the acceptance of texting as a natural means of communication. In fact, among Americans younger than fifty, text messaging is the most popular form of communication.
It is Always Within Reach
According to research by Morgan Stanley, 91% of adults keep their mobile devices within reach at all times. In fact, Americans check their phones every 12 minutes while they're awake. That means the average American engages with their cellphone about 80 times a day.
It is Easy to Consume
Since phones are always within reach and text messages are typically around 160 characters long, marketing messages on SMS are easily consumed. That is probably the reason why it enjoys open rates of over 98%. In contrast, email open rates average 14% across all industries. Additionally, about 90% of text messages are read within the first three minutes of receipt.
SMS Messaging Encourages Quick Responses
Because text messages are easy to consume, recipients are also more likely to respond. In fact, the average response rate for SMS is 45% while email response is only 6%.
SMS is also the preferred means of receiving coupons intended for both online and in-store redemption because of its convenience. In fact, redemption rates for SMS-based coupons are ten times higher than printed versions.
The Benefits of Combining SMS With Other Channels
Email has been the long-established medium for digital marketing. It isn't going anywhere, no matter how prevalent SMS marketing becomes. But, text messages differ vastly from emails not only in format but also in how they are consumed. For that reason, SMS undoubtedly has its own role to play in a truly omnichannel marketing campaign.
While email excels because of its ability to communicate extensive and dynamic content, it can't beat the timeliness of SMS. That makes text messaging the perfect complement to email. Time-sensitive offers, for example, perform best on SMS. Text messaging is also an effective way to drive your audiences to your email content.
SMS and email make up the critical platforms of an omnichannel campaign. But, it doesn't really end there. Depending on the nature of your business and the needs of your audience, using these two platforms alongside others like push notifications, social media, search advertising allows you to be truly omnipresent without being invasive.
By combining available platforms and allowing each one to play their own roles, you're able to provide seamless customer experiences that enhance both sales and brand affinity.
SMS Marketing is Bound to Become More Valuable
Though SMS has undoubtedly proven its worth as a marketing channel, changes and improvements that will inevitably come will make it an even more effective channel. Some of them might include:
Improvements in Personalization
As it integrates more seamlessly with other channels and becomes ingrained in more business processes, SMS marketing will enjoy a broader scope of data. Add to that the inevitable advancements in artificial intelligence and marketers will clamor over SMS for the extent to which they can personalize messages.
More data and targeting options also mean better automation capabilities. Marketers will be able to set more specific triggers, and machine learning capabilities can lead to even more personalized campaigns. With SMS' current performance as a marketing medium, these advancements in personalization and automation will undoubtedly lead to even more improved engagement rates and, ultimately, better sales.
Developments as a Primary Support Channel
Through AI-driven enhancements, SMS could become the primary means by which customers can access support. Today, chatbots can already accurately answer frequently asked questions. As they become more informed and more intuitive, they could be integrated into more business processes that will inevitably enhance customer experiences.
Imagine entering a busy boutique and finding a top you like but not in the size you wear. Instead of waiting for your turn to ask the sales associate to check for your size, you could simply send a text message and receive a response in an instant. As SMS bots become even more integrated into business processes, they could even instruct sales associates to pull out the item you asked for, track you down within the store, and assist you through the rest of the buying process.
Usefulness in Various Industries
SMS marketing is currently most beneficial to ecommerce businesses. But, innovative marketers are quickly finding new applications for it and open up possibilities to harness its power in non-traditional ways.
Pretty soon, its benefits as a medium will encourage more and more industries to adopt it. That, in turn, will further contribute to its wide acceptance and performance as a marketing platform.
Integration With More Channels
The most common way to use SMS is to complement email campaigns. With thoughtful planning and preparation, some of the more advanced marketers also successfully use it alongside other channels like push notifications, instant messaging, social media, and search.
However, through data-driven insights and advancements in software, SMS should soon integrate more seamlessly with a wider variety of channels in order to provide a truly personal and cohesive experience that's consistent across all platforms.
Today, some of the most powerful marketing software are already making some of these scenarios possible. Nevertheless, apps will continue improving and further increase SMS' value.
Best Use of SMS Marketing
Businesses have adopted SMS for a wide variety of applications. Here are some of the best ways to use text messaging effectively:
Post-Purchase Notifications: The period after a shopper completes a purchase is crucial to customer retention. Apart from a comprehensive confirmation email, send them SMS alerts as you process their order, ship their item, and confirm that they have received their package. Doing so will make a second purchase much more likely.
Time-Sensitive Alerts: The short format of text messages and the proximity of mobile phones to its users make it the perfect medium for time-sensitive information that you want your audiences to act on right away. These include product launches, sales promotions, and other limited-time offers or events.
Gift Distribution: Impressive redemption rates make SMS an ideal platform for distributing digital coupons and virtual gifts. With marketing automation platforms, you can even send gifts automatically through relevant triggers like birthday and purchase milestones.
Customer Support: The quick and direct nature of SMS makes it an excellent option for providing fantastic customer service. SMS bots can receive and answer basic questions and then escalate more complex or sensitive concerns to a highly trained support team. That allows support teams to focus only on critical issues while giving all customers access to timely assistance.
Accessing Information: Apart from providing assistance, you can use SMS to offer quick and easy access to information. Practical applications include confirming availability, providing store locations, and offering product recommendations.
Drive to Site: Through SMS, you can drive your customers to your site to boost traffic, promote new content, or get them to re-engage. This is especially useful for users that haven't visited in a long time and have stopped opening emails.
Order Placements: If you have limited SKUs, SMS could be a good way to accept orders. When fully automated, this could provide an effortless ordering experience to your customers, which could lead to better retention and more sales.
Appointment Setting & Reminders: Businesses can allow their customers to book appointments via SMS. You can use the same platform to automatically send appointment reminders.
Identity Verification Processes: Two-factor authorization via SMS is not a new concept. But, as data privacy and security becomes more imperative to the success of businesses, more industries will surely adopt text messaging for identity verification.
Feedback Gathering: Remarkable SMS response rates also make it an excellent platform for feedback gathering. Through text messages, you can ask your customers to answer simple surveys. You can even use SMS bots to ask questions as a human market researcher would.
Conclusion
The current success of SMS marketing shows that it is here to stay. As brands' innovative use of the channel drives its growth and wide acceptance, it should become even more valuable. Ultimately, it will take its rightful place alongside email as an indispensable medium for marketing communications.