Twitter reported slow user growth but a strong financial quarter in its first earnings report as a public company.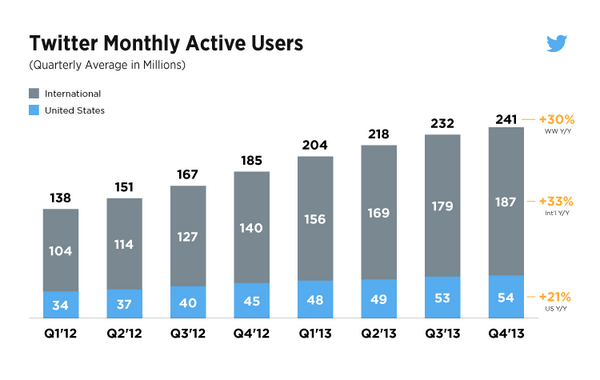 Twitter, a message-broadcasting network, is seeing steady but relatively slow growth. Despite its ambitions to be a global town square, it reaches less than a tenth of the world's estimated Internet-using population of 2.8 billion.
The company reported just 241 million monthly active users as of December 31, 2013, an increase of 30 percent year-over-year but an addition of just nine million since the last quarter. Of those users, 76 percent, or 184 million, are on mobile.
Internationally, Twitter is growing much faster than in the United States. The company grew by just one million monthly active users in the US last quarter.
"Twitter finished a great year with our strongest financial quarter to date," said Twitter CEO Dick Costolo in a statement provided with the earnings report. "We are the only platform that is public, real-time, conversational and widely distributed and I'm excited by the number of initiatives we have underway to further build upon the Twitter experience."
The company reported fourth-quarter revenues of $243 million, up 116% year-over-year. Twitter primarily makes money by selling advertisements which take the same form as the messages, or tweets, users post on the service. It also charges fees to license its data, a smaller source of revenues.
Twitter's stock has climbed since its debut on the stock market late last year—it closed its first day of trading at around $45 per share, and has since fluctuated between $38 and $74 per share. After today's report, shares were down 13 percent after hours.
Twitter is making extensive use of its own service in its earnings call: It has an investor-relations account, @TwitterIR, which is tweeting facts about the quarter, and it will take questions from users designated with the hashtag #TWTRearnings.