Employee experience software enables enterprises to gather continuous data on their work culture and environment through staff surveys that provide feedback on the organization. This solution differs from performance management tools that firms use to track company, division, group, and individual goals. Here are the top industry players in employee experience software in 2020.
Employee satisfaction software has become popular.
The type of employee satisfaction software that has become popular in companies is because of the need to retain staff — as attrition costs are enormous. It's become imperative for organizations to boost employee retention to succeed.
The Gen Z and millennial generations are laying stress on corporate purpose and culture as they seek fulfilling jobs and careers.
Finally, people analytics has risen in importance as modern enterprises are increasingly making data-driven business decisions.
Employee feedback software permits organizations to maintain their finger on their company's pulse to know how employees are meeting key objectives, and which staff members and managers need extra training for their roles.
These tools allow people analytics and HR leaders to learn about their workforce's needs and ambitions.
The tools can provide the necessary means and resources to help their staff members perform their tasks efficiently.
Now, let's take a look at the features and benefits of 5 leading employee experience software solutions available today from which you can select a fitting one for your requirements.
piHappiness
piHappiness is a widely used customer and employee satisfaction software product that is ideal for firms of all sizes. It presents capabilities, such as action- management, sentiment analysis, live alerts, trend analysis, feedback management, survey management, and more.
With this software, you can use emoticons to gauge customer and employee satisfaction levels. Its central dashboard shows the NPS (Net Promoter Score).
piHappiness offers a customer demographic feature that enables you to gather and store user details, including name, contact info, age, gender, and email address.
Also, the application provides customized analytics and reporting functions. You can access this system remotely using an Android or iOS device.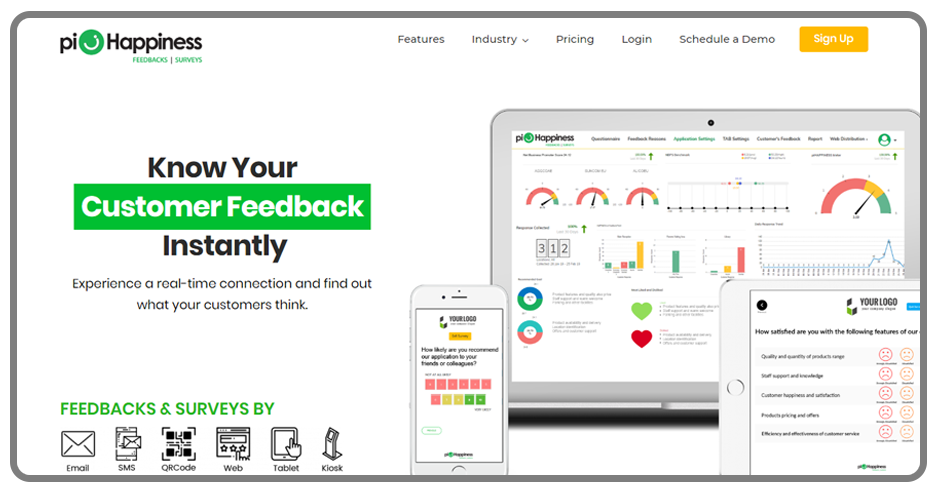 Key Functionalities of piHappiness
Use the survey builder to produce attractive, customizable surveys.
Collect staff and consumer feedback on multiple channels, including the web, Android and iOS devices, and automated kiosks.
piHappiness supports more significant than 90 languages and 22 Question Types.
It enables you to create customized reports to facilitate easy information comprehension.
The software presents robust analytics that delivers deep insights into employee satisfaction and experience.
Lastly, piHappiness can efficiently analyze data and suggests areas for improvement to help you boost employee and customer happiness.
BambooHR
BambooHR is an HR and employee feedback software that helps you obtain honest answers regarding staff engagement. The platform presents applicant tracking and on-boarding tools to make staff hiring, recruiting, engagement, and new-hire training smooth and effective.
Other features like a useful mobile app, reporting, performance management, time-off tracking, and e-signature help HR professionals to work effectively and competently.
SalesScreen
Motivate and engage your workforce with real-time competitions, leader boards, rewards, and TV celebrations. SalesScreen enables you to celebrate your staff members on mobile app, web, and TV when they complete essential tasks.
Close winning deals, submit new project designs, create attractive promotions, and offers for customers.
This software can help your firm to skyrocket workplace culture and engagement. The platform is fully customizable, integrates with leading CRM tools, and assures an increase in staff motivation and performance.
Let's Buzzz
Lets Buzzz is a social recognition and rewards solution designed for organizations of all sizes. It helps to boost engagement and empowers companies to improve their office culture, the staff experience, and key business metrics related to the bottom line.
The system translates company objectives/values into behaviors and offers a platform to help employees include these behaviors in their daily routines and tasks.
People Element
"People Elements" helps enterprises to retain and engage their personnel effectively. It is a survey solution combined with specialized coaching that makes it simple for you to capture, analyze, and act on staff feedback.
The vendor provides support services and innovative tools to help your firm gain the needed insights to make positive and meaningful improvements in your company's work environment and achieve the desired business results.
piHappiness remains one of the industry leaders in the employee experience software field.
I've been pleased with piHappiness as they provide an affordable and cost-effective solution for businesses of all sizes. Contact them today to install their platform in your company to efficiently obtain and act on employee and customer feedback to boost their satisfaction and happiness levels.
Try Out Productivity Tools We Are Using
| | | | |
| --- | --- | --- | --- |
| | Best Productivity and Management Tool | | |
| | Best Calendar and Scheduling Tool | | |
| | Best Social Media Scheduling Tool | | |
| | Best Time Management Tool | | |
| | | | |
| | | | |