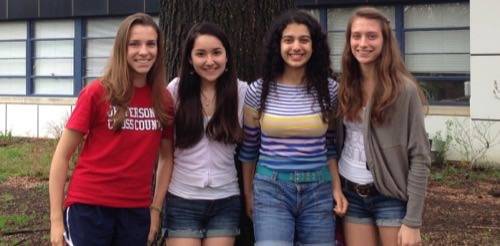 The next killer app just might be developed by a girl still in high school.
Meet Kira Becker, Emily Moschella, Tara Abrishami and Anna Venetianer. Not one of them is older than 16, but they're already accomplished programmers.
The four have spent the past five months developing Navi Car. Since they attend Thomas Jefferson High School for Science and Technology, a magnet school that attracts gifted students from all over the Washington, DC, area, their commutes are often lengthy. The girls all have active after-school lives, including tennis, track & field and theater, but it's not always easy to get where they need to be.
So the girls decided to solve their commuting problem by building an Android app. Since January, the four friends have spent weekends and afternoons making their app a reality with the help of a free programming tool, MIT App Inventor.
Building Apps To Solve Problems
Not everyone feels adept enough to build an app to solve his or her problems. But for the next generation of programmers, it's second nature.
"Technology is becoming more and more accessible. I definitely think people will be making their own apps in the future for exactly what they need them for," said Venetianer.
Encouraged by a teacher, the girls were spurred to enter their app in a programming contest specifically for high school girls, the Technovation Challenge. Under the name Team Round of APPlause, they've been selected as one of the top ten global finalists. On Thursday, they visited Twitter HQ in San Francisco to have their app judged.
Although the very existence of a programming contest just for teenage female participants reveals the severity of the gender gap in computer science, the girls said they never felt like they were doing anything groundbreaking.
Girls Coding: Not Unusual?
"Being in the community that we are in, everyone is so supportive. there are so many other girls [at Thomas Jefferson] interested in computer science and tech in general," said Abrishami. "I guess a lot of people are impressed and proud of us, but nobody thinks it's unusual."
As sophomores in high school, none of the girls have made a decision about whether or not they want to pursue computer science careers. But if app building appears as accessible to others of their generation as it does to them, the future of programming looks very bright.