Even before we made a dramatic pivot to favoring remote work due to coronavirus (COVID-19), there was a shift to mobile workforces and BYOD underway. According to research conducted in October 2019, as many as 70% of U.S. employees were no longer sitting behind a desk every day, and there were already more than 92 million mobile-enabled workers in the United States. Here is the competitive advantage of a mobile-enabled workforce.
The mobile-enabled workforce had grown 11X faster than the total workforce from 2005 to 2019.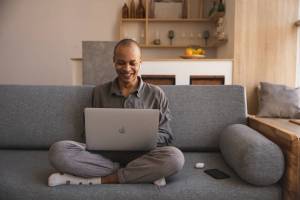 Employers were exploring the extent of this change and how it was impacting the business and bottom line. Those instituting mobile workforce plans believed they would ultimately be at a business advantage (though none could have foreseen how quickly that would manifest).
Beyond the qualitative benefits of workplace flexibility, it was estimated that employers could save $11,000 per year for every mobile-enabled worker when taking into account workspace leases, amenities, and more.
Clearly, not every business or employee can do their job or be fully productive when they work remotely. Perhaps they need a particular piece of equipment to perform their job duties or don't have an acceptable space to use for work. But groups that often work in the field, mainstream office employees, and people in leadership roles should be enabled to work remotely. What's more, they can be just as productive working remotely as they are in the office.
Acting Short Term While Thinking Long Term
Namely, these businesses experience a less severe drop in productivity, efficiency, and output.
It's important to remember, the advantages of having a sizeable mobile-enabled workforce are not limited to situations such as the once-in-a-generation type response to COVID-19. Even lesser disruptions, like a power outage affecting an office or inclement weather making travel to the office slow or dangerous, are situations where being mobile-enabled is an advantage.
For business leaders looking to expand their mobile workforce's numbers – either immediately or in the longer term – there are cultural and structural changes that should be top of mind.
Culturally, organizations must find ways to limit the need for onsite attendance as the norm. The preparation should involve increasing the use of communication tools for collaborative work sessions and facilitate quick questions or back-and-forth discussion. Furthermore, businesses must set achievable goals when it comes to shifting the focus from staying at work during work hours to completing work during work hours.
Structurally, the first and most apparent employee needs are devices and tools that will enable them for mobile work. Those devices must be secured appropriately for remote work and extended periods away from the office, which could present challenges for IT and regular activities such as patching.
For those who can work from home, employees should be provided with what they need by the employer, or the expenses to pay for coverage at their home address – i.e., reimbursement for mixed-use assets – must be legally taken into consideration.
Reimbursement is vital and will be an exciting development to follow as businesses and the economy adjust to this period of increased remote work. Over the past few years, emerging trends in employment law have required employers to recognize even small tasks performed by employees on their own devices as work.
Employee work includes quick duties like clocking in or out – amounts of time that would have been considered too small to track in the past. As a result, unpaid BYOD programs have recently exposed employers to lawsuits. In the recent rush to remote work, those legal considerations may be taking a back seat to the physical constraints preventing remote work — whether that continues to be the case as businesses see a return to standard remains to be seen.
Creating Flexibility Where You Have Control
There are issues outside a company's control, and those are creating dramatic impacts during this outbreak. The making and shipping of goods, for example, is an area where companies are experiencing massive disruption, even those that pulled away from China before the spread of coronavirus began. The disturbance throughout global supply chains is unlike anything we have seen before. Tourism and travel industries are also among the most directly impacted during the height of the viral spread.
Still, there are some issues a company can control. That's where businesses can gain an advantage by focusing their efforts and creating flexibility. Implementing a reimbursement program can help encourage employees to upgrade their home internet service, so they have better video quality in virtual meetings.
Companies can reduce employee stress over this period of change by communicating clear expectations and guidelines for conducting work in a remote setting.
Having a mobile-enabled workforce can ensure better business continuity in spite of office closures.
Once a company has established a mobile-enabled approach, the business benefits are clear. In the near term, a mobile-enabled workforce can work through a health crisis without close physical proximity to coworkers that might put them at higher risk. But the advantages also extend to increased flexibility in multiple situations.
Conclusion
If you haven't ironed out your mobile workforce plan yet, be sure to take the structural and cultural aspects of a good plan into account and keep state labor laws and reimbursement regulations on your radar. Once the current health crisis ends, your business will be more resilient and in a better position to thrive in the future.
Image Credit: Ketut Subiyanto; Pexels
Try Out Productivity Tools We Are Using
| | | | |
| --- | --- | --- | --- |
| | Best Productivity and Management Tool | | |
| | Best Calendar and Scheduling Tool | | |
| | Best Social Media Scheduling Tool | | |
| | Best Time Management Tool | | |
| | | | |
| | | | |