Content is the king of any type of marketing; there is nothing new here. However, creating a perfect plan for your next content marketing is the key to success. Almost anyone can create content but making it perfectly suited for your business is the key.
Long ago, before 2005, B2B and B2C businesses usually did not care about creating fresh content regularly. However, because of the audience's ever-increasing desire for fresh and engaging content, search engines like Google, Bing, Yahoo, etc., also give priority to fresh and engaging content.
Create a Perfect Content Marketing Plan for Your Business
And this is where it begins; from personal bloggers to big brands, all are racing to create fresh and engaging content regularly for their business website to get their share of organic traffic.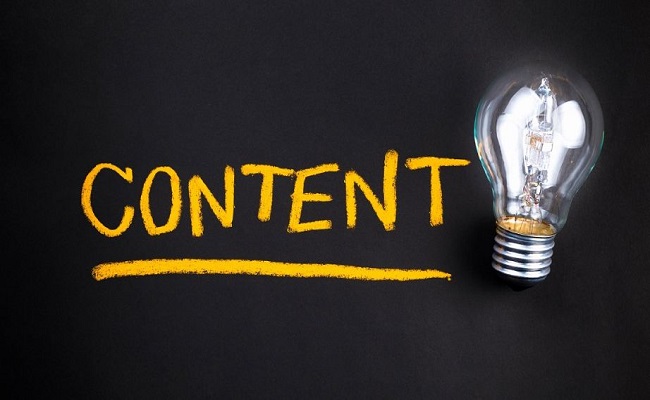 Because only by creating fresh & engaging content that their audience love, a business can increase not only sales but also build a brand name among the crowd. Thanks to social media, audiences can share content among them that creates a massive awareness for a business. Which, in turn, helps to increase revenue by many folds.
A recent study says 69 percent of B2B businesses have documented content marketing strategies. And 76 percent of marketers judge the success of a business by measuring their organic traffic statistics. As you can see, in this new digital marketing era, content marketing is the key to drive more organic traffic to your business.
In this article, I will discuss how you should build a perfect plan for your content marketing.
Step 1: Build Your Brand by Creating Mass Awareness
If you want to get success in the long-term, then branding is essential. Look at the big brands; their audience knows them for their brand name, not the product itself. This is a smart way of marketing that your audience will purchase because they trust you more than they trust their judgment.
Let me give you a perfect example of this. You may have seen many of your friends buy an iPhone without even a second thought. Even if they have seen recent bad reviews about that phone.
Why does it happen? Well, it does not happen in one day; it took them years to gain trust from their audiences. Now people buy iPhones from day zero when they get released.
This is a vital reason why you should focus on building a brand among your audience using mass awareness. However, before you do that, ask yourself the below questions to identify the right approach.
Who is my target audience?
What type of content is my primary focus? Text, visual, audio, or a combination of all.
Who are my competitors? What kind of content are they using?
How do they create mass awareness? Which online platform are they using?
Step 2: Tweaks Your Existing Marketing Campaign
Again, I am saying this; nowadays, it is a highly competitive era. It's not 2000 where people are just starting to get along with online content & bloggers are just emerging from the womb.
It is 2020 & to date, more than 500 million blog posts exist & 1.7 billion websites all over the globe. In recent statistics, almost 80 percent of people do not even read your entire post, only read the headline and pass it. According to MOZ, 92 percent of Google searches never visit the 2nd page.
These statistics only tell us one thing. Content marketing is becoming harder every day. You have to focus on your target audience by creating highly engaging & relevant content. Otherwise, all your efforts will go in vain.
So, the question is – how are you supposed to tweak your existing campaign? Well, it is simple. Take a look at the below table. I have presented 3 of my favorite content & keyword analysis tools for you to get started. If you plan for long-term business, then you must have to use a tool like this.
Best tools for Content & Keyword Analysis 
| | | |
| --- | --- | --- |
| Best tools | Costing | Free Trial |
| Ahref | $99 per month | 7-days for $7 |
| Semrush | $99.95 per month | 7-days free |
| Ubersuggest | $12 per month | 7-days free |
Step 3: Set Your Marketing Goals & Stick with It
Before you do anything, it's always better to create specific goals of marketing your content and stick with it. Set your goals and synchronize them with your entire team for better collaboration. This is the digital era — do not forget that.
You do not have to arrange a meeting every single time you update your decision. Use the power of management tools to collaborate with your entire team, including sharing files, photos, and videos on the fly. Use a secure channel to share classified information without using third-party applications like Gmail, Facebook messenger, WhatsApp, etc.
Once you can collaborate with your entire team securely & on time, it is time to set specific goals that can be achieved within a specific timeframe. Do not target a goal that cannot be achieved or too hard to get desired success.
Also, you need to focus on time management. Look for your competitors' weaknesses to identify the untapped opportunity to seize it. For example, if your competitor is Microsoft, you can still beat them without directly targeting their focused objective. Instead, find the hole to get into the market by searching for an untapped opportunity that even Microsoft didn't see.
It's so obvious, you cannot fight head-on against a powerful opponent, but as they are your opponent, you have to find their weakness and hit hard to beat them.
Find Content Gap using Ahref "Content & Keyword Analysis Tool."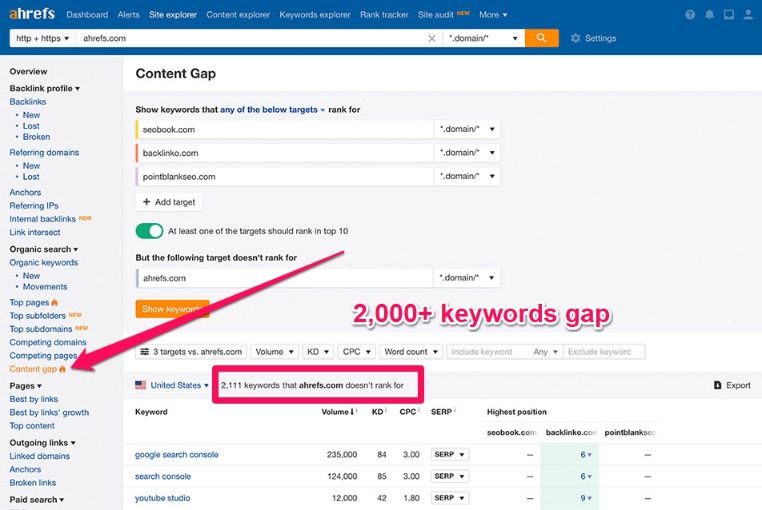 It's so obvious if your competitor is strong, then there is no way you can beat them head to head unless you have a large amount of funding to back you up.
So, what to do? Here is the answer for you. I have given you 3 of my best content & keyword analysis tools to begin with.  For this example, I have used the Ahref tool. Take a look at how I find more than 2,000+ keyword gaps in their website.
If you want to beat your competitor, then this is the chance. Find their weakness by using "content gap" to find out which type of keywords they haven't ranked yet.  Now, create powerful content on that keywords & start to win the market.
Step 4: Plan for Your Target Audience
Always remember that the audience is the ultimate success key. Without them, no business could exist because they are buyers & the lifeblood of any business.
Every business's target audience could be different. It is a vital task to identify the customer's interest, habit & lifecycle. If you do not analyze your audience and build the correct content, then even if you have high quality and engaging content — your target audience may not be interested in those.
Some audiences may be interested in video rather than simple text content. Some may be interested in audio content but feeling bored with video & text. It can vary from the audience. Thus you should find out in which type of content they have an interest.
You may face that some group of the audience does not buy products right away. They always research first and take a decision after a while. Your task is to convert them before your competitors convert them. To do that, analyze your target audience and build a perfect marketing strategy.
How to Identify Your Audience Interest?
Using Google analytic, you can easily do it. Visit Google analytic, then click on the audience tab. Here you will find all sorts of information regarding your existing audience. Their age, location, gender, interest, income level, etc.
Visit Google Analytic – Audience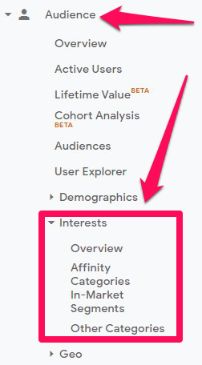 Step 5: Create a Plan for Content Creation
It completely depends on your business brand & target audiences. Some content creation strategies may work for my business. However, the same strategy may not suit your business.
For example, my target audience always searches through Google and research by reading the blog, article, forum post, social media post, etc. Therefore, my content creation plan is – highly engaging, helpful & fresh content that is built with text & images.
Because search engines like Google love text & images, which is perfectly suited for my business marketing plan as well. Now think very carefully what type of business you have, thus building your content creation strategy. For example, if it is a cooking course, then you should focus on video rather than text & images.
Step 6: Leverage Social Media to Create Mass Awareness
Though you can spend thousands of dollars on your business to market it. However, this is not a cost-efficient method. Better to focus on social media like Facebook, Instagram, Twitter, etc., for online marketing.
If you use Google ads service for marketing your business, then for a single visitor, you may have to spend $1-2 on average. Most businesses from small to large spend $9,000 per month on average for online marketing.
However, if you can build a community on social media platforms, then you may get millions of visitors to your website without spending a dime. Though, not all social media may suit your business. For example, if your business is cooking-related or furniture-related, you may get massive visitors from Instagram & YouTube.
Step 7: Analyze & Track Your Business Performance
This is the final stage of success. After you have planned for your audiences & build a powerful content marketing strategy now, it's time to focus on the result. By analyzing your website visitors, subscriptions, sharing on social media & purchases made by the audience. It's so obvious; not everyone gets their desired result without trial & error.
You may create an excellent strategy, but it will only become perfect when you test it out and get the desired result. If you do not get it — then find out the errors and fix it & again test it.
There are several metrics to test your business performance.
Audience Behavior: bounce rate, visit duration, etc.
Revenue: subscription, conversion, etc.
Mass awareness: sharing, comments, backlinks, etc.
Organic Traffic: visitors from search engines, fewer advertisements needed
These are just sample metrics you could use to measure your performance. However, there are many CRM software out there you could use to handle these complex analyzing tasks automatically.
Conclusion
How you should market your content completely depends on your business & audience. I can only show you a general way to get success. However, you have to walk by yourself. Analyze your audience & learn about them.
Then build a content-making & marketing plan. Finally, analyze your business performance to see if it works. Remember, every big brand once struggled many years to get the desired success. But they never give up.
Top Image Credit: rodnae productions; pexels; thank you!