I have an issue with mosquitos. Seriously, I cannot handle the little monsters. One mosquito bite swells up to two to three inches across, so you can imagine that I try out every mosquito help that I read or hear about. Last weekend my boss had all of us up to his cabin in the mountains. I was hesitant to join the hot-tub-ers because of the dreaded mountain mosquito. He said he had installed some "skeeter-chaser-lights" and that I would likely be okay. To my surprise, I encountered the TIKIbrand Lights.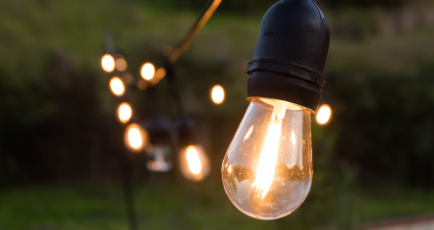 These really are beautiful lights — As I entered the area, the lights were hung in the pine trees in an L-formation. The trees already had small twinkle lights wound around the trunks of the trees from the bases to where branches began (I'd say maybe eight feet up on each tree). Then the TIKI lights were suspended in a U-swag between these trees surrounding the hot tub. Talk about ambiance — stunning.
I can't wait to get some of these beauties for my deck at home — they'll be perfect.

For some great outdoor dining ideas, hop on the tikibrand.com ideas site. I'm still really concerned with large indoor gatherings because of non-vaxxers and covid. So, COVID — get lost! I'm looking forward to making my outdoor space more inviting with these lights and having some people over.
I live in an urban setting and think these lights will do the trick to warm up the feel of the deck. In addition, the light string is a generous 36-foot (not 36 inches — 36 feet), which means a lot to me — I can swag the light or twist them around the deck railing — which is a softer feel and more romantic.  I may even take up reading out on the deck like I used to do.
After seeing how great these lights were last weekend, I know I can just flip the switch, and 15 minutes later, the mosquito repellency will be in place.
Lights make everything better.
Image Credit: I took all images from the tikibrand.com website; thank you!