As smartphone manufacturers improve on the hardware included in their devices, the possibilities for mobile app developers continue to expand. With the speedy new mobile processors and the high resolution cameras, image recognition apps have become very popular on smartphones, and companies like Occipital, makers of RedLaser on the iPhone, make it easy to embed barcode scanning technology into apps. For Android, however, there are fewer solutions, which is why ScanLife, developers of 2D barcode scanning technology, are providing an SDK for Android developers to leverage its scanning application.

Available now, the SDK allows developers to include a button in their app that will launch ScanLife's scanning application, or download it if the user doesn't have it on their phone. After scanning, the user is sent back to the original third-party app with their results.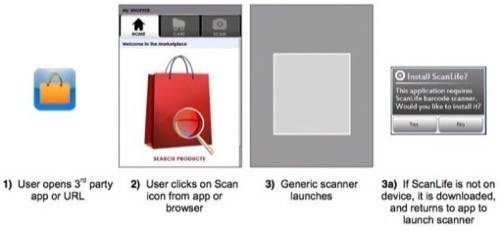 It's a bit of a strange work-flow compared to RedLaser's embeddable branded scanner on the iPhone, but it's a decent solution for Android developers. The app can also be launched from a mobile website by adding a special link in the HTML code of the site.
The SDK is free to use and supports several forms of 2D barcodes, including EZ codes, Datamatrix, QR codes and standard UPC barcodes. Right now the software development kit only supported on Android, but ScanLife says they are working on releasing an iPhone version soon.
It's great that more options are out there for developers to use emerging mobile technologies, but it would have been better to see ScanLife offer a more embeddable version of their scanner to foster more unified customer experiences. Having the ability to use the technology is one thing, but providing users with a smooth customer experience is a much higher value add for developers.