The trouble with making a smart robot: fitting its big brain into its head. Now Qualcomm, known for making Snapdragon smartphone processors, wants to step in to help run those rigs.
Last week, the chip maker announced that it will work with the Open Source Robotics Foundation's (OSRF) Robotic Operating System (ROS). Created by a community of developers, ROS aims to make it easier for app builders to create robotic software.
See also: K5, The Autonomous Security Robot, Is Now On The Beat
"If you were going to build a small mobile robot a few years ago, you would've gotten a low-power x86 architecture laptop, and made that the brain of the robot," Brian Gerkey, OSRF's CEO, told ReadWrite.
Now, with Qualcomm's support for ROS, those days could be over.
Stuffing Phone Tech Into Robots
The sort of compact processor available in phones could offer benefits for certain types of robots: "[N]ow you can basically do all the same things but using this lower power consuming, smaller form-factor board which is much more appropriate, especially for smaller robots," Gerkey said.
According to Tom Marchok, Qualcomm's senior director of corporate strategic development, leading robotics research labs across both university and government sectors wanted to see more integration of smartphone technology in robots.
They were already sold on ROS as "a key piece their innovation process," Marchok said. So the company decided to get involved and snap their mobile processors into the robotics puzzle.
Smart Robots—Without Big Heads
Because Qualcomm's Snapdragon processors are already made for mobile devices, they also can fit onto small, single-board computers. When developers load ROS onto such a computer—like a credit card-sized InForce 6410—they'll have access to a huge library of development tools that can offer their robots functions like gesture recognition, motion tracking, object identification, and grasping, among plenty of others.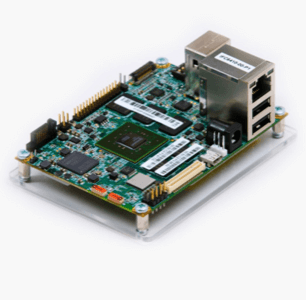 With those functions already squared away by ROS, both amateur robot-makers and professional robo-operations can start thinking of new, innovative ways for their robots to work. Moreover, the board computers' small size comes with lower, more efficient power consumption as well, meaning that these robots will be able to do more without needing a recharge.
That's just the beginning.
How Gaming And Mobile Industries Make Robots Better
According to Gerkey, the partnership that brought ROS to Qualcomm's Snapdragon processors and boards will benefit other ARM-based board computers as well: "The work that we've been doing with Qualcomm has the side effect that the same packages can be used to install ROS on any ARM-architecture board, including Raspberry Pi or the BeagleBone Black."
This is just the latest example of how the robotics field has grown, partly due to seemingly unconnected advancements in other industries, Gerkey said:
Robotics has in recent years been piggybacking on developments in the gaming community. So for example, the Microsoft Kinect that they put out for the Xbox turned out to be an awesome 3D vision sensor for robots. The robotics community and industry benefitted a lot from that development and now we're basically piggybacking on the amazing developments in the mobile computing industry in a similar fashion.

With the huge strides taking place in wearables, virtual reality, and the Internet of Things, technology is getting smarter, smaller, and more agile. It might not be too long before the technology comprising those products lay the ground for yet another revolution in robotics.
For now, though, Qualcomm and OSRF's partnership could be poised for a revolution of its own.
Lead image by JD Hancock on Flickr; InForce 6410 image courtesy of InForce, Kinect image courtesy of Microsoft