It's no secret that productivity is the key to success, and AI is the secret tool that has been specially designed for humans to increase their productivity manifold. According to a study by the tech research firm Gartner, 37% of companies use AI to run their businesses today.
Moreover, according to another research by Gartner, over the past four years, the number of companies using artificial intelligence has jumped by 270%. These statistics show that whether we realize it or not, artificial intelligence has become a vital part of our daily life.
With the help of AI, we can develop smart systems that will help not only businesses or offices but also at home. Smart systems can perform so many tasks for us, right from setting the alarm to switching on/off the lights.
Sound's really amazing, right? Well, let's dive deeper into some of the amazing AI-driven tools you must know.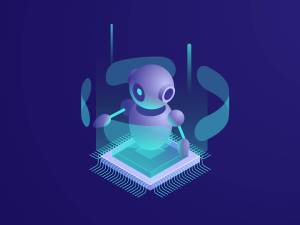 So, What Exactly is Artificial Intelligence?
In simple terms, Artificial intelligence trains computers to perform actions traditionally performed by humans. By making machines mimic human intelligence, Artificial intelligence makes computers think and act like humans. It involves creating algorithms that study data to make predictions from it. AI also keeps working on data and learning from it to improve efficiency.
But Why is Artificial Intelligence Critical?
It is not humanly possible to process the amount of data that tech companies generate. This is where AI comes in. AI can absorb and interpret the data produced by humans and machines and then make predictions, analyses, and decisions based on the data, which are far more accurate than human analysis.
Currently, there are predominantly four main types of AI that we can find in almost every field. So, let's have a quick glance at them:
Artificial Intelligence Platforms: This software is used for developing applications.
Chatbots: This software mimics the conversation of humans
Deep Learning Software: This software is used for image and speech mechanism
Machine Learning Software: This software mimics intelligent human behavior by studying data
10 AI Tools That Will Supercharge You
Now that we have established the importance and types of artificial intelligence in our day-to-day lives and the Tech world — let's discuss some of the best AI tools you can adopt to make your projects run smoother and your life easier.
Smartlead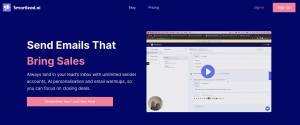 Smartlead is an excellent AI tool that helps write engaging, informative, and interactive cold emails. The tool is handy for businesses that are looking to increase their sales. The mechanism ensures that your outreach is increased without compromising your email reputation or daily limit.
It allows you to set custom conditional email-sending triggers, ensuring that your emails reach the targeted audience every time. If you're worried about missing out on leads or need help keeping track of your email campaigns, Smartlead is the best option.
The AI tool provides a master's inbox that lets you track all your important emails in one place. You can reply to all your leads from just a single master inbox. The AI tool will save a lot of your time that is wasted in logging into different mailboxes. Instead, you will be able to focus more on closing deals.
Outmatch
Outmatch is one of its kind recruiting service based in the United States that allows recruiters to find the perfect candidate they're looking for with the help of its unique features like assessments, video interference interviewing, and reference checking.
Using this AI tool, you'll be able to give more candidates a chance to prove themselves so that you can hire better candidates while saving time and energy. The AI tool automates redundant tasks like phone screening, multiple interviews, reference checks, and sending offers, thus creating a better employer brand. Global brands like Pepsi, Colgate, Walmart, and Toyota BBC trust outmatch.
Notion AI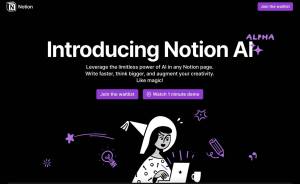 Notion.AI is a unique copywriting tool that will help you get started on your creative writing pieces for your business. The AI tool will also help you if you hit writer's block. All you need to do is tell the AI the topic you're going to write; the tool will assist you in writing, editing, brainstorming, and even summarizing the content.
This Artificial Intelligence Software has an inbuilt grammar checker, ensuring you create original, high-quality, plagiarism-free content.
JADbio
If you're a beginner in the world of machine learning and you need assistance, then JADbio can be very useful for you. It's a user-friendly platform that provides students with different tools and knowledge to help them quickly navigate the world of machine learning.
You can upload your data on the platform and get help with analyzing it. If you are experimenting with a predictive model, you can test it on this platform. Moreover, the platform is free to use.
Tableau
Tableau is the world's leading analytics platform that corporations trust from around the world. It's an AI tool that makes studying and understanding data very easy. With particular infographics and visual analytics, data is presented in a way that makes it easier for people to use it to solve problems.
The platform has almost 1,000,000 users, which include analysts, executives, IT persons, and business users. The CRM analytics of the platform can help you work smarter by spotting trends faster and predicting outcomes before anyone else. Their client base includes the biggest names in the tech world, like Verizon, Lenovo, HelloFresh, etc.
Tensorflow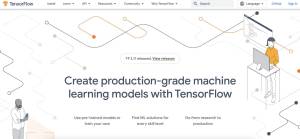 Tensorflow is a platform that lets you create machine learning models. You can use the platform to train your models and find machine-learning solutions for your problems. The platform can be used for research and production, making it an all-in-one machine-learning platform. It can support CPU or central processing units and GPU or graphics processing unit execution.
This unique combination of both teams makes it possible to maintain GPU performance without writing code in CUDA. You can run TensorFlow models in Android and iOS and web apps. Not only that, but TensorFlow also has various resources, from tutorials to examples which can help you in creating your models and machine learning solutions new line.
AutoML
Google has created AutoML to equip developers new to machine learning with proper training and expertise to create high-quality models for their business needs. It is one of the most adaptable AI frameworks available today.
The simple interface helps machine learning students improve their skills and release Custom models. It was one of the most highly anticipated AI tools, and users in the United States and the rest of the world have very well received it.
Fireflies
Fireflies is an Artificial intelligence software used to transcribe live meetings and audio files uploaded by the user. The Chrome extension can capture meetings and calls directly from your browser, making your meetings much more efficient and your job easier. It reduces hours-long meetings to just a few minutes of helpful information.
The tool's search feature can help you quickly review and skim through the entire conference and focus on the essential highlights. As a result, working in teams becomes easier since all teammates get to add comments or highlight the important moments from the conversation. It also allows you to instantly record meetings and share the conversations with anyone you like.
The redundant note-taking task gets wholly eliminated, saving a lot of time for the team members.
Jasper
Jasper offers impressive features and qualities that aren't provided by any other AI writing assistant in the market; its effectiveness and originality put it miles ahead of any of its competitors. The tool requires some seed words, which it analyzes to create phrases, paragraphs, or even entire documents.
Users get to choose their subject matter and tone of voice while the AI tool takes care of the rest. It's practical, original, and very time efficient since it can write 1500 words in just 15 minutes. You'll get over 50 templates to choose from, including emails, blog posts, marketing copy, Facebook ads, etc.
Users can also select from 11,000 free fonts and 2500 categories of writing styles. The platform can be used to write in all thirty-five languages. It also can identify critical elements in the writing piece, like pronouns, verbs, etc.
Murf
Murf is an AI tool used to convert text into speech which is popular among people from all sorts of professions like educators, leaders, business owners, and content creators. The AI tool is also helpful in day-to-day life. The dictation feature comes in handy when manually typing a considerable chunk of information.
Not only that, but the text to speech generator also lets you choose from various voices and dialects. You can also use the platform to do voiceovers and edit videos. You can also select different preferences, such as accents, voice style, tone, and purpose.
Another cool feature offered by Murf, which is provided by any other text-to-speech converter, is that it allows you to change your voice while recording. You can customize the voiceovers based on pitch, speed, and volume.
Key Takeaways
In the 21st century, Artificial intelligence is undoubtedly the backbone of technological growth. Artificial intelligence has wholly altered how we view the world, from commoners to high-tech corporations.
The world is changing rapidly, and if we don't keep up with it, we will bear the brunt of our negligence. To avoid this, it's best to keep ourselves up to date with the numerous beneficial AI tools available in the market.
To survive the competition of the tech world as well as make our lives easier, we must learn about the AI tools getting launched every day.
Inner Image Credit: Provided by the Author from websites covered here; Thank you!
Featured Image Credit: Photo by Pavel Danilyuk; Pexels; Thank you!