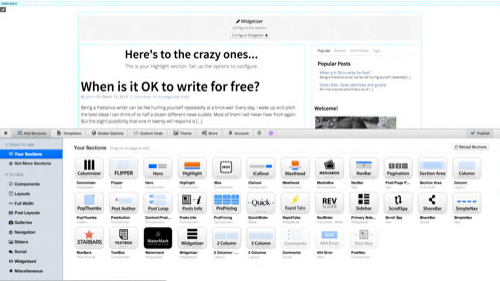 Content management systems (CMS) have changed everything about how we maintain websites. Thanks to modular drag-and-drop options on CMS setups like Drupal, Joomla, and WordPress, anyone can navigate a site's back end with a little training.
CMS works great for amateur webmasters, but there's never been a corresponding tool for amateur web designers. Designs were reliant on templates that would work with existing CMS platform. But that may be about to change: Pagelines has developed a modular system it's calling a Design Management System, or PageLines DMS.
What is a DMS? It's not quite a WordPress theme, a pre-designed site skin to which you can make small tweaks (if you don't know code) or major design code changes (if you do). It's not quite a drag-and-drop WYSIWYG tool. It's in between, a modular system that lets you visually edit any part of your site—with no coding or designing knowledge. Instead of downloading separate apps and plugins to give your site all the functionality you want, PageLines DMS is all plug and play and ready to go.
"With any theme, you're going to end up in a situation where you don't love it anymore because it can't evolve," said Andrew Powers, PageLines founder. "DMS means that it's super easy to always customize and tweak your WordPress site."
Revolution Or Buzzword?
DMS sounds like a cool concept, but how do we know this isn't just the same thing we've seen before? Developers have tried and failed to create flexible design solutions for amateurs. Newbies can use Weebly or Squarespace to set up their first website, but easily outgrow them once they want to expand their site features. As Powers said, "You can't drag and drop good design."
This isn't even the first time PageLines has tried to wow the tech world with a revolution in design management. Back in 2010, the company premiered Platform Pro, a design framework that functions like a prototype of PageLines DMS. But over time, Platform has slowly become obsolete.
This time, Powers has taken precautions to ensure that PageLines never falls out of date. For one thing, it's open source, so if developers see issues, they can just visit the GitHub page and make changes. For another, PageLines includes an app store that works like an Apple store for PageLines extensions. PageLines moderates and approves every store offering for quality as well.
Name a feature you'd like to add to your website, whether it be a feature slider, a carousel, a sales page or a navigation bar. PageLines DMS has a visual workspace where you can add and configure any one of these pre-designed features without adding any code.
Don't see the feature you want? Buy it in the PageLines app store. Still don't see it? Code it yourself or commission a developer to code it for you. PageLines is totally open source, and you can browse its entire structure on GitHub.
But if you're not a developer, don't worry about knowing a stitch of code. The whole point is to cut out the complicated coding that stands between amateurs and most existing WordPress blog plugins, and have features ready to use right out of the PageLines box.
Derek Kruger, a reviewer on the Using PageLines blog, writes that his high hopes for PageLines DMS don't necessarily translate into high hopes for PageLines users:
"I'm not saying they are going to design beautiful sites, lets face it, someone once thought spinning flaming skulls were awesome, but they will be able to realize their vision more quickly and easier than ever before," Kruger wrote.
The Future Of Web Design
As a WordPress developer, I'm always looking for tools to make design easier. PageLines provided me with a subscription to DMS Personal to see what I thought.
Using PageLines DMS turns your browser window into a live preview while you work on your website. While I'm no stranger to WordPress development through coding, I experienced a serious learning curve while rearranging modules. I was thankful the DMS still lets me make hard code changes, too. Still, I know I'm not alone: Tung Do of DevPress observed that while he could manipulate larger items, after 30 minutes he still couldn't figure out how to alter his logo.
Priced at $8 for a month of DMS Personal, PageLines is best for the amateur designer who has more time than money. The pre-made PageLines modules are as nice as you'd get from any design studio, provided you can learn to arrange them the way you want.
PageLines isn't the only company to provide a modular framework, as at least one competitor has pointed out. But it is the most thorough. While many themes offer some points of customization (Thesis and Woo Themes come to mind), PageLines DMS offers nearly every plugin you could imagine adding and tweaking on the platform.
Powers said the ultimate goal is to make DMS easier to use for more people. He is working on a one-click site solution that would combine hosting, content management, and design management all at once.
"Right now to use PageLines you have to know how to get hosting and how to install WordPress," he explained. "We're moving more toward the people who are just getting started. It's a tough challenge because we're trying to give a lot of power to the user."