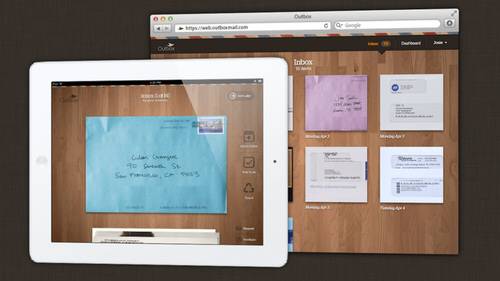 When Will Davis and Evan Baehr met for the first time in Cambridge, Mass., in 2009, they already had a shared history. Though they didn't know each other then, both Davis and Baehr worked on Capitol Hill as legislative aides before enrolling in Harvard Business School. It was there, at Harvard, that the two men realized that business – and not politics – could be their avenue for instituting meaningful change.
"Peter Thiel picked up the idea of a passionate way of tackling public problems was by starting a business," says Baehr, who originally wanted to help solve the world's many problems through legislation after graduating from Princeton. "But I became frustrated with how government would try and solve problems."
Davis, on the other hand, arrived at a partnership with Baehr after becoming "a complete acolyte of disruptive theory." A series of investigations led him to the realization that the U.S. Postal Service was ripe for such disruption. "I needed a Dropbox for my snail mail," he recalls.
An Inbox for Snail Mail
That idea – a way to organize, in the cloud, every aspect of your physical mail – is the crux of the two men's venture, called Outbox, that is opening up to public beta in San Francisco on February 26 after a 6-month test in Austin, Texas, in 2012.
Outbox seems remarkably simple – for $4.99 per mailbox per month, the company picks up your mail, scans it, and lets you access every item digitally, through your iPhone, iPad or computer. If you want the physical version of a piece of mail, you designate the item to be delivered, and Outbox drops it on your doorstep. That's it.
Say you move frequently, or you simply are flooded with junk mail but can't help wasting time sorting through the mess. Outbox wants to change all that.
"We turn the model on its head, getting to a new system where the user has full control over their postal mail," Davis says. Disrupting the entire U.S. Postal Service might be a ways down the line, but the Outbox team is confident that it is the future of mail.
Sights Set On The USPS
Here's a hint: The Outbox employee who picks up your mail in a white Toyota Prius is called an unpostman.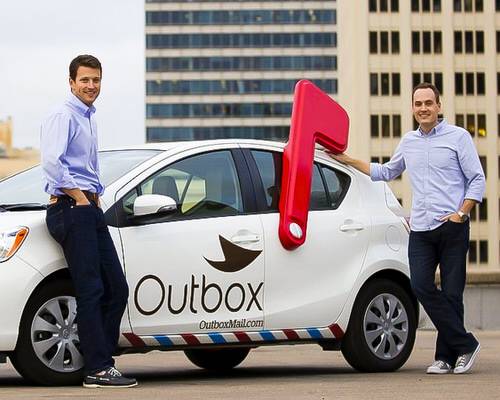 Davis remembers thinking, "We have actually got to attack this market at the core, which is the platform… and the platform is that little metal box." Postal mail is a $900 billion industry in the U.S. – in 2011 alone, 168 billion pieces of mail were delivered. According to the most pessimistic forecast they could find, Davis and Baehr will still be fishing in a sea of more than 100 billion pieces of mail in 2020.
"You come to the realization that it's not a perfect market that is dealing with completely transparent and moveable participants," Davis says of the USPS. "You have one participant who is dealing in the bounds of the law and the constructs of a regulated monopoly, and everyone else has to engage with that monopoly power in different ways."
"We decided, 'Hey, someone should go and build out what a postal network should look like,'" Davis adds.
In Austin, Discovering A New Ad Platform
What began last summer in Austin was a careful attempt to find out what really bugged people about dealing with heaps of physical mail. The company spent months interviewing some 100 families about their mail. Then they began a 500-person closed beta to collect data and plan for the next phase.
The process taught them a great deal. For one, it taught then about junk mail. "The interesting thing though is that when you start talking to people about junk mail, it's in the eye of the beholder," says Baehr. "Junk mail is made junky when it's not targeted and not relevant." A long-term hope for Outbox is to dramatically shrink the amount of marketing content people receive in postal mail, from approximately five items a day down to one or two.
For packages, especially ones like Netflix DVDs or Amazon orders, the Outbox team assumes people wanted them delivered to their doorsteps right away.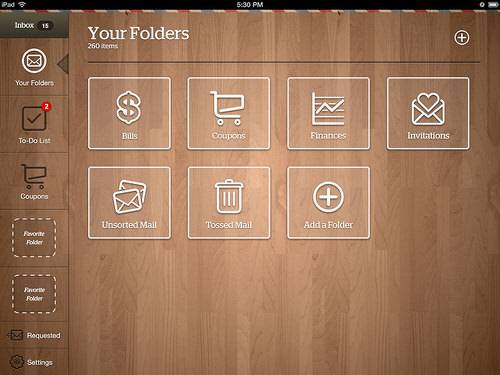 They also discovered that for people to trust them with something as sensitive as paper mail, they would need a very carefully constructed security system. They began with $1 million in identity theft insurance, and invested in secure encryption of the files Outbox was creating from scanned mail. The company shreds any item not requested for delivery within 60 days.
Moving Beyond The Post Office
But junk mail and packages were only the beginning for Outbox. "What we are building is not dependent on the physical postal system," Davis claims.
Outbox' long term vision is to create a unique new marketing platform to replace junk mail in a way that saves them money and provides better insight. "We've looked at all the digital catalog apps and they're failing miserably in terms of engagement," says Baehr. "The way people discover that content is through serendipitous arrival. They found it because they went to their mailbox."
What they didn't do, adds Baehr, is go to the app store and see if the catalog was pushed to her device, or go find it and download it. "The first important thing is discoverability, so by grabbing hold of the tradition of checking mail, we can build a communication channel where people actually expect to get marketing content."
Outbox envisions a day when advertisers can target a specific subscriber with an offer via mail, say for a sample of makeup, and the customer can find the ad in their Outbox app and request the sample for delivery. "We're creating this delivery platform where we are in neighborhoods delivering content," says Baehr. "You begin in the digital and it translates to the physical."
National Ambitions
With $2.2 million in funding from investors like Peter Thiel and Mike Maples of Floodgate, the company chose San Francisco for a full-blown launch. "It was the tougher logistical choice to make to come to San Francisco over New York City," says Davis. "New York, from a postal perspective is easier to service," with higher population density and a more regimented system of mailboxes.
The decision to move to the West Coast boiled down to the desire to get Outbox in the hands of early adopters. "When you think of hyper local distribution networks, think TaskRabbit or Uber, those [services found acceptance] from early adopters in San Francisco, so we decided to come here," Davis says. After onboarding their first customers in just four weeks, the company is already looking at new markets. "Once we get this nailed, San Francisco really does translate well into New York," Davis says, "and then Chicago, Boston, DC."
When not sleeping in the Outbox warehouses to ensure everything runs smoothly, Davis and Baehr are busy thinking big. "When you start enabling the receiver to have full control of what can be sent to them," Davis says, "everything falls with a domino effect – if you can scale it."
Images courtesy of Outbox.