The mobile platform wars are in full swing. Android and Apple dominate the landscape but a new report from VisionMobile says that there will be no clear winner in the battle for supremacy over the mobile market. Android controls the numbers, Apple controls the profits and everybody else is fighting for scraps and third place in the ecosystem.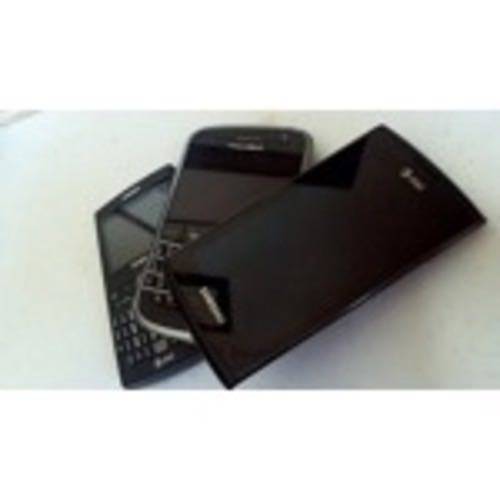 Developers are the front line soldiers of the platform wars. "iOS and Android are winning not only by virtue of technological sophistication, but primarily by the strength of their application ecosystems," the VisionMobile report states. The "network effect" drives the ecosystem, more sales equals more developers and more applications which in turn drives more developers. We take a close look at the platform wars through VisionMobile's report below.
First Is Relative
The VisionMobile report is one of the most comprehensive breakdowns of the entire mobile ecosystem that has been published this year. The 68-page report (PDF) looks at smartphone vs. feature phone adoption, developer trends, how each OS differentiates itself and what tools are available, the importance of app stores and how HTML5 could deflate that market, among other topics.
Applications drive ecosystems. It is something we have known for several years but 2011 has really brought the importance of the app environment to clarity. Apple has more than, 500,000 apps while the Android Market has near 330,000 (up from the time frame that VisionMobile used for its survey, ending before October 2011). It is an Android and Apple world and the two platforms share a few key characteristics:
Both originate from non-telecom partners.
Both are monetized indirectly. Apple through high-margin devices or advertising for Android.
Both are driven by companies that can pump billions into development of the operating system, create online services and drive application ecosystems.
It is hard to say which platform is No. 1. If we are talking about sales volume, Android takes the cake in almost every way. At the same time, Apple has created an environment where it makes, by far, the most amount of money for a single corporation in the mobile ecosystem.
We can see why Android does so well in the chart below. It is the only company that gains the green check mark in all four categories while iOS and webOS are the only two platforms that are for "high end devices" and "tablets" at the same time. Since Hewlett-Packard completely flubbed its webOS implementation and has more or less dropped the notion of making tablets and smartphones, that end of the market is left to Android and Apple.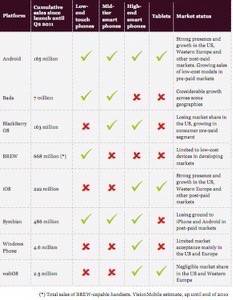 "There isn't and won't be a single winner in the smartphone race. Both iOS and Android platforms reached a critical mass of hundreds of millions of users. Their long-term positions are secured by strong network effects between users and developers, making it almost impossible to displace them.
The jury is still out on whether there is a place for a third platform player, and whether Microsoft, with the help of Nokia, will be able to wrestle the third position away from Blackberry," the report states.
Adoption & Battle For Third
More than one and four global cellular users have a smartphone. Developed countries have the highest adoption, with sales to the channel reaching 65% in the United States and 50% in Europe. Sales to channel drop significantly in developing worlds with 19% in Asia-Pacific, 17% in Latin American and 18% in Africa and the Middle East. Overall, 27% of the world's cellphone users have smartphones.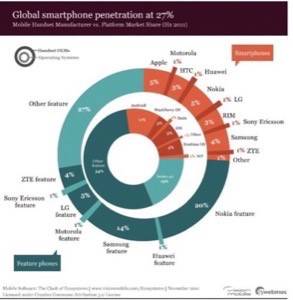 The battle for third in the platform wars comes down to three main contenders. Two come from established tech innovators while the third is a suite of developer tools that can be employed by anybody.
Research In Motion currently holds the third spot almost by default. It has 70 million handsets deployed worldwide and has grown 40% year-over-year. That does not mean it is growing as well as RIM would like though as its percent of market share has been evaporating as its sales stale in the face of competition from Apple and Android. Microsoft should come on strong with Windows Phone especially that it now has Nokia on its side and the company's large brand presence across the world. In terms of platform, HTML5 is creeping up on each in terms of developer attention because it is the one platform that can truly cross the bridge between all of the platforms. Each of the major players – Google, Apple, Microsoft and RIM – have professed a dedication to HTML5 development.
What it comes down to is developer attention. The BlackBerry App World has near 30,000 apps while Windows Phone recently surpassed 40,000. Yet, each has weak "network effects" according to VisionMobile's definition of the term. Symbian also falls into this category though application development for Symbian now primarily falls to publishers working towards making a dent in smartphone adoption of emerging markets.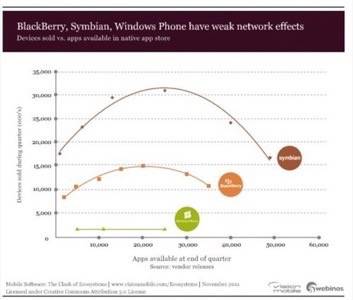 "Apple and Google turned the mobile industry on its head by creating vibrant product ecosystems encompassing devices, content and on-line services. The battle of ecosystems, however, is still far from being decided. We expect continued evolution of this dynamic market driven by entry of new players, such as Amazon, Facebook and Microsoft, as well as expansion of the experience ecosystems across screens, shifting the battleground from smartphones to tablets and finally the living room," the report stated.
We broke down the developer aspects of the VisionMobile report on ReadWriteMobile . What do you think will be the third-place ecosystem outside of Android and iOS? Will third place eventually go to the most unique platform (Windows Phone) or will it devolve into whatever system runs HTML5 the best? Let us know your thoughts on VisionMobile's report in the comments.