We all seem to be techies at heart. And even if you don't consider yourself a techie — all these gadgets are really are cool to own. Here are the most amazing tech gadgets you need to have.
1. Apple Airpods with Charging Case


They say it's better to give than to receive, but a pair of Apple Airpods with Charging Case may just be an exception. When you give someone these, you aren't just giving someone (that someone could be YOU) a pair of trendy earbuds. You're giving them the perfect gift of high-quality sound, maximum comfort, and easy convenience.
It was designed with accessibility and ease-of-use in mind. From the simple setup that takes only a matter of seconds to the protective storage and charging case, anyone can appreciate the versatility of on-the-go hands-free listening and communication.
Effortlessly play and switch songs with a quick double-tap, and enjoy convenient access to Apple's Siri voice assistance by simply saying "Hey Siri." Apple Airpods offer up to three hours for listening and two hours for talk time.
And for those who are always on the move, the innovative Charging Case will recharge the device in less than 15 minutes, meaning you never have to worry about charging and cords tying you down.
These might be on a list of the best gadgets for men, but we promise that Apple Airpods make a great gift idea for anyone.
Key Features
Airpods power on and connect automatically.
Simple voice commands to access Siri's voice assist
Superb audio quality
Easy touch commands make switching between songs and calls a breeze
Specs
Brand: Apple
Weight: 0.28 oz. (both)
2. BoostIQ RoboVac 11S MAX

Vacuuming sucks, but you know what sucks more? Having to use a heavy, bulky, corded vacuum. It's 2020, so stop using something that has the same design since 1960 and get the Eufy BoostIQ RoboVac 11S instead.
For everything that your current vacuum is, the RoboVac is not. It's lightweight and compact design makes vacuuming suck less, but still delivers a powerful 2000Pa of suction guaranteed to get your floors clean the first time — without any effort from you.
With up to 100 minutes of battery life and multiple hands-free features, the RoboVac is truly a set-it-and-forget-it device. It has more than 10 advanced motion sensors that detect drops to prevent falling down stairs and ledges, the large wheels move easily between carpet, tile, and even door ledges.When your floors are cleaned, the RoboVac returns to its charging dock automatically, so it's ready to go whenever you need it.
This gadget for men might be slim, but its generous dust box capacity means you barely have to get your hands dirty. Plus, it contains a range of cleaning modes and allows you to easily program a unique cleaning schedule for your home with your phone so your floors are always flawlessly clean.
Key Features:
Large wheels guarantee that nothing gets in the way of the RoboVac until it gets the job done
Triple-filter system efficiently clears dirt and dust
Up to 100 minutes run time when fully charged
Large 0.6-liter dust box reduces emptying frequency
Specs:
Brand: eufy
Model: Robovac 11S MAX
Weight: 6 pounds
3. NEW Ember Temperature Control Smart Mug 2, 10 oz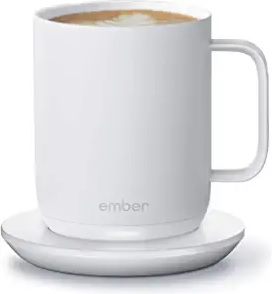 We're spilling the tea about the Ember Temperature Control Smart Mug 2 so you never have to taste another sip of lukewarm or ice-cold coffee or tea again.
Ember's second-generation smart mug has improved features like its extra-long 1.5-hour battery life — or all day thanks to the freshly redesigned coaster.
Ember's smart technology automatically activates it when filling and enters sleep mode
when not in use. This gadget for men also pairs with your phone so you can select your preferred temperature between 120°F – 145°F, adjust presets with ease, and get notified when your drink hits the perfect temperature.
The Ember Smart Mug is just as easy to clean as it is to use: it is fully immersible up to 1 meter of water during handwashing. And, when you order the Ember Smart Mug, you can select your mug's LED light from a spectrum of colors for an extra personalized touch.
Key Features
Select your preferred temperature
Keeps your drink warm for 1 hour fully charged, or all day with the improved charging coaster
Hand Wash easily in up to 1-meter water dept
Quickly and easily program your Ember from your phone
Specs
Brand: Ember
Model:
Weight: 2.4 pounds
4. Bose Portable Home Speaker — with Alexa Voice Control Built-In, Black


Do you have speaker overload?
If you're tired of having a different speaker for your house, when you're on-the-go, or for voice assist, then you need to get the Bose Portable Home Speaker.
Bose's most functional smart speaker helps you save space by delivering everything you need in one device: top-tier audio quality, portability, and voice assist. You don't have to sacrifice quality when you downsize.
This lightweight gadget for men provides 360 degrees of clear, rich, deep, and distinct bass, no matter where you use it or what you play. And with 12 hours of battery life, you can enjoy superb sound inside, outside, in the car, or anywhere else.
When connected to Wifi, the Bose Smart Speaker doubles as an Amazon Alexa or Google Assistant so you can effortlessly control what's playing, set reminders, or place orders — all hands-free.
No Wifi? No problem! You can keep listening by connecting the Bluetooth speaker to your phone. If you already have a collection of Bose devices, this model pairs with all of them for multi-room listening and synchronized music playback.
Key Features
Easily connect with other Bose devices for a completely immersive listening experience
Pair with your phone to control playback with or without Wifi
Voice assist technology means hands-free use
Extra-long 12-hour battery life
Specs
Brand: Bose
Weight: 2.34 pounds
5. Suunto Core All Black Military Men's Outdoor Sports Watch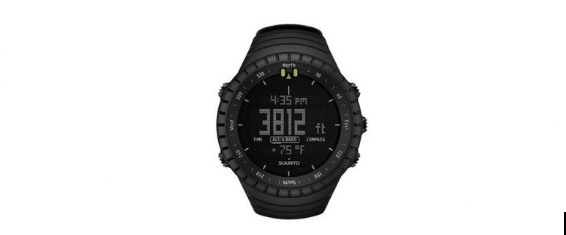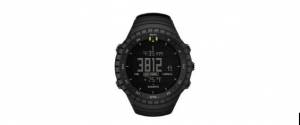 Why choose between class and durability when you can have both with the Suunto Core?
Add some style to your next outdoor adventure without sacrificing functionality. With a range of technologies designed to keep up with the most active wearer, the Suunto Core is the Renaissance Man of outdoor watches.
Its built-in compass, barometer, and altimeter let you make the right call at a glance, and the storm alarm alerts you to weather changes at a moment's notice.
The elastomer band ensures maximum comfort for all-day — or all-night — wear, no matter the weather. From the outdoorsmen to trailblazers, this gadget for men will help lead the way.
Key Features
Built-in compass for at-a-glance navigation
Barometer, thermometer, and weather trend indicator helps you monitor shifts in weather
Altimeter gives precise elevation
Make the most of your day with sunrise and sunset tracker
Specs
Brand: Suunto Core
Model: SS0104279010
Weight: 2.26 ounces
6. Echo Do (3rd Gen)


Your life is full of moving parts, and to keep your busy lifestyle running smoothly, you need seamless synchronicity. With the Echo Dot Smart Speaker, you'll be one step closer to a more cohesive, coordinated home.
The integrated Amazon Alexa technology lets you effortlessly set alarms, reminders, get the latest news, weather, traffic, and more with a few simple voice commands.
By pairing this gadget for men with your other smart home devices, you can turn off lights, adjust your home's temperature, and more. Manage your home, even when you're away with the Alexa Guard, which notifies you at the first sign of a problem in a moment's notice.
As a speaker, the Echo Dot provides crystal-clear audio that you would expect from a larger speaker. Steam your favorite songs, podcasts, and audiobooks from your favorite service, including Spotify, Amazon Music, and Apple Music. Plus, the latest model contains improved safety features with multi-layer privacy protection to guarantee you and your home's security.
Key Features
Amazon Alexa voice assist
Built-in privacy controls with the option to turn off the microphone
Superb audio quality
Slim design allows you to keep it anywhere in your home
Specs
Brand: Echo Dot
Weight: 10.6 ounces
7. Sony WH1000XM3 Noise Canceling Headphones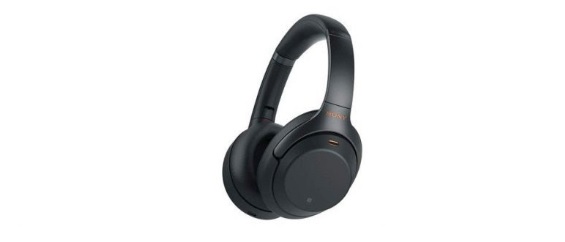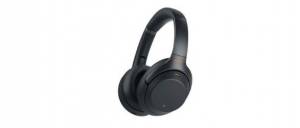 Today's world is full of noise, and sometimes it seems like you just can't get away from it.
But with the Sony Noise Canceling Headphones, you can.
With these, you can enjoy the sound of silence and first-rate audio in comfort and style. Experience boosted sound quality with the 32-bit audio signal processor and comfortable listening with the headband and ear cups specifically designed to alleviate ear pressure.
The Sony Noise Canceling Headphones were made to last a lifetime, but they'll also last all day long thanks to its extra-long 30-hour battery life and rapid charging capacity.
Ditch the wires and pair the Sony Noise Canceling Headphones with any Bluetooth or NFC device for talk and listening. It features Alexa voice assist so you can change songs and switch between apps hands-free. Or, control your listening selection with a quick tap using the built-in touch control technology.
Key Features
30-hour maximum battery life and rapid charging
Touch control panel for easy control of your listening experience
Alexa feature allows for hands-free use
Flexible sound control that adjusts noise-canceling level based on your surroundings
Specs
Brand: Sony
Model: WH1000XM3/B
Weight: 9 ounces
8. Anker Wireless Charger


Finally — a smartphone charger that works for Apple and Android devices!
The Anker Wireless Charger takes the inconvenience out of charging your phone by eliminating the cable so you can enjoy a fast charge no matter where you are.
Conveniently browse the web, use facial recognition, or take pictures in landscape or portrait mode with the PowerWave stand dual-charging coils.
The Anker Wireless Charger connects to your phone in its case up to 5mm thick so you don't have to worry about it breaking, cracking, or getting scratched while docked. And if you have a Samsung, you can enjoy a charge that's 30-minutes faster than other wireless chargers.
Key Features
Universal charging port works with all major smartphone models
PowerWave stand lets you charge your phone without removing the case
Continue using your phone in landscape or portrait mode during charging
Charges faster than other wireless models
Specs
Brand: Anker
Model: AK-A2524011
Weight: 3.84 ounces
9. Breville Joule Sous Vide


Even if your culinary skills stop at pouring cereal, the Breville Joule Sous Vide can make you feel like a master chef.
Its slim design is only matched by its performance, which delivers 1100 watts to heat up to 40 liters of water in no time at all. By connecting the Breville Joule Sous Vide to your phone, you can not only cook from anywhere but keep an eye on your food so your dish comes out perfect time after time.
Its compact shape stows easily so you can save space even in the smallest of kitchens. Bluetooth connectivity and Wifi pairing give even more accessibility with Alexa for hands-free, effortless cooking. It's the perfect gadget for men, no matter how experienced they are in the kitchen.
Key Features
The slender, 11-inch device can be easily stored
Bult-in Amazon Alexa feature for voice control
Bluetooth and Wifi compatible
Powerful 1100-watt output boils water fast
Specs
Brand: ChefSteps
Model: CS10001
Weight: 1.28 pounds
10.Philips Norelco OneBlade Electric Trimmer

It's not the 1950s, and not every guy wants a baby-smooth shave. And sometimes a bit of stubble is the perfect way to complete your look.
So when it comes to razors, why use something that only lets you have one style?
The Philips Norelco OneBlade Electric Trimmer adds versatility to your grooming kit by trimming facial hairs to your desired length so you can achieve the perfect shave.
This gadget for men features a long-lasting, dual-sided OneBlade that makes styling and edging a breeze so you can keep the rugged look while still looking well-groomed.
Key Features
Dual-protection system prevents nicks and cuts from shaving too closely
Three stubble combs for your choice of hair length
Water-resistant for fast and simple cleanup
Replaceable blades that last as long as four months
Specs
Brand: Philips
Model: QP252/90
Weight: 9.9 oz
11.Hamilton Beach Dual Sandwich Maker


There's a joke to be made here, but the Hamilton Beach Dual Sandwich Maker is serious about sandwiches.
This gadget for men has everything you need for a perfect hot and toasty restaurant-quality sandwich — without the restaurant price. Warm your buns, warm your meat, and finish it off with your topping of choice.
And best of all, the Hamilton Dual Sandwich Maker lets you cook two sandwiches at once, although sharing is up to you.
Specs
Brand: Hamilton Beach
Model: 25490A
Weight: 2 pounds
12.Bose QuietComfort 35 Headphones


What's the point of headphones that promise an over-the-top listening experience but don't block background noise?
You don't have to be an audiophile to get annoyed at sound pollution. When you're tired of wasting your money on devices that just don't cut it, you need the Bose QuietComfort 35 Headphones.
With these, you get everything you've dreamed of in a pair of headphones: supreme audio quality, world-class noise-canceling technology that actually works, and long battery life.
These headphones feature volume-optimized EQ that balances the sound between tracks. And the noise-rejecting dual-microphone system lets you be heard loud and clear during phone calls, even on the windiest days.
The QuietComfort headphones have an extra-long battery life so you can tune in and drop out all day long. They're everything you've been looking for in noise-canceling headphones.
Key Features
20 hours of wireless battery life, 40 hours in wired mode
Unsurpassed noise-canceling technology means you'll never have to deal with sound pollution again
Easy Bluetooth and NFC connectivity
Dual-microphone feature prevents disruptions from wind and weather during calls
Specs
Brand: Bose
Model: 759944-0010
Weight: 8.3 oz
13. Lamicall Adjustable Cell Phone Stand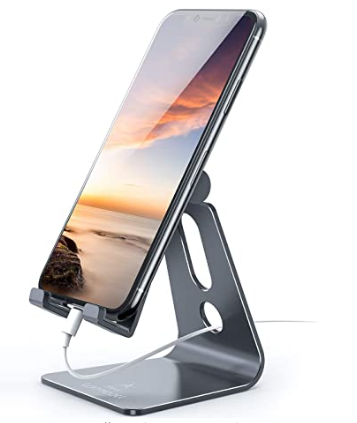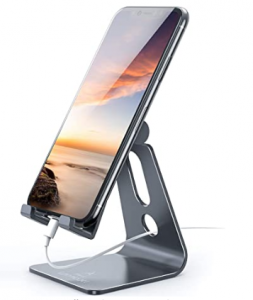 The Lamicall Adjustable Cell Phone Stand does more than other charges. The attractive aluminum design is the furthest thing from an eyesore.
It won't clutter your desk or table like other bulky stands. But it's more than something pretty to look at. The Lamicall packs a powerful punch when it comes to performance so you don't have to wait for your phone to charge.
Wherever you go, whatever you do, you take your iPhone with you — but you can take the Lamicall, too. If you're folding clothes, taking a break from work, or laying in bed, you can enjoy any angle thanks to the adjustable frame.
Key Features
The cushioned rubber base ensures the stand won't slide or damage surfaces
Compatible with iPhones and smartphone models between 4 and 8 inches, Nintendo Switch
Stylish frame design protects your phone, durable and meant to last
Specs
Brand: Lamicall
Model: A-Stand 02
Weight: 5.6 ounces
14. Seneo Wireless Charger


Androids smartphones' universal charging point means you're never strapped for charging cords. But finding a wireless stand for Androids that isn't awkward to use or looks cheap is another story.
Your search for a fast, high-quality charging stand ends here. The Seneo Wireless Charging Stand charges your Android in landscape and portrait mode without removing the case. The Automatic Temperature Balance prevents overheating so you can text, browse, and video chat without missing a beat.
Key Features
Charge your phone in landscape or portrait mode without taking your phone out of its case
Automatic Temperature Balance ensures user and phone safety while charging
The intelligent design identifies the mobile device to optimize charge
Specs
Brand: Seneo
Model: PA014A
Weight: 4 ounces
15. AquaAudio Cube


What's the perfect complement to a shower beer? Your favorite music, of course! Everyone loves listening to music in the shower. But the sound of water and weird bathroom acoustics mean you don't always get the sound that you want.
That's where the Aqua Audio Cube comes in.
The AquaAudio Cube doesn't skip when it comes to sound. It delivers the kind of intense and crystal-clear bass you'd expect from a larger speaker.
Plus, it pairs with any Bluetooth device so you have full access to your voice assistant. Change tracks, answer calls, adjust the volume — without getting your phone wet. This gadget for men is for anyone serious about their music.
Key Features

Easily pairs with your phone or other Bluetooth devices automatically
Hands-free voice assist control
Quickly charges in 2.5 hours and delivers up to ten hours of playtime
Sturdy suction cups adhere to any surface without worrying about falling
Specs
Brand: Gideon
Weight: 5.6 ounces
16. Executive Office Solutions Laptop Stand

How many hours a day do you spend on your laptop?
Two? Five? Eight or more?
Whether you use it for work or play, chances are, you're not sitting in the same place the whole time. After all, moving from one room to the other and getting a change of scenery is one of the advantages of having a laptop.
But if you're strapped for space, you might find yourself working on the couch, in bed, or anywhere else you can take a seat. And if you use your laptop for too long, it could overheat, burn your legs, or leave you with an aching neck from looking down all the time.
Extend your home office beyond a single room with the Executive Office Solutions Laptop Stand. Not only does it have two cooling fans, but it was built with versatility in mind.
Its lightweight, sturdy frame does more than offer a portable surface for your laptop. Use it as a dinner tray, for sound equipment, projectors, as a standing desk, a tablet holder, or for anything that needs a flat surface.
Plus, it has non-slip feet and lockable legs that guarantee you don't have to worry about accidental falls and damage.
Key Features
Lightweight and durable aluminum construction for easy and long-lasting maneuverability
360-degree rotating legs to suit any position
Fulfills a range of practical uses
Quiet cooling fans cool your device without disturbing the peace
Specs
Brand: Executive Office Solutions
Model: FBA_EOS1
Weight: 3.64 pounds
17. Bose Soundlink


What's worse? A party with no music, or a party with music that sounds like it's playing out of a tin can? When it comes to portable speakers, most just don't make the cut.
They're either too quiet, have terrible audio quality, or run out of charge in a matter of hours. Whether you're at a party or home, those all ruin the vibe.
The Bose SoundLink II is the second generation of portable Soundlink speakers. That means even better sound, battery life, range, and features. Get fast and easy pairing even up to 30 feet away.
Plus, you can connect your device, change tracks, adjust volume, take calls, and more — all hands-free. The SoundLink might be small, but it packs a punch. Enjoy the same deep bass and clarity you get from full-sized speakers, all in a portable device.
With up to ten hours of playtime, this gadget for men can keep up with you all day or all night.
Key Features
High-quality audio you know and expect from Bose products
Wireless and ultra-portable, so you can bring it with you wherever you go
Pairs with most Bluetooth devices up to 30 feet
Speakerphone feature lets you take calls without having to press any buttons
Long-lasting battery life
Specs
Brand: Bose
Model: 725192-1110
Weight: 1.47 pounds
18. Google Wifi System


Occam's Razor says that the simplest solution is usually the right one. So when it comes to your home's spotty internet connection, the Google Wifi System is the easiest fix.
Three compact Wifi points cover 1,500 square feet each, so you'll never fight for a reliable internet connection again. Setup is a breeze, even for those who aren't the most tech-savvy.
Get the fastest connection by finding the best channel and band for your device with Network Assist technology. Got kids? The Family controls app lets you pause Wifi on any device, see who's connected, and more.
Key Features
Comes with three Wifi points for a total coverage of 4,500 square feet
Replace your current router and continue using your existing service or modem
Fast connection guaranteed in any room
Specs
Brand: Google
Model: NLS-1304-25
Weight: 11.8 ounces
19. Fire TV Stick


With cable, are you paying for commercials or actual TV shows? Let's be real. Streaming isn't just the better choice, it's the smarter one. And the Fire TV Stick helps make that switch easier.
Do you already subscribe to a streaming service or have smart appliances? The Fire Stick consolidates your controls so you only need this one remote control.
Access thousands of shows, apps, games, and more without navigating through a bunch of screens with Alexa voice assist. Adjust the volume, mute, and power buttons for your TV, soundbar, and receiver.
Plus, get more storage for games and apps than any other media device on the market. There's a reason why the Fire Stick is the top-selling streaming media player. Check this cool gadget out for yourself.
Key Features
Bluetooth compatible so you can connect to headphones and any listening device
Get access to thousands of shows, movies, channels, and more, including shows from cable networks
Alexa voice control lets you seamlessly switch between programs and skills
The most storage of any media player
Specs
Brand: Amazon
Weight: 1.1 ounces
20. Nest Learning Thermostat


Remember how the thermostat was off-limits as a kid? Chances are, touching it guaranteed trouble.
But now, you have full control over your home's temperature. Even better, you can one-up the old man with the touchless Nest Learning Thermostat.
Nest's latest smart thermostat has improved features to make your home sweet home even sweeter. This gadget for men is great for anyone. It learns your preferred settings, self-adjusts, tracks energy use, and connects to Alexa.
Forget to turn it off? The Nest Learning Thermostat pairs to your phone so you can manage it when you're not home. If you're going to buy a smart home appliance, make sure it's the newest generation of thermostats.
Key Features
Simple interfaces make programming a breeze
Auto-scheduling means there's one less thing you have to remember
Adjusts temperature according to weather and personal preferences for optimum energy savings
Connects to Amazon Alexa voice assistant for hands-free use
Specs
Brand: Nest
Model: T3007ES
Weight: 1 pound
21. August Smart Lock


Blood pressure rising just thinking about fumbling with your keys with full hands? With the August Smart Lock, those days are over. This device automatically locks and unlocks your door when you come and go, so all you have to do is open the door.
As a bonus, you'll never have to ask yourself "Did I lock the house?" again.
But the August Smart Lock does more than add amazing convenience to your life. Whether your home is your castle or your fortress of solitude, you need to defend it. The August Smart Lock is the ultimate smart home security system.
It connects to Alexa and Bluetooth so you can control access for anyone from anywhere. See what's happening with August's 24/7 live feed. And still keep your existing keys, door, and hardware.
Key Features
Pair with Alexa for hands-free control from anywhere and receive auto-reminders when the battery is low
Manage who is allowed in your home and set access limits
Door Sense technology tells you if your door is closed and locked
Easy installation takes less than 10 minutes and doesn't replace your current keys or locks
Specs
Brand: August
Model: AUG-SL-CON-G03
Weight: 13.9 ounces
22. Tree New Bee Cooling Pad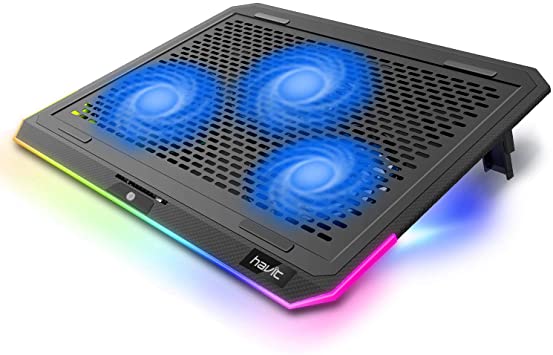 An overheated laptop is enough to make anyone want to rage quit. And if you paid a pretty penny for a top-tier gaming desktop replacement, you want to make sure it lasts.
Cooling pads help, but most only have two fans, which isn't enough for 15- to 17-inch devices. When you and your laptop need to stay cool, calm, and collected, you need the Tree New Bee Cooling Pad. Its mesh surface and four 120-millimeter fans stop overheating at an amazing 1,200 RPM.
The Tree New Bee cooling pad's ergonomic stand has two adjustable heights, giving a better view during work and play. Plus, with 15 different RGB light settings, you can create the perfect atmosphere.
And the no-slip baffle prevents accidental falls and damage to your device. So if you're serious about gaming, get the gadget for men that will help you keep your cool.
Key Features
Designed for maximum cooling
Powerful fans stay quiet so they won't interrupt or distract
Ergonomic build keeps you comfortable for hours
Specs
Brand: Tree New Bee
Model: HV-F2073
Weight: 2.22 pounds
23. SYOSIN Cable Holder Organizer


The only thing sexier than an organized desk? Organized cables. But when you feel productive, nothing kills the mood faster than random wires and a cluttered workspace.
Say "So long!" to tangled cables with the SYOSIN Cable Holder Organizer. This versatile gadget does double duty as a cable organizer and charger.
It contains powerful magnetic clips to keep your cables exactly where you want them. The sleek, minimalist design manages your cables with style. The SYOSIN Cable Holder goes anywhere, from your bedside table, office, or kitchen.
Key Features
Fits 98% of cables on the market, including round and flat wires
Simple and easy setup and removal
Adheres to any surface
Specs
Brand: SYOSIN
ASIN: B07H9VYWLQ
Weight: 0.81 ounces
24. Hercules Tuff Charging Station

Does a lack of convenient outlets have you fighting for a spot to charge your phone? Does that pile of cables at home or work look more like a rat king than phone chargers?
Tangled cables are like Medusa — the clutter they cause stops productivity dead in its tracks. So get serious backup with the Hercules Tuff Charging Station.
Keep it anywhere that's turned into a battleground to charge up to six Apple devices at a time 80% faster than any other stand. Plus, the smart charge means you don't have to worry about overvoltage or overcurrent.
Key Features
Six-port stand quickly charges any Apple device
Smart charge recognizes the device to deliver the right amp
Conveniently charge anywhere you need extra ports
Comes with six Apple cables
Specs
Brand: Hercules Tuff
Model: FAC-101A
Weight: 1.25 pounds
25. BESTTEN 1800J Surge Protector


You know that plugging too many devices into a wall socket or power strip is risky. But if you're limited on power outlets, there's not a whole lot you can do.
If that's you, it's time to stop abusing the plugin and start playing it safe with the BESTTEN 1800J Surge Protector.
It's compact enough to fit anywhere you need it while offering plenty of functionality. Need to charge your phone, or have a bulky adaptor?
The BESTTEN Surge Protector handles both. It has four USB charging ports, four wide-space ground outlets, and won't block other outlets.
The fire-resistant design handles up to 1800 joules, so you can safely charge your devices. You can use this gadget anywhere thanks to its heavy-duty extension cord.
Key Features
Safely charge any electronic up to 2.4A simultaneously.
Get six additional feet with the heavy-duty extension cord
Made with fire-resistant materials and designed to handle up to 1800 joules
Slim, lightweight design lets conveniently bring it wherever you need a surge protector
Specs
Brand: BESTTEN
Model: USH-4U4A-6F-B
Weight: 1.7 pounds
26. Sonic Bomb Dual Alarm Clock


"I love the feeling of sleeping through my alarm!" said no one ever.
Everyone knows the panic of jolting awake and realizing you slept through your alarm. And everyone can agree that it's one of the worst ways to start your day.
If you're a chronic late sleeper or hard of hearing, you know that regular alarm clocks just don't work. That's why you need to get the Sonic Bomb Dual Alarm Clock.
It's earned its name and has a reputation as one of the loudest and most effective alarms on the market.
It has the same features as a traditional alarm but guaranteed more effective. With a 113 decibel alarm, flashing lights, and backup battery, oversleeping is impossible.
Control volume, tone, dimmer, snooze, and time with simple switches and buttons. But the highlight of the Sonic Bomb Dual Alarm Clock is its 12-volt bed shaker. Keep it under your pillow and never worry about sleeping through your alarm again.
Key Features
Battery backup and full-range light dimmer
User-friendly
12-volt bed shaker feature and flashing alert lights
113-decibel volume
Specs
Brand: Sonic Alert
Model: SBB500SS
Weight: 1 pound
27. Weight Gurus Bathroom Scale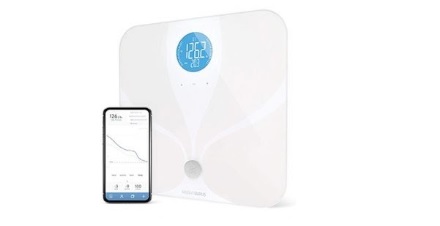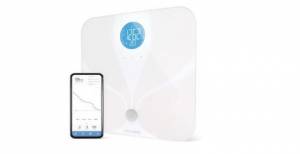 Bathroom scales have a bad rap. They're not always reliable, and you can't tell if weight fluctuations are from that cheat day or bloating.
Besides, there's more than one reason for buying a bathroom scale.
Sure, some might want to lose a few l-bs. But what about other health goals? After all, health is more than about weight loss.
So why should your scale only tell you one thing?
Enter the Weight Gurus Bathroom Scale.
It's the newest generation of bathroom scales that does more than measure your weight. Get a comprehensive assessment of your health to create a unique plan for your needs.
Accurately assess water weight, bone mass, muscle mass, body mass index, and BMI. Plus, the Weight Gurus Bathroom Scale connects to Fitbit, Google Fit, Echo, Apple Health App, and more, for easy weight management.
Key Features
Connects to Wifi to synch with your favorite health and fitness app for easy tracking
Measures body weight, water weight, bone mass, muscle mass, body mass index, and body fat percentage
Self-calibrating scale
Auto-detects up to eight different users
Specs
Brand: Apple
ASIN: B07Q5CLWZC
Weight: 5.4 pounds
28. Grill Beast Shredder Claws

Not all heroes wear capes — some wear Grill Beast Shredder Claws.
Want to be a BBQ hero? Save the day and stop hunger in its tracks with delicious BBQ.
The Grill Beast Shredder Claws stops time-consuming shredding that leaves your hands cramped and tired. Now, you'll be able to shred through meat in half the time — even compared to electric shredders.
The Grill Beast Shredder Claws are super durable to handle the hottest temperatures. They were designed to last so you can enjoy restaurant-quality BBQ for years.
But these claws aren't just for shredding, they're perfect for tossing salads as well. Plus, they're dishwasher safe so you don't have to bother with handwashing.
Key Features
The superior polymer is highly durable for temperatures up to 450-degrees
Dishwasher safe
Designed for easy maneuverability and use
Versatile — works for a variety of foods
Specs
Brand: Grill Beast
Model: Meat Clawz
Weight: 3.04 ounces
29. MiiKO Stuffed Burger Press


Here's the deal when it comes to stuffing burgers by hand: It's time-consuming, messy, and honestly, just a lot of work. And if you're cooking for a crowd, you don't want to spend any more time in the kitchen than you have to.
Everyone loves stuffed burger patties, but making them is a different story. But now, there's the MiiKO Stuffed Burger Press. In the mood for cheesy goodness, savory bacon, or something new? This appliance gets the job done in minutes.
Create three different types of patties: stuffed, sliders, or traditional. Whatever you need, the Miiko Burger Press makes it a breeze. And since it's dishwasher safe, cleanup is super easy.
It comes with 20 complimentary wax rounds for mess-free assembly. Use this gadget for men for regular beef patties, ground turkey, or anything you want. It comes with a free recipe book to get you started and help you find your new favorite burger.
Key Features

Comes with three different accessories to make a variety of burgers
Complimentary wax paper rounds and cookbook
High-quality, premium materials for durability and easy cleanup
Specs

Brand: MiiKO
ASIN: B01IBRX66
Weight: 8.2 ounces
30. Mr. Coffee Mug Warmer


Are you a slow sipper? Do you always forget your drink, only to return to a cold beverage?
It's time you meet coffee's actual favorite mate: the Mr. Coffee Mug Warmer.
It's the next best thing to a self-heating smart mug. Use it for coffee, tea, hot chocolate, cider, or your favorite drink. The slim disk design makes it easy to clean and even easier to take between home, work, or travel.
Plus, the extra-long cord means you can keep your nice and toasty drink close wherever you're sitting. This gadget for men guarantees that each sip stays hot and fresh until the last drop.
Key Features
Energy-efficient 17-watt warmer
Easily wipe-down and take anywhere
Automatic light switch tells you when your drink reaches the perfect temperature
Extra-long cord offers more mobility
Specs
Brand: Mr. Coffee
Model: MWBLKPDQ
Weight: 9.6 ounces
31. Garden Genie Gloves


Gardening is a relaxing hobby, but you know what isn't? Lugging a dozen tools around the yard. Not to mention callouses, broken nails, and bruised fingers.
If you're tired of all of those, it's time you try the Garden Genie Gloves.
You don't have to be an avid gardener to appreciate the benefits of these gloves. This gadget for men offers amazing versatility for gardening, landscaping, or other outdoor chores and projects.
The Garden Genie Gloves are made from environmentally-friendly, long-lasting materials designed for any sized hands. But what you'll love the most are the plastic claws. These super-dense plastic claws take the place of spades, shovels, rakes, and other tools. They're perfect for loose soil, repotting, planting, and more.
Key Features
Breathable, waterproof, durable, protects hands from injury
Natural adhesive ensures claws won't fall off
Universal fit for men and women
Specs
Brand: Inforest
ASIN: B07LDY68V7
Weight: 4.8 ounces
32. RAK Magnetic Wristband


Are you a handyman, weekend warrior, or devoted DIY-er? Even if you aren't, you probably know someone who is. And you can relate to the annoyance of constantly hunting for hardware.
Plus, work gloves can make dexterity feel impossible. Digging around for screws, nails, and bolts takes up time that you could spend on something else.
But with the RAK Magnetic Wristband, you can keep everything in one easy-to-grab place. Its 10 powerful magnets hold hardware safely in place while you work. And it's adjustable, so it fits anyone. Make this gadget for men is a part of your toolkit.
Key Features
Contains 10 strong magnets along the entire wristband
Durable construction and materials are made to last
Easy access small hardware and save time on projects
Adjustable, one size fits most
Specs
Brand: RAK
ASIN: B01HRCU3SW
Weight: 3.21 ounces
33. LEATHERMAN, Wingman Multitool


Wingmen make everything seem so much easier, don't they? They're always there to support you and ready to bail you out when you need it.
Now imagine having one with you wherever you go.
You can — just with a different kind of wingman. The LEATHERMAN Wingman Multitool is the ultimate gadget for men.
It contains 14 tools in one sleek design. Pliers, combo knife, spring-action wire cutters, and a package opener are just a few of the things that can make your life a little easier.
Whether you're camping, at home, in the car, or anywhere else, you'll feel more confident with a Wingman who has your back.
Key Features
Locking blade guarantees safety when using
14 tools in one
Designed for easy use with one hand
Compact and lightweight
Specs
Brand: LEATHERMAN
Model: 831426
Weight: 9.1 ounces
34. Lantoo Digital Tire Pressure Gauge


Summer's right around the corner, so if you have road trip plans, make sure your car is as vacation-ready as you.
You know you're supposed to prep your car for winter. But a summer assessment is just as important! Warmer weather means hotter roads, so checking your car's tire pressure should be your first to-do.
But if you don't know how don't worry! The Lantoo Digital Tire Pressure Gauge makes checking a breeze.
When your tires have the right pressure, you don't just risk blowouts. You also save money on gas mileage! But this gadget for men does more than that. It contains five different tools, including a seat belt cutter, window breaker, and LED flashlight.
It's small enough to keep in the glove box or a backpack so it's close by in case of an emergency. Even if you know how to read a tire gauge, it never hurts to have a backup.
Key Features
Accurate to +/- 1 PSI pressure range
High-visibility backlit digital display
Five-in-one multitool
Specs
Brand: Lantoo
Model: 13
Weight: 4.8 ounces
35. X-Plore Gear Emergency Paracord Bracelets

Paracord has earned a reputation as a highly robust, reliable, and durable material. But it still gets a lot of flack. However, if you spend a lot of time outside, whether it's your backyard or the great outdoors, you know that paracord is one of the best tools to have on hand. X-Plore knows it, and that's why they made the Gear Emergency Paracord Bracelet.
This gadget for men puts a fire scraper, compass, fire starter, and whistle at your fingertips — or your wrist, in this case. Plus, the fire scraper pulls double duty as a knife, giving you even more versatility with a single bracelet.
Key Features
Contains fire starter, scraper, compass, and whistle
Cord unravels for even more utility
Durable materials won't wear out or break
Specs
Brand: X-Plore
Model: RR-1-26-7
Weight: 2.9 ounces
Top Image Credit: Oladimeji Ajegbile; Pexels