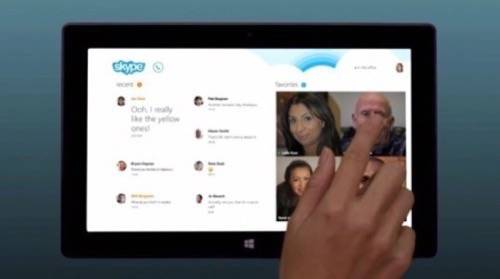 On Monday, Microsoft brought Skype into the Windows 8 fold, integrating it so tightly into the PC, phone, and tablet experience that it's essentially the Microsoft Office of connectivity.
Naturally, Microsoft's communications software received a "Metro"-style update, with contacts visually represented as pictures, rather than the text-heavy interface Skype previously used. Yes, you can still use other VOiP and communication clients in Windows 8. But as with the Office suite, Microsoft encourages you to use its software by tying Skype to its People contact manager. The goal is to get users to ask themselves: "Why would I want go anywhere else?"
Not Everything Connected Yet
The problem, however, is that the full benefits of the new, updated Skype won't be realized until Microsoft ties it into the remainder of its Office suite. Microsoft will make the Skype app downloadable on Friday, October 26, for both Windows 8 and Windows RT, allowing users to enjoy Skype as a standalone application. But they'll have to wait for a more formal integration into Office to enjoy the rest of the integration benefits.
Microsoft has already indicated that it will integrate Skype into the Office 365 subscription service. Office 365 subscribers, as well as MSDN and TechNet subscribers, will be able to download the new version of Office in mid-November.
A Microsoft spokeswoman said that Skype will be integrated into Windows 8 and Office via two separate integration points. Here's the rundown:
When you log into the standalone Skype app for Windows 8 using a Microsoft account, all your Skype contacts will show up in the People app.
Skype will also be tied into Office, and 365 subscribers will receive 60 free Skype minutes to place outgoing calls. Skype users will be able to see presence and easily connect with each other from within Office applications. Finally, as Microsoft has previously announced, Lync users will be able to see the presence of other Skype contacts, and instant-message them. Video calling will be added in a future update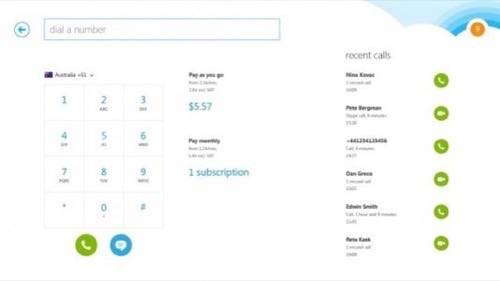 How The Skype Integration Will Work
When users download Skype from the Microsoft Store on Friday, the app will appear as a live tile on the home screen. In addition to launching calls when tapped, the live tile will display messages and other live information. If users jump to the People app, they'll be able to click and connect via Skype just as easily as the app allows them to send an email. Simply logging in to Skype and connecting the Skype account to the People app will automatically add the Skype details of all of a user's contacts; users can also manually add the phone numbers of contacts who aren't on Skype. They can also pin favorite or frequently-called connections to the home page.
Not surprisingly, users can also snap Skype into a vertical column on either side of the screen, allowing them to continue browsing the Web. Skype has historically allowed users to share screens, but Microsoft said this capability be not retained within the new Windows app. Microsoft will continue to offer a Skype Premium service, which, for $8.99 per month, offers features like group video calls.
The idea, according to Microsoft corporate vice president Mark Gillette, is that "[o]n Windows 8, you can be always available and reachable whether you are using a desktop, laptop, tablet or convertible PC with Skype running seamlessly in the background without draining your battery."
Skype isn't just an app running on Windows 8, it's an essential, core feature of the Windows ecosystem – not just Windows 8, but Windows Phone 8, too. WPCentral reported last week on a leaked video that Windows Phone will display incoming voice chat requests from contacts as normal calls – including contact display photos. The only difference is the Skype ringtone will sound, so you'll know it's Skype rather than a regular call. At some point, of course, the difference will become irrelevant.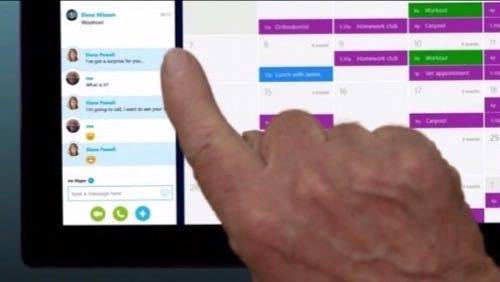 Skype vs. The Competition
Just over a year ago, Microsoft closed its $8.5 billion deal to bring Skype in-house. Last week, Microsoft said 120 billion minutes of calls were made on the Skype network, an increase of 58%. The service claims 254 million monthly users, and recently said that 45 million Skype users logged on at the same time. Integration into Windows should only boost those numbers.
But as Skype's influence grows, third-party apps will find themselves under increasing pressure. Microsoft is clearly positioning Skype as the default communications app for its Windows platform, just as Google Talk and FaceTime have been integrated into Google Android and Apple's iOS, respectively.
Last week, The New York Times reported that startup AirTime, even though backed by Web wunderkinds Sean Parker and Shawn Fanning, was barely staying alive in terms of traffic and users. AOL has essentially given up on AOL Instant Messenger, or AIM. Yahoo Messenger for Mobile, which includes video and text messaging for both iOS and Android, is still growing. But with the new Skype, Microsoft may have put up a very large wall for competing services on Windows 8.